I had never heard about preservative-free vaccinations till recently, had you? We just went to the clinic and got the vaccinations done, no questions asked. You might call this blind belief on our part, but I prefer to call it trust. For me, the pediatrician's word is more trustworthy than Google.
So recently when we were in her clinic for the annual flu vaccinations, the waiting area is where I read about preservatives in vaccines and the alternatives. The first thought that came to me was "We avoid food that has preservatives in it but are giving vaccines with preservatives? Is that normal?"
Intrigued, I asked my pediatrician about this and she shared some useful information with me
Why do vaccines need preservatives?
Preservatives in vaccines help inhibit the growth of bacterial and fungal contamination which may be caused in multi-dose vials. As multi-dose vials need less storage space and in-turn cause less wastage, they are used in many countries around the world. The preservatives, however, are needed only for multi-dose presentations.
What is the kind of preservatives used in vaccinations?
Thiomersal is a compound containing ethyl mercury which is used to prevent bacterial and fungal growth in inactivated vaccines (vaccine in which virus has been killed). It is used in multi-dose vials of flu vaccine.
In 1998, a doctor published a small study claiming that MMR vaccine caused children to develop autism. While the study was extremely flawed, it set off a chain of misinterpretation (all this before the What's App forward era). This led to parents abandoning vaccinations altogether. To avoid unwarranted public fear, the use of thiomersal has been limited to multi-dose vaccines.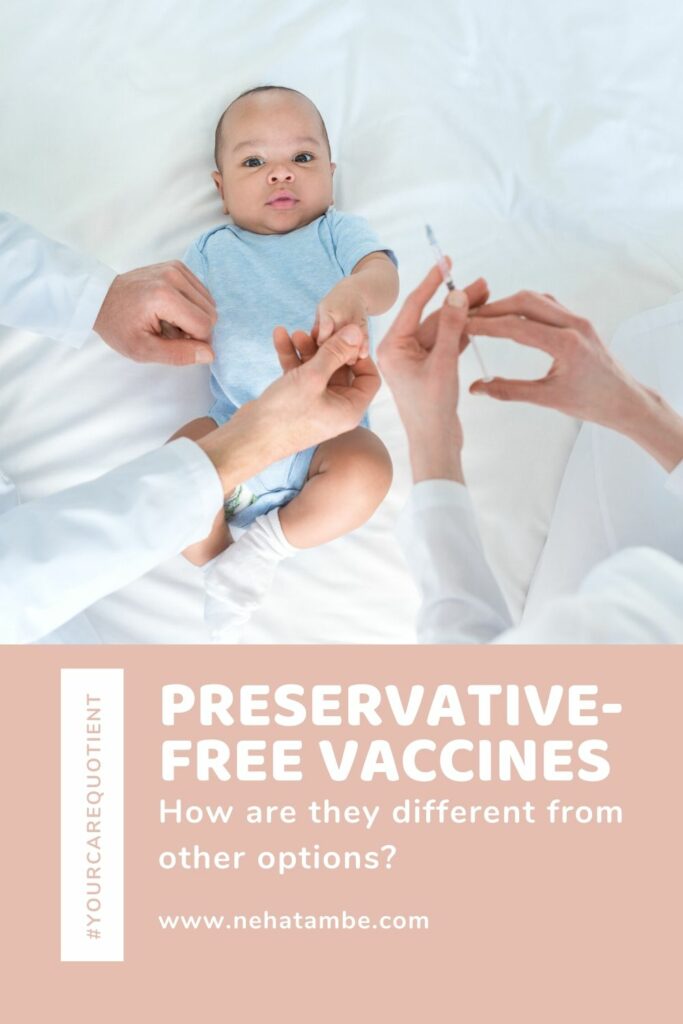 Which Vaccines contain Thiomersal?
Vaccines that contain thiomersal include- vaccines for DTP ( Diphtheria, tetanus, and pertussis), Hepatitis B, rabies, influenza, and meningococcal diseases. WHO has regularly monitored scientific evidence relating to the use of thiomersal. While there is no evidence to prove any adverse effects due to using of thiomersal, the vaccination manufacturers mention the amount of thiomersal in the vaccinations nonetheless, as a safety measure.
What is the alternative?
Thiomersal-free or preservative-free flu vaccinations are an alternative to this. Preservative-free vaccines are single-dose vials, unlike the others that are available in multi-dose vials. A single-dose vial as the name suggests are vials that have formulation for a single person or child. With new research, reformulation and new product development in the form of single-dose vials thiomersal use have been on the decline.
According to the Centers for Disease Control and Prevention, approximately 85% of projected vaccine supply produced for the 2019-2020 flu season will be thimerosal-free (i.e., preservative-free).
Armed with this knowledge, I found myself in a better position to decide for my children. While the preservative in itself might not be harmful, today's vaccinations being preservative-free helps me reassure myself and even educate other parents about such vaccinations.
I have referred to some well- known scientific websites to reconfirm my understanding of the topic and have added the links below as reference. Have you read up or know more about preservative-free vaccinations? Do share about it in comments below. Would love to know more about it. After all, well-informed parents make better decisions and take better care of their children, isn't it?
What's #YourCareQuotient? How much do you understand your child when it comes to sleep patterns, feeding and vaccination? Take the easy, interactive quiz that guides you and get the childcare guide now.
References
Disclaimer – The views expressed in the blog content are independent and unbiased views of solely the blogger. This is a part of the public awareness initiative supported by Sanofi Pasteur India. Sanofi Pasteur bears no responsibility for the content of the blog. One should consult their healthcare provider for any health-related information.