We recently got my son vaccinated. My in-laws were visiting during that time and once we were back MIL was looking at the kids with concern. "Is it paining? Do you have any swelling? What did the doctor say?" she went on a questioning spree.
While I answered her questions, I found it a bit amusing that she should be worried about simple vaccinations. After lunch as we sat down to talk, she was still surprised that kiddo was almost back to normal, except for the localized pain. The slight discomfort too was gone with cold compression.
"Vaccinations used to be dreadful earlier! Glad they found a better way to administer it," she said. Personally, I don't remember much about my vaccinations. With a houseful of doctors, cribbing about needle shot never got me anywhere, so I wasn't really sure about the fuss.
MIL was saying "I am scared of the needle but apart from that vaccination during our time was a painful affair. All the swelling, the fever, etc. always made me think if it was really necessary to torture the child. Kashala vikatcha dukhana ghyaycha (Why pay for enduring pain?" she said in Marathi.
"Oh! That's why the doctor said these are painless vaccinations." I have to look up the difference, I thought to myself.
After a few weeks of research, this is what I have understood about less painful vaccinations.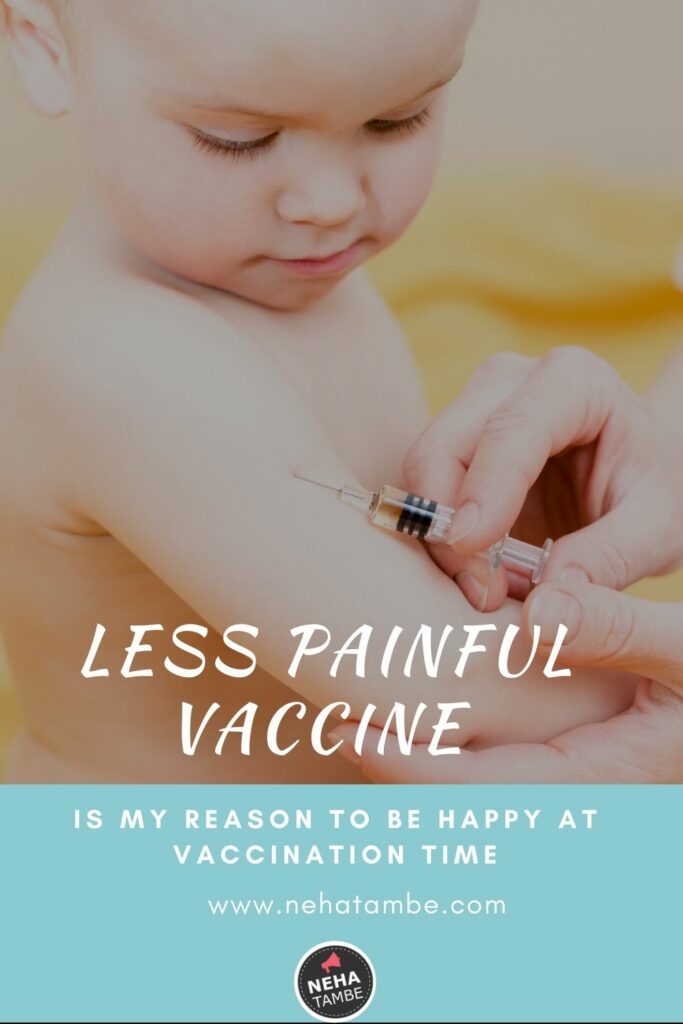 What are painless or less painful vaccines?
Painless vaccines or acellular vaccines are a combination vaccine that contains fewer antigens as compared to painful vaccines. Painless vaccines are called DaPT (Diphtheria, acellular Pertussis and Tetanus.) while painful vaccines are called DPT (Diphtheria, Pertussis, and Tetanus) 
In simpler terms the major difference in both the vaccines is that painful vaccines are made of whole cell whereas the painless ones are made of the important parts of the Bacteria or Virus known as antigens.
Whichever vaccine is given, the pain of needle prick will have to be endured. The 'pain' in the painless vaccines refers to the side-effects that the child experiences like high fever, swelling, pain after the injection etc. In less painful vaccines these side-effects are minimum or negligible.
Advantages of Less Painful Vaccines
The pain or side-effects of the vaccine are minimum
There is no fever or very mild
The child recovers faster
There is no fear associated with vaccinations for the child and hence vaccination visits to the doctor become simple.
Disadvantages of less painful vaccines
Practically there are no disadvantages of less painful vaccines except for maybe the cost of the vaccine. Currently, as compared to painful vaccines, less painful vaccines are costlier.
A Mom's Perspective
As I heard my MIL talk about the painful vaccines and how children would be in pain for close to a week, I found this new variation a boon. It also made me realize that the whole fear around injections probably stemmed from such painful vaccine memories. As both the vaccines are equally effective, it is beneficial to give less painful vaccines.
What are your experiences? Do you have a memory of painful vaccinations or some experience around less painful vaccinations? Do share in comments below.
What's #YourCareQuotient? How much do you understand your child when it comes to sleep patterns, feeding and vaccination? Take the easy, interactive quiz that guides you and get the childcare guide now.
Sources
https://www.news18.com/news/partner-content/everything-you-need-to-know-about-painless-vaccination-knowyourvaccines-2098783.html