The New Year started on a happy note for our family as there was a new addition in our home. Baby Boo arrived in Jan, however with the pandemic not letting up we decided against visiting the baby and the new mom. Hard as it might be, we decided to put the safety of the baby and mommy before anything else. That being said, as a proud Masi, I could definitely send across some presents welcoming Baby Boo!
With corona virus growing footprint in Pune I decided against shopping in physical stores and stuck to online shopping. This is when I came across BerryTree. A Made in India brand that specializes in cotton clothes for 0-7 year old!
This was the perfect destination for me to shop as I always prefer cotton for babies. The BerryTree folks were kind enough to send me a couple of baby clothes and this is my review about shopping experience on berrytree and the product review. The experience that I am sharing here is personal and non-biased.
Shopping Experience at BerryTree
The site is easy to navigate and simple to understand. The clean look makes it easy to access on phone as well. The order process too is pretty straight forward. The designs and the patterns are good with a decent variety for 0-4 years. I was also looking to shop for my 6 year old however; I didn't find much variety in that category. I hope they add that soon.
Delivery and Packaging
The delivery was fast and the packaging was good. I liked the way they sent out a cute note with the package explaining why opt for organic cotton.
Berrytree Products and their review
The products received from BerryTree were just the way they were on the website. The colors were nice and bright and to the point. The material is soft and breathable. The final product and designs are of superior quality and is easily at par with any international cotton baby product.
The cotton fabric has a natural softness and stretch which is perfect for babies. The stitching and finish is very good. I would highly recommend their products for babies. My only concern was that most infant dresses were rompers or baby suits. I would love to see some more variety in it as well. The patterns and designs are lovely. They even have a night suit section which is a great market for comfortable cotton clothing.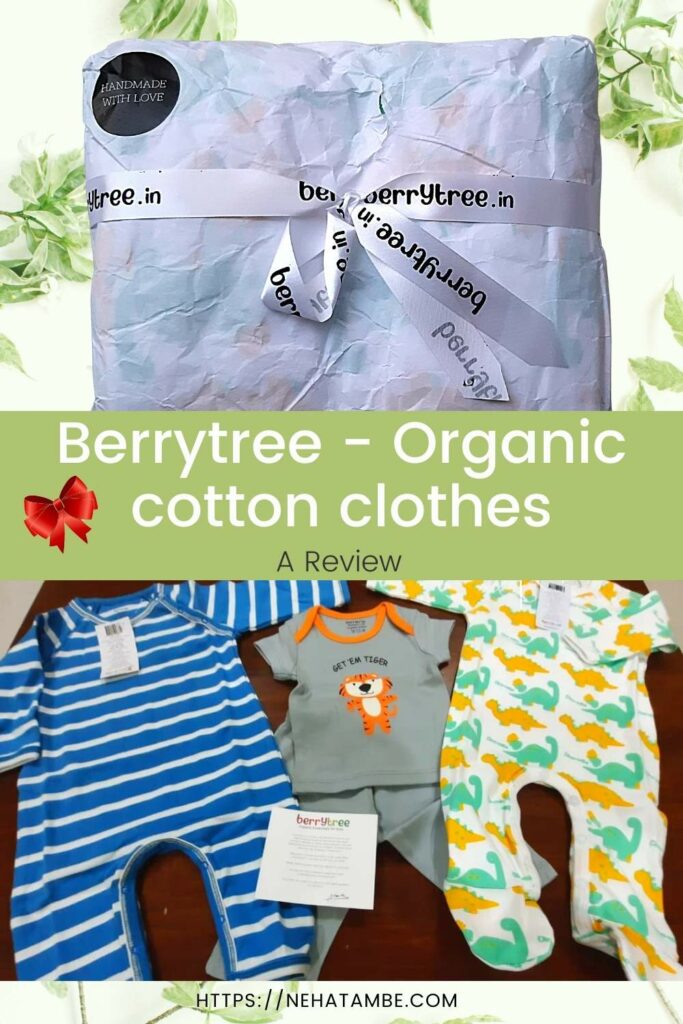 Why Organic Cotton
As a mom I always preferred cotton clothes for my children while they were growing up. Cotton is something that is always delicate on the skin but Organic cotton goes one step ahead. It removes the possibility of any chemical residue in the material thus making the final product completely safe for babies and infants. Organic cotton is a more environment friendly and a sustainable option. Farmers use traditional and sustainable farming techniques thereby reducing the stress of chemicals in the agricultural process.
I found the perfect gift for Baby Boo on Berrytree. A gift that is pure and completely safe for the baby and the environment. Do check their website to know more about them and get some cool offers.