3 minutes
Book Name – In Pursuit of Mi Amor
Publisher – Vishwakarma Publications
Author – Sujata Parashar
Price – Rs.250/-
I received this complimentary book from WritersMelon, in exchange for an honest book review
Book Blurb of In Pursuit of Mi Amor!
Amar Verma is in his mid-forties, single and lives in Madrid. He is a successful entrepreneur and has overcome the limitations of a personal genetic disorder to be the brains behind a highly successful wellness company. Suhana Singh, in her early forties is single and lives in Delhi. She works with a business consulting firm and has her share of personal demons that she wants to hide. Can love cure two bitter hearts, is the premise of the story.
About Sujata Parashar
Sujjata is a best-selling novelist, short story writer and poet. She is widely popular with her 'Pursuit' series and has so far written nine books across genres. She has won multiple awards for her outstanding contribution in the field of literature and the social sector.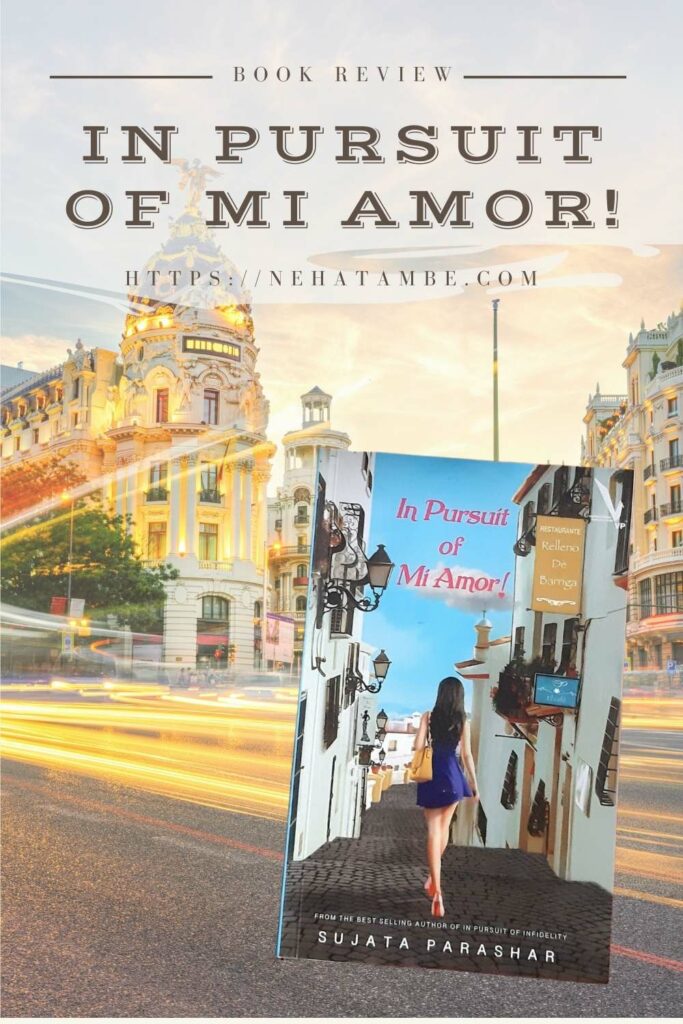 My Review of In Pursuit of Mi Amor
Mi Amor in Spanish means 'My Love' and the book's characters are doing just what the heading says, they are in pursuit of love. Each in his life story is pursuing their love – be it work or true love. While the central characters of the book are Amar and Suhana lives of Suyash, Sarika and Amya too are interconnected and in pursuit of the elusive love. Each has been dealt an unfair hand by life and yet when love hits them they are pulled towards it and fight to preserve it.
In Pursuit of Mi Amor is largely set in Spain and the readers get a taste of the Madrid's sunny beaches and beautiful skylines however the description isn't evocative enough to absorb the reader and take them on a virtual trip to Madrid.
The book has a slightly different take in terms of the treatment of a romantic novel. This could be because of the age of the protagonists. It is a mature love story on many levels. The story starts where most romantic novels end and that makes the read interesting.
In Pursuit of Mi Amor is a tight storyline with decent characterization of the protagonists. The book delves into some important issues like hemophilia and sexual abuse. Sujata has shown guts in dwelling in these topics and has done in-depth research about the limitations and the emotional burden that the survivors or patients carry. She has even managed to create an awareness about these issues however, I would have loved to know more about the disorders or the social stigma attached to it.
Like I would have loved to know what Amar's mother thinks about the disorder and her memories of raising Amar or Suhana's mother's perspective and the stigma that may have caused her to act in a certain way are not discussed in the book. It might have given a deeper understanding about the behavior of the protagonists.
The supporting characters are well described and there isn't an overcrowding of characters. Apart from the protagonists there is a parallel story being weaved and that brings a good change in the pace and scenery while reading. I did believe Amya got a short end of the deal however that's just my personal opinion.
It is a small book with just 186 pages and can be easily covered on a weekend. Overall I would rate the book a 3.5/5. The .5 less is for some lax editing that pop in some places. It does not hamper your reading nor is it overwhelming, but it's just something that we would not expect from a published book.