Please note that some of the links below are affiliate links and I will earn a commission if you purchase through those links. I use all of the affiliate products listed below and recommend them because they are companies that I have found helpful and trustworthy. Read my full disclosure here.
If books could talk… we had this as a topic for autobiography when I was in school. Never had I imagined that in the next 2 decades books would actually talk. Not just talk but emote, modulate and offer a fantastic performance each time I open the book! This is what makes an audiobooks unique.
I tried using audiobooks seriously during the first wave of coronavirus. The whole grind of doing daily chores, not finding enough time to read was getting on my nerves. That is when I came across the Amazon Audible offer of trying audiobook for free.
I tried it and today after numerous audiobooks and an ever growing TBR list on the audio library I am an official fan of audiobooks.
How can I get best audio books online for free?
Before subscribing to Amazon Audible, I scoured the internet for a free selection of audiobooks. Apart from a couple of regional books and that too were more of live reading sessions by the author than an audiobook I was truly disappointed by the quality and the titles of the books available.
There are a couple of audiobook platforms that are offering Indian authors or titles but if I compare the costing, Audible seems to provide a better deal. It provides me a regular supply of free audiobooks that I can listen anytime, anywhere. The best part is that these books are in my library and available to me forever – even after I unsubscribe to the platform.
Do amazon prime members get free audiobooks?
The simple answer is Yes!
If you are an Amazon prime member you get 90 days free! Even after 90 days if you decide to stop and unsubscribe, you still have the downloaded audio books for free for yourself. I know, because I did this. But by the time I was done listening to those downloads, I was hungry for more. I went right back and subscribed to Audible and now I am a regular subscriber.
Try it out now –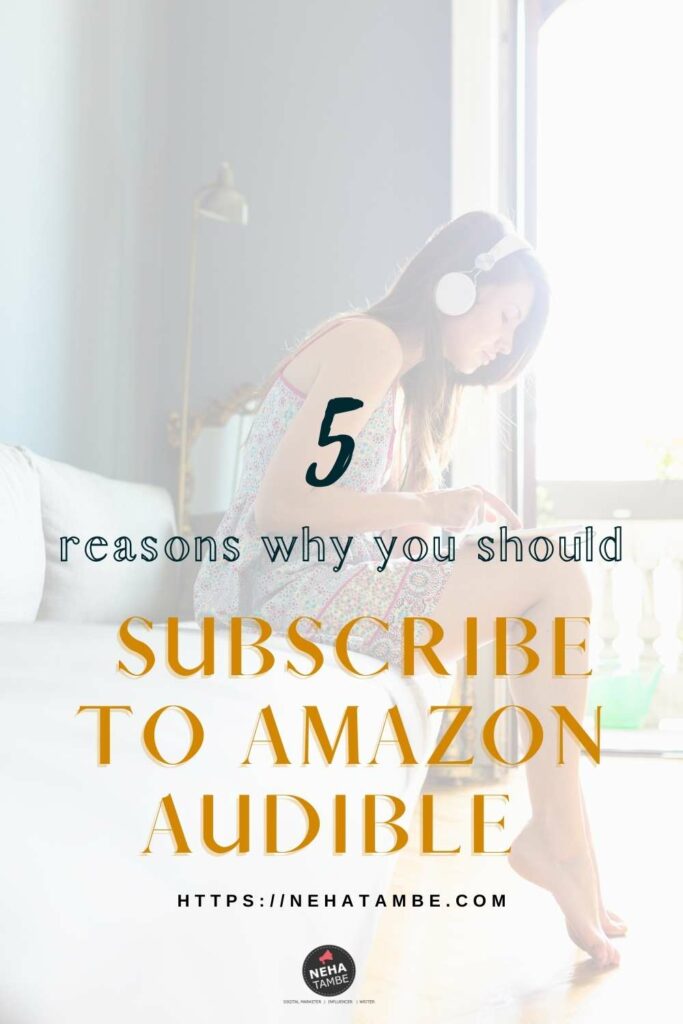 5 more reasons why you should subscribe to Amazon Audible audiobooks
You get access to over 2,00,000 English and Hindi audiobooks.
This is like walking into your own personal library. I can search for a specific book or look at the best sellers and decide my next experience. The audiobooks come with a sample, so before you decide to buy you can hear the sample to see if that fits your interest.
2. Credits in exchange for monthly subscription
Each time you pay for your subscription, you get 1 credit which you can use to buy another book! So in Rs.199/- per month, you can buy any book every month. This is practically one free audiobook every month. Can you beat that pricing?
3. There are a lot of free, unlimited Amazon original shows.
Just like Amazon original prime videos, there are original audio shows and free audiobooks that are free to listen to. This is another thing that I browse and listen to. There are some industry experts or authors having a frank talk and it is engaging to hear them.
4. You can listen offline
You can listen offline! Just download the books and listen to them anywhere. I mostly listen to audiobooks while cooking and cleaning. I listen to them while driving my car as well. The audiobooks are performed with good voice modulation and presentation. This makes it feel like you are talking to the character and it is most engaging.
5. Listen on various devices
If you have amazon echo, then you can listen on your phone or on echo and transition between devices seamlessly. I have heard on my mobile, my ipad and then on echo without losing the thread of the story. It is also a fantastic way to introduce kids to audiobooks and the magic of story telling.
What is the difference between Amazon Audible and Amazon Suno?
Amazon Audible is a library of audiobooks while Amazon Suno has original dramas, talk-shows, self-development, spirituality and more. You need to download audible and Amazon suno separately to experience the platform however if you are a member of Amazon audible, you can experience Amazon Suno for free. Suno boasts of some famous Bollywood voices like Amitabh Bacchan, Neena Gupta, Vir Das and the likes.
If you haven't experienced Amazon Audible, try it for 90 days for free and I am sure you will love it.  
This post is part of BlogchatterA-Z challenge