I was really looking forward to the summer vacations this year. Vacations are the times when we go to our native place, kids have ample open spaces to play and I actually have time to catch up on my reading. But this year with the Covid -19 pandemic looming large, we have been in lockdown and have been staying put in the house.
Due to this lockdown, a lot of things changed in and around the house. Particularly everything became more technology-driven and my reading is no different. I have been exploring kindle and audible/ audiobooks for reading.
Kindle Reading
While this is not something new, I actually never put in enough effort to shift. I mean it was easier to just book the book from the shelf and start reading. But with the current lockdown, I started actively searching for books online and downloading them. I read when I am in bed or early morning before I start my day.
Audible /Audiobooks
This is something that I recently explored and I am definitely enjoying the experience. I came across an article about the rise in audiobooks and that's what made me check out this method. This is a great way for me to catch up on stories and books that I might have not been able to in the current times, without really dedicating separate time for it.
I have Amazon Audible and I usually listen to books when I am cooking or mopping or doing some other household chore. This way I can work while doing my favourite activity of reading.  Agreed that technically I am not the one who is reading here, but this is more like grandma's stories. Even if you don't read the stories you feel like you are living them, when it is narrated to you in an impactful way.
I find Audible better than Kindle for a few reasons
In the current scenario, when finding time for reading is a luxury, I can listen to the stories while working. In kindle, however, I still need to hold the kindle and read to be really enjoying it.
Audiobooks, when narrated by professionals, can be an amazing experience. I truly enjoyed some of the narrations.
There is a risk if the narrator isn't really impactful. It can truly ruin the experience of the book and might make you leave it mid-way.
Good audiobooks aren't free while there are a lot of free books available on Kindle
There are a lot of audiobooks subscription sites, but you really aren't sure which ones are good till you subscribe, and if you don't enjoy the experience it could be wasted money.
Kindle can be stressful to the eye, whereas audiobooks can be heard via headphones or even in cars!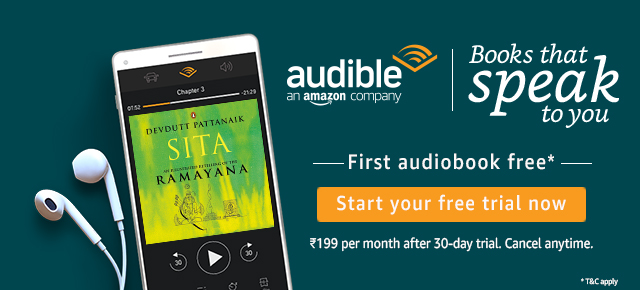 While nothing beats the rush of picking the latest arrival from the shelf and reading it; audiobooks and kindle are definitely helping many of us cope with the anxiety arising from this lockdown. My reading habits have definitely changed because of this lockdown and I will continue to use audio-books even after things stabilize as this is a great way for me to experience stories.
Have you read/heard any audiobooks? How was your experience? Have you found a method to continue reading while managing a lot of extra work? Share in comments below. Let's exchange ideas for the benefit of all.