MIL or mom in law is a dreaded word in most languages around the world. The word strikes terror in many women, and rightly so. The control freak, jealous and extremely possessive mother- in-law shown in movies might be a reality in many homes. I have heard a lot of stories about mom in laws messing up their DIL's life, giving them anxiety attacks and even meting out physical or mental abuse. The portrayal of MIL's on telly and cinemas too doesn't help. However, my focus today is on the wonderful mom in law! A mom in law category who is present and growing in numbers, however, she isn't being celebrated as yet. I am writing and celebrating that woman because she too deserves credit and applause.
Mom in law meaning?
The Oxford dictionary has a pretty straight forward definition to this one. The mother of one's husband or wife, but it's not just that.
Normally every word brings a certain image in our mind. What does mom in law bring to your mind? Did you think of Lalita Pawar or Renuka Shahane?
Similarly, when I say daughter-in-law what came to you mind? Tulsi aka Smriti Irani or Aishwarya Rai?
Our perceived notions, things that we heard or grew up seeing colors our definitions. Another factor is the way they depict mother-in-law on mediums like telly serials and movies. The mother-in-law defined here is someone who is extremely insensitive, insecure, and a woman with an evil trait whose sole mission in life is to make her daughter-in-law's life miserable.
Are mom in law's suffering from stereotyping?
I think mom in laws and their relation with daughter- in-laws are trapped in a society stereotype. How can the relation have the same dynamics as they had 40 years ago? Our collective thought process has undergone a sea change, but our character depictions are still the same, especially on television and movies. It is time we relook these aspects.
Presenting a MIL in a specific fashion just adds to the psychological acceptance of that behavior. If our popular entertainment channels start showing the modern mom in law, then there is scope for discussion and societal change. To do my part, I am talking about a few reel and real mother-in-laws who are defying stereotypes and showing how a modern mom in law really is!
How is a modern mom in law challenging labels?
Today's MIL is all about talking to her DIL as a friend, supporting her in her career, helping her at home and even being independent. Today's MIL is financially independent and hence is more immersed in following her own passions. She is not a gossip lover, trying to show her daughter-in-law down in public, but someone who is ready to stand up for her DIL in times of need.
I know many of my friends go out shopping, hoteling and travelling with their mom in laws! I have a pretty independent and clear thinking mother-in-law and I see her friends are not too different from her. My mom in law enjoys following her passions, and she shares some interesting information that she comes across every time we meet. She has on over many occasions wanted me to try out new dresses, food or even travel to places that she has been. She does not expect her bahu to follow her example, but insists that I do what I feel is best for my house and family.
Not just that, my mom would hesitate to take part in events or rituals as a widower, but my MIL makes it a point to include her in everything. That for me is solid support without shouting from the rooftops.
Celebrities too have been open about their supportive mother-in-laws and that is a wonderful trend to set. Jaya Bachchan–Aishwarya Rai, Kareena Kapoor- Sharmila Tagore, Genelia Deshmukh–Vaishali Deshmukh, Urmila Kothare- Neelima Kothare to name a few.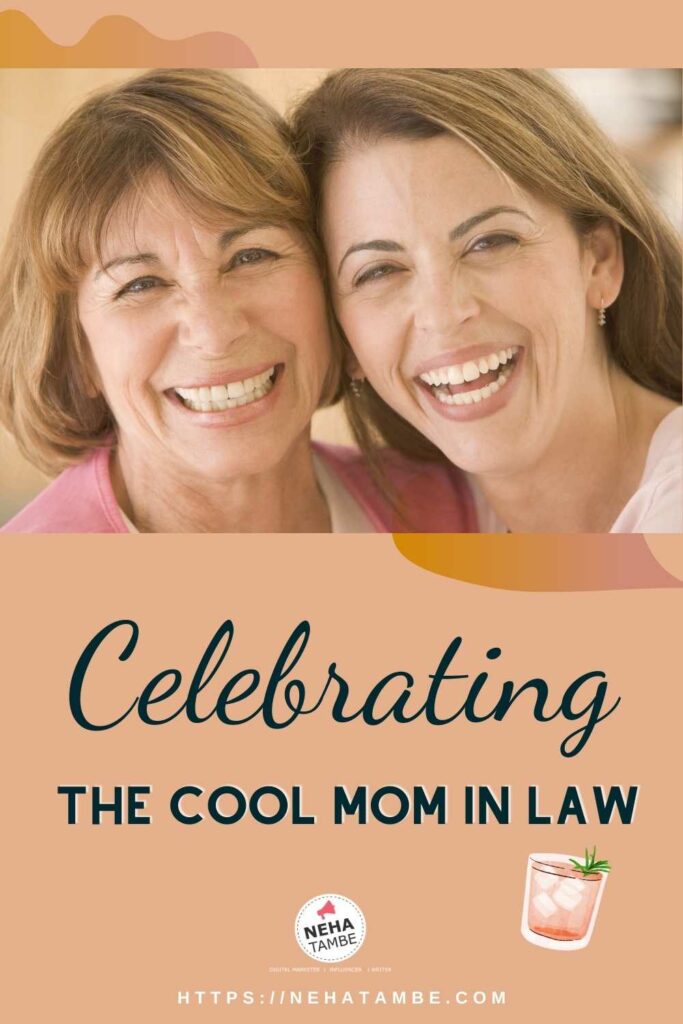 Some on screen mom in laws that are changing the narrative
Renuka Shahane in What the Folks and Filter Copy
I am sure you must have seen at least one episode of the series or a forward of Filter Copy. This mom is law is cool and has witty answers to anyone trying to pass judgemental remarks on the daughter-in-law.
Sumitra (Smita Bansal) in Balika Vadhu
This soft-spoken mother-in-law who called her DIL 'ladoo' was loved as much as the Balika Vadhu herself. A mom in law who in her own silent way became the strength and support for her daughter in law.
Supriya Pilgaokar in Sasural Genda Phool
A MIL who supported her DIL in adjusting in a new joint family while having faced some harsh days as a young woman.
Radhika in Wagale Ki Duniya Season 2
This no nonsense Saas is sweet and practical. She loves and respects her daughter-in-law and is always there to give a patient ear to her bahu's frustrations and in times of need ready to pull her son's ears for being insensitive to her bahu.
Nivedita Saraf Aga Bai Sasu bai (marathi)
The serial has currently had a transition, but the arc shows the relation between mom in law and her DIL in a supporting role. While earlier DIL supported her mother-in-law get remarried, in the current arc MIL is shown as someone who stands like a rock behind her daughter-in-law.
Shubhangi Gokhale – Yeu Tashi Kashi Mi Nandayla (marathi)
I am biased towards Shubhangi Gokhale. I like the characters that she plays, and this is no different. She is a cool MIL who wants to bring a homely girl into her son's life while ensuring that the daughter-in-law gets the respect she deserves. This story arc is still developing, but considering the character of Shubhangi in the serial, it won't be too long.
How is your mother-in-law ? Is she the great Indian mother-in-law who is abhorred by a daughter in law or is cool as a cucumber like these reel mom in laws? Do you think it is important to talk and celebrate the new crop of supportive mom in laws who are there for their daughter in laws and not bitching about them?
This post is written as part of BlogchatterA2Z challenge.