Congratulations! If you have followed all the posts till now and completed the tasks shared, you must be on your way to writing and sharing your first post on a free platform. This post is for those who are familiar with free domain blog posts and now wish to migrate to a personal domain or are considering self hosting a website.
Read this post to know more about domain and self hosting a website.
What are the available options for domain and self-hosting?
WordPress.com
If you are on WordPress.com and want a simple site with no hassles, then you can consider getting a domain and hosting from WordPress.com itself. WordPress.com personal plan is good for sites of writers, authors, or hobby bloggers. Overall, it is the simplest way to get on your self hosting journey.
On wordpress.org, you are not buying the domain or self hosting your website here. This is a framework which is available for free. You need to buy domain and hosting space from various other providers like Bluehost, GoDaddy.
Google domain
You can buy domains on hosting sites or on Google as well. Google domains are also useful if you are building a small business website. You can build the site on Google sites and buy the domain from Google itself. You can buy a new domain or transfer a domain from some other provider.
Wix.com too provides this option. You can check both the sites if you are looking to create a small business site.
What are the options available for Self Hosting a website
If you decide to go for a WordPress.org, you will need to find a hosting platform that can host your site. Hosting platforms or web hosting providers are services that provide technology support to make your site live. There are many web hosting providers, and many people will recommend a variety of them.
A few of the popular web hosting services in India are
Godaddy
Bluehost
Hostgator,
Blogrock
These are just the platforms that have decent followings and a few that I checked while finalizing my hosting provider. I am not affiliated to any of these, there are multiple options available and you can choose the one that works best for you.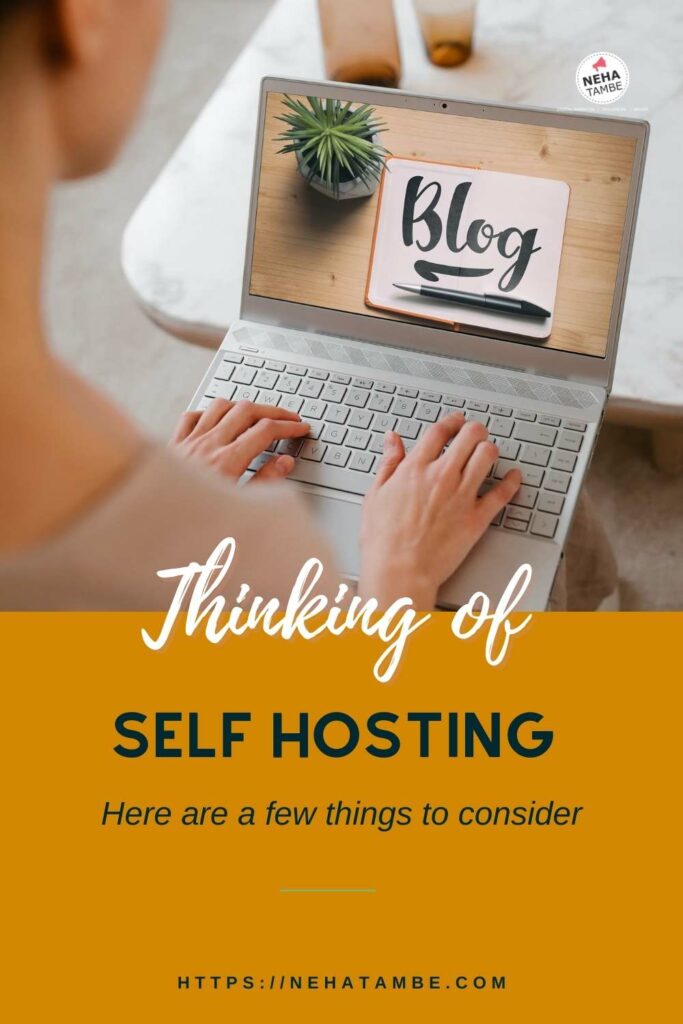 A few things to keep in mind when choosing a web hosting provider
Ease of migration and set-up
Always look for one–click migration and set-up options when choosing a plan. This will help you easily migrate your free blog to self-hosting with no or minimum loss in transfer. If you are migrating without the help from a web developer and come from a non-technical background, then this feature is extremely useful.
Customer support
Owning and running a site is not a simple task, especially for someone who comes from a non-technical background. It is easy, but you might get worried if a few things look out of place, or a plugin update breaks your site. In such times it is important to have a reliable customer support. I would also suggest to read authority sites like wpbeginner for good tips and hacks around wordpress site management.
Plans and costing
Do compare the site plans of various web hosting providers before finalizing the provider. Many will have cheap plans, but the data handling capacity or RAM could be low. Such issues affect your site speed. Always look for a plan that offers a decent amount of space and is budget friendly. Also, check their upgrade options. It is a good idea to take a site backup and then decide on the size.
SSL
SSL is optional however its importance is growing. It is better to check if your service provider offers SSL certificate and at what cost.
Reviews
Do check for reviews of the hosting providers before finalizing one. While migration from one host provider to other is fairly simple, it is better to invest some time in understanding the reviews and track record of a web hosting provider before committing your money. Software review sites can be of help in these areas, as they have a lot of data to compare.
Need more help in understanding website self hosting options available? Share your query in comments below with your email id and I could share my calendar to find a mutually beneficial time.
This post is written as part of BlogchatterA2Z challenge