Let us get one thing straight, not all bloggers are introverts and they do not find solace in keyboards and blank screens. Introvert or extrovert, there will be one thing common between all. As a blogger you won't find like-minded people in your immediate circle of friends and family. Many wouldn't know what you do when you say you are a blogger and the few who do understand what you do, might not really be in a position to discuss about it, because it is not something that they are interested or passionate about. High quality blogs, top ranking blogs help lift you when you are down and provide you the much needed inspiration or motivation.
Wondering how?
Let us discuss this even further
As a new blogger, you might always be looking for inspirations. You might not know the best practices or at times on the lookout for some motivation. It is in times like these that keeping a few high quality blogs handy for inspiration helps. The inspiration blogs need not be a part of your niche.
Why follow high quality blogs?
A blogger is equivalent to an entrepreneur or a solopreneur and let no one tell you otherwise. You need a different level of determination to constantly be on the look out for the next topic to write, create the post, edit proofread and publish. The job does not end there as you are not just the creator but also the promoter of your blog.
So it is a weekly exercise of create-publish-promote-repeat.
Some immediate benefits of following and engaging with high quality blogs –
You are bound to feel overwhelmed. At times when you feel like no one is reading your posts, you might want to leave everything and forget about it. It is during such low moments, these high quality blogs acts like a motivator for you.
You learn a lot – new avenues to explore, the right way to blog and promote, mistakes to avoid, discussions around what's hot and in general give a fresh perspective to various things. I am not a food blogger but I enjoy cooking. The craze about Dalgona coffee and banana bread was something that I read on a food bloggers site initially. It made for a fun Sunday at my place J
Some bloggers will end up being your mentors as you will learn a lot from them about your niche. It will also help you become a better blogger in your niche.
Many of these fellow bloggers will be kind enough to give a shout out to you when there is a collaboration opportunity and that will help you put yourself in the spotlight.
42 high quality blogs that I love and follow with their niche
I have a mix of bloggers that I know and the top blogs in the following niche. I have met these people during my blogging journey and have loved their content. I go to their sites for latest information and turn to them for advice if I need it. These are not listed based on any rankings. These are sites that I like for the kind of information they provide and the quality of content that they create. They are just what I follow.
Education
Follow your's truly for alternative careers, tips and leanings from digital marketing.
Google Education – A blog about Google's efforts in education. This gives me a fresh perspective about things and how tech can help education.
EdTechReview – Tech in education and how it is impacting world over with some great resources to use.
India Education Diary – education related news, views and directory
Linkedin Learning – Professional education blog for tips and tricks
Fitness
Healthify Me – Diet and excercise tips in simple and easy to follow ways. The tips are mostly for Indian audience hence easy to inculcate.
Fit be well – Ashvini Naik is the founder of Fit Be Well blog and she has a lot of helpful posts for women aound excercise and fitness. I vitually met her through various blogging networks and have found her content well researched and helpful.
Reebok Blog – This blog has helpful resources and information around fitness routines, various gears, and more. A must read for all those embarking on a fitness journey.
Technology
TechCrunch – TechCrunch is an authority news aggregation site that has all the latest updates around the tech world.
SearchEngineLand – As the name suggests this is the place I checkout for search engine related tips, tricks, latest news and how-to.
Labnol.org – This is one of the earliest Indian blogs to make it big. There are a lot of helpful tutorials, insights and latest Gmail and Google gyan.
Social Maharaj – Another blogger that I met virtually and have been following his work regularly. If you want to know the best places to eat in Hyderabad and some latest technology information then this is the site to follow.
Marketing
Copyblogger – This is a great resource and learning space for people looking to write for the online world. Be it marketers or bloggers, there is something for everyone.
Socialmediaexaminer – This one has a lot of advertising, however if you can look past that then you will find a lot of helpful content, especially for digital marketers just starting out.
Backlinko – Backlinko is an authority site in backlinking strategies and they have a good deal of resources for one to follow. They also have a lot of SEO trainings, however this is advised for someone with basic knowledge of SEO.
aHrefs – This is a site that offers digital products around SEO, keyword analysis, competition analytics etc and they have a lot of content in that sphere. This is another authority blog to understand best practices.
Seth's blog – Seth Godin is an inspiring leader in marketing. He is an author, speaker and the founder of altMBA. Good source of motivation and inspiration with powerful insights.
Writing
WritersMelon – This is an online book marketing site that helps authors take their books to a wider audience. They have a lot of helpful reads and author interviews around writing and publishing your first book.
WordStream – This is another online advertising portal that has a lot of helpful content around writing online.
The Write Life – This is a great place for freelance writers and authors. Tips for writing the first book to posts around how freelancers can earn more by writing. This one has it all.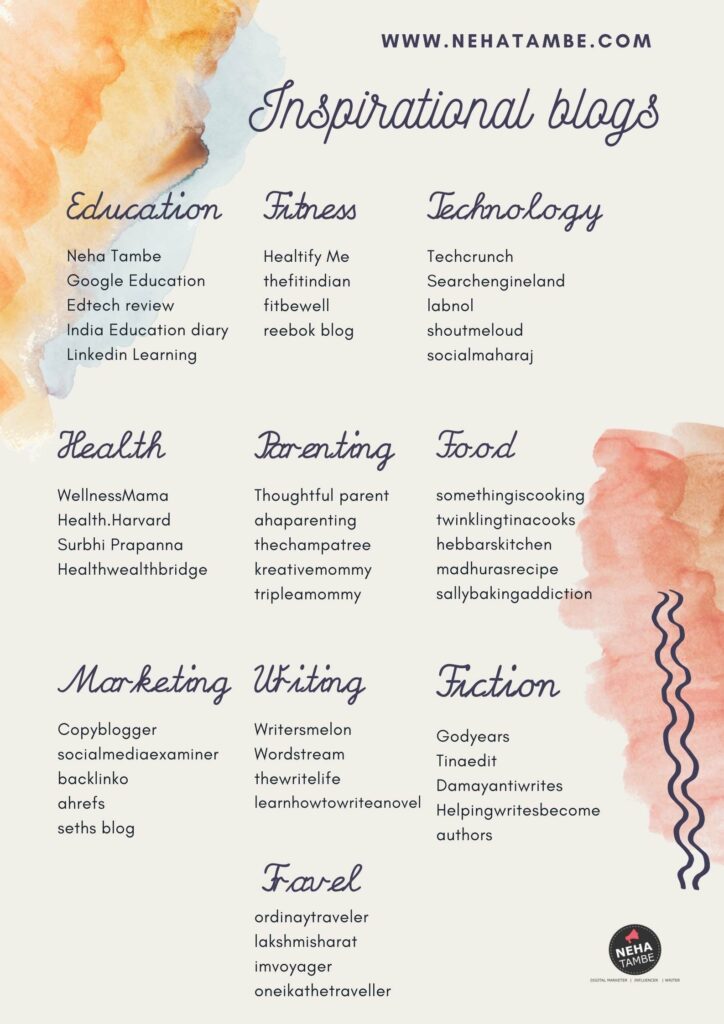 Fiction writers
Fiction writing is something that depends on individual perspective. These are the few bloggers that dabble in fiction. I have read their stories and creative writing and have loved their style. Listing them for your reference.
Dr. Roshan – A doctor with a passion for writing.
Tina Sequeira – Tina is an author, blogger, marketer and mentor.
Damyanti Biswas – Damayanti Biswas is an author of Amazon best selling crime novel. She is a blogger and writes at damyantiwrites.com
Preeti Venugopal -Preeti is an Amazon best selling romance author. She has written multiple books in this genre.
Learn how to write a novel – The site offers just that, Lots of tips and tricks aound fiction, publishing and writing.
Travel
Travel evokes strong memories and a fun vibe. These blogs have been able to pick on that and share amazing travel stories from around the world.
https://www.theblondeabroad.com/
http://www.oneikathetraveller.com/
https://imvoyager.com
Food
Something is Cooking Delectable images and simple and quick recipes is what I love in food blogs and that is what Shalini manages to create on her blog.
Tina has a lot of recipes that not just look beautiful and colorful but are equally easy to make. She has a variety of Indian as well as international recipes.
Hebbar's Kitchen – This is my go to site for all South Indian recipes. I enjoy cooking using these recipes and tips.
Madhura's Recipes – Madhura's kitchen is a site that I follow for typical maharashtrian recipes. A lot of lost recipes too can be found here.
Sallys Baking – Quick and simple baking recipes
Parenting
Thoughtful Parent – Blog by Amy who holds a PhD and shares strategies to support child's development using research.
Aha Parenting – A parenting site aimed at building community with resources for parents of all age groups.
Triple A Mommy – She has a lot of interesting anecdotes, fun stories and a series on raising capable children.
KreativeMommy – Deepa is a fellow blogger I met virtually and she writes about parenting, education and lifestyle.
Health
Wellness Mama – A health and wellness blog for mom's
Harvard Health – A blog published by Harvard medical school, I browse through it when I need information backed by research.
Surbhiprapanna – A homeopathy doctor and a blogger, she has a lot of information on homeopathy as home remedies.
Healthwealth Bridge – An ENT specialist Amrita has a lot of helpful health related posts and podcast as well.
Hope you like this list of high quality blogs and find them inspiring and motivating. I would suggest you make a similar list of blogs that you like as you go ahead in your blogging journey. There are 600 million blogs out there and I am sure you will find the few that you love and learn from. Start by making a list of 10 and follow them as well for regular updates.
I am writing this post as part of Blogchatter A-Z challenge.