I normally don't write about health, especially tips or advice, as I believe health related tips should come from doctors. So this is not an educational piece, nor is it advice. Finding information about managing Kidney disease with Diet and Exercise became an important topic for me, when a dear one was affected. This post is a mix between personal experience and compilation of my research for a friend.
A close friend's husband was recently diagnosed with kidney disease. He is a healthy chap; however, there was a history of kidney disease in his family. For my friend, it was an enormous shock. She was devastated and clueless about where to start and how.
As close friends, we became her support system. We rallied behind her with any support that we could give. I did some research to identify helpful resources that could help her in the long run. It was wonderful to find a helpful platform like Wetogether.care that had a lot of helpful information and expert discussions. It is more like a social media platform for chronic patients.
As I read more about kidney disease and ways to manage it, I realized that though there isn't a cure for kidney diseases, depending on the stage that you are in, you could manage the disease to a large extent with diet and exercise.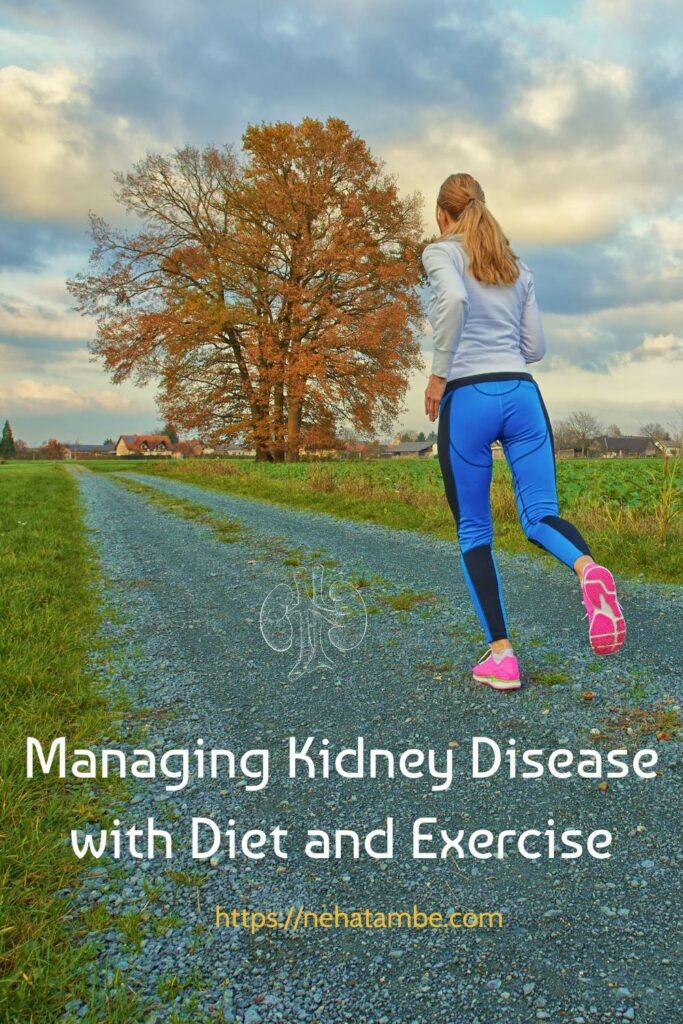 Kidney Disease and Exercise
In most stages, the kidney patient health is managed better with light exercises. Always consult a doctor before starting any exercise regime, as your doctor is the best person to guide you. Based on your condition, the doctor might give you an exercise plan. Mostly light exercises like walking, jogging, cycling, yoga to a certain extent are allowed.
Exercise for 30 minutes a day, for minimum 3 days a week will help manage kidney disease better. However it is important to not exert yourself and stop when you feel tired or experience cramps.
These exercises help in better control of blood pressure, improve muscle strength, lower blood fats and manage weight. For Kidney patients on dialysis, exercises might also improve dialysis efficiency.
I even found a helpful video that was useful for my friend as her husband is Stage 1 Kidney disease patient.
Kidney Disease and Diet
Renal Diet or kidney disease diet is something that is specially designed for kidney patients. Depending on the kidney functioning, the dietitian recommends reduction in the intake of salt, fluid and proteins. According to reports, people with kidney disease should get about 0.8 to 1 gram of protein in their daily diet for each kilogram of normal weight.
In general, these are the foods that a patient with kidney disease can include in his/her diet.
Bell Peppers
Onion
Garlic
Blueberries
Red grapes
Egg whites
Cauliflower
Cabbage
Olive Oil
Fish
Food to avoid while managing kidney diseases include
Whole wheat bread
Canned food
Soda
Brown Rice
Dairy products
Canned juices
Processed meat
Tomatoes
Avacados
Bananas
These are some basic ways in which you can manage kidney disease with diet and exercise. Many times, the patient and his family are overwhelmed with new information and lifestyle changes they need to make. Helping them with small information bits, connecting them to similar patients or caregivers can be a big emotional support.
Getting tested regularly, following doctors' advice and keeping a positive outlook too helps manage the disease better.
Note- I am just a well-wisher and am not qualified to share any advice. The information shared here is something that is purely based on my understanding of the disease and what I saw helped my dear one. It is important to speak to a medical expert before making any changes to the diet or exercise regime. Stay healthy and stay informed.