Ever wondered, where does the leftover of your last night's scrumptious dinner, salad, head to? After we dump it in our garbage bins, it heads straight to the smelly heap of waste that we gawk at, if we ever happen to pass by. But did you know that by simply composting the kitchen waste at home, you are reducing at least 900gm waste per person, per day, from reaching the dumping grounds?
As per the Solid Waste Management data India generates approximately 62 million tonnes of waste per year which is more than the populous country- China. If we still try to escape the guilt trip or play the blame game (let's face it, we all do) we still can't forget that managing waste is every person's responsibility.
The astonishing fact is, out of that ocean of garbage, 70% of it is collected of which only 12 million tonnes is treated and the rest that is 31 million tonnes goes to the giant heap (landfill sites).
What can we do?
50% of the debris comprises of kitchen waste. So, as we say charity begins at home, cleanliness follows the same rule. But how at home? – Composting at home. It is a process that recycles the organic material which is readily available at your home, i.e. kitchen waste.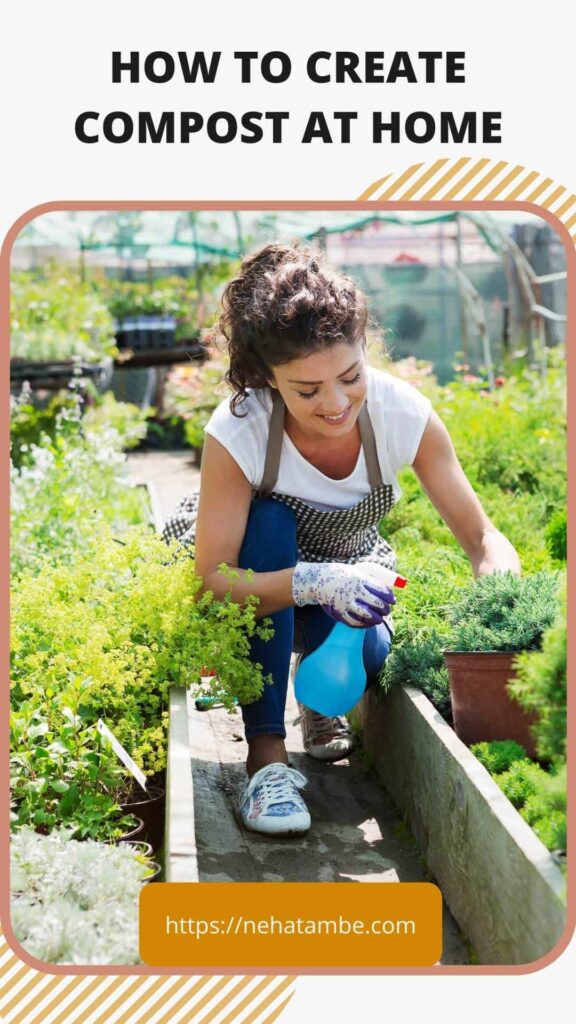 Why should you consider composting at home?
Reduce the waste, rather utilize it for better.
Grow your own garden without chemical/expensive fertilizers
You actually practice the three Rs – reduce, reuse, recycle.
How to prepare compost at home?
Let's dive in…
Tools
Understand that a warrior is only as good as his weapons. So gather the right tools.
Pitchfork and shovel
Composting Bin – Plastic bucket/ Paint container with holes on sides
A good net material – to avoid creepy crawlies (Though they help, read further)
A strainer and bowl – to collect everyday kitchen waste.
Find your corner
Choose a place for the process, where you possibly can access water or drain the dirt. Preferably keep out of children's reach. Preferably, find an outdoor place as sunlight will hasten the process- – a balcony or backyard are perfect!
Start piling
The best part of composting at home is you don't need to go hunting for the material. Start from your own kitchen by collecting the Greens– fruit and vegetable scraps, eggshells, tea bags or leaves, coffee grounds or trimmings in a container. Remember to drain the fluids by squeezing or sieving it through a strainer to avoid the smell later on. Now time for the Browns (Don't worry, still not too far to collect, maybe in your vicinity) – Dead plants, dried leaves, twigs & sawdust (untreated lumber), cardboard or even brown paper bags.
Make a compost cake.
Now, remember the container needs to have holes on sides for the oxygen to pass through and material to aerate. Start with a pile of browns at bottom and then greens, almost like a layered cake. Ensure to layer the greens and browns in an alternate manner. Balance is the key to make good compost, it should neither be too soggy (Greens with more water content) or too dry (browns take time to break down).
Pro tip: Add only 2-3 table spoons of sour buttermilk at the initial stage to accelerate the process.
Track the time
It's good to keep a track of time to avoid unforeseen situations like smelly compost, leaking of fluids or any creepy crawlies. Mark the date in your calendar when you first laid the layer of browns and greens, every two weeks shuffle the pile bringing the outermost in the centre and vice versa, the organic material will need a lot of aeration.
Size matters here
In order to have effective compost, the pile should be at least 3 feet wide, 3 feet tall and 3 feet across. It can definitely exceed this limit depending upon the space you have.
Enjoy the black gold
There is no standard time which will tell you when the home made compost is ready. The look, feel and smell of it will give you a better idea. It also depends upon the weather; winter slows down the decomposition process whereas summers will accelerate it. You may expect the compost to be ready anywhere between 30- 45 days approximately (with conducive weather and steps followed). It should look and feel crumbly like earth and smell good. If it's smelly, you may want to have a look at the proportion of greens.
Collect the black gold (because it's so precious for the soil), add it to your garden / plants and see the magic happen.
TRUTH BOMBS
Here are the most common myths around composting at home that need to be busted
Smelly house
Well, if you have smelly compost, it is probably because your process went wrong somewhere. To avoid this, ensure the kitchen waste is cut into smaller pieces for quick decomposition. Avoid milk products in your compost. A complete no-no is meat products as they smell and invite rodents. Not giving a toss/mix to your pile will also end up giving foul smell.
Creepy Crawlies
They are in fact a friend for your compost as they help the anaerobic process, but of course you may avoid them from crawling out by using a net cover and then using a lid over the container.
I need a huge terrace for composting at home.
No, a small balcony/ space would also do. Invest in some smart compost bins and practice vertical gardening to save on space.
Expiry date?
The compost efficacy will not be hampered until 1-2 years, provided it is stored in good condition.
Choose the way how you impact the environment, by increasing the heap of waste or nurturing the nature back?
Anyone would enjoy a patch of green in this concrete world; it just requires patience and will. The simple action of preparing compost at home will reward you with great benefits.
Don't forget to enjoy the magical process.
This is a guest post written by Sayali Lokhande.
This post is written for #CauseAChatter, initiated by Blogchatter