A new parent manages a lot of things – the feed times, the erratic sleep schedules, and the endless heaps of nappies and clothes! This little human in the house needs a separate range of products as well. As a parent, you are careful about the products you use for the baby. However, a laundry detergent specific for babies does not feature in the list of most new parents. We do not realize the harm that a regular detergent might cause.
The major reasons to look for gentler products for babies are
· A baby could be allergic to a lot of synthetic products.
· The chemicals in the regular products might irritate the baby.
· Products like laundry detergents leave a residue in the material. This residue could irritate the baby's skin.
Having a good laundry detergent that is safe for babies is one less thing to worry about. I have listed a few of the good laundry detergents that are specially created for babies.
7 Best Laundry detergents for babies in India
1. Mother Sparsh Plant powered laundry detergent for babies
Mother Sparsh has come up with a plant-powered laundry detergent that is specially formulated for babies. It has a unique blend of botanical herbs made to maintain the softness and hygiene of baby laundries such as towels, sheets, bibs, woolen blankets, and washable diapers.
Mother Sparsh baby laundry detergent is truly plant powered as it has the goodness of Aloe vera, Neem, and Eucalyptus oil. The detergent is tough on stains and dirt while being extremely gentle on the clothes. It is dermatologically tested and is free from any harsh chemicals such as SLS/SLES, dyes, phosphates, foam booster, bleach & parabens.    
Mother Sparsh laundry detergent for babies key features –
· Mother Sparsh Plant Powered [Ma1] laundry detergent is completely safe for babies and newborns as its plant extracts and essential oils are mild, allergen-free, and include certified organic ingredients.
· Baby clothes and other laundry have some tough stains like spit, milk, and medicine stains. Mother Sparsh baby laundry detergent has bio-enzymes that are effective in removing different varieties of stains while keeping the fabric soft.
· This laundry detergent has the goodness of Aloe & Neem that has antibacterial properties. It helps in protecting the baby's laundry from microbes, germs & bacteria.
· Mother Sparsh laundry detergent is bio-degradable and non-toxic, making it safe for babies and the environment.
· While neem and eucalyptus oil protects from bacteria and microbes, aloe vera reduces skin irritation.
· The Mother Sparsh Plant-Powered baby laundry detergent is cost-effective as well. Just 5 ml of detergent liquid in 5 liters of water is enough to clean 1-time laundry load.
2. Himalaya Gentle Baby Laundry wash
Himalaya is a trusted brand in Ayurveda and natural products. Their baby products range is well known all over India and abroad. Himalaya gentle baby wash is a liquid laundry detergent that is enriched with soapnut extracts, neem, geranium, and lemon.
The laundry detergent formulated for babies is tough on stains while being safe. It promises to leave no detergent residue. It is free from harmful chemicals like parabens, SLS/SLES/ALS, synthetic colour, bleach, silicates, etc.
3. LuvLap Baby Laundry detergents
Luvlap is another well-known brand in the world of baby care products. Lulap laundry detergent for babies has an environment-friendly formula with a pH balance. It is free from harmful chemicals like phosphate and fluorescence.
Luvlap baby laundry detergent promises tough action against stains. Its advance cationic softening factor keeps the clothes soft and bright.
This laundry detergent conforms to the European safety standards for products. It is anti-bacterial and non-toxic with no artificial color.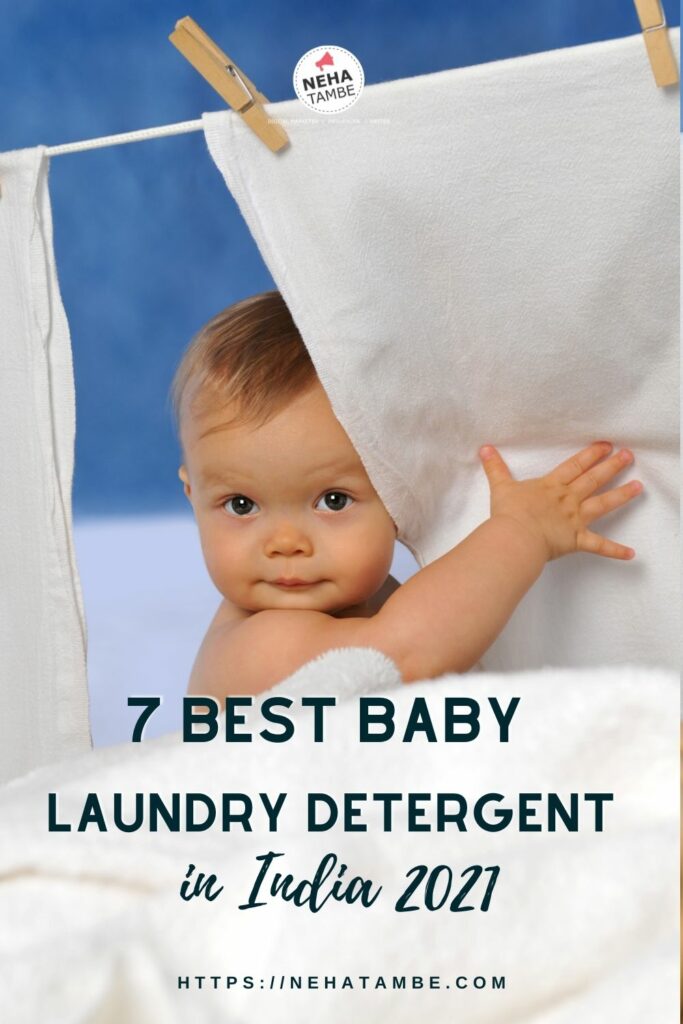 4. Mee Mee Mild Baby Laundry
Mee Mee is a mild detergent that is specially formulated for the baby's delicate skin. Mee Mee Mild baby liquid laundry detergent is bio-degradable and anti-bacterial. The formula adheres to the highest safety standards while being mild on the environment.
Coming from the house of Mee Mee, it comes with the promise of no artificial colouring and harsh chemicals. Fortified with triple-enzymes, this special formula prevents dirt and soil from depositing onto the fabric.
5. Pigeon Multifunctional Laundry Detergent
With more than half a century of experience in maternity and baby care products, Pigeon is a trusted brand. Pigeon has a specially formulated laundry detergent that is gentle on clothes and protects colors while being extremely effective against germs and stains.
The mild natural formula is gentle on the hands and free from phosphorus and fluorescent brighteners. It is fortified with bacteria removal ingredients and plant-sourced hydrolyzed wheat protein.
6. Chicco Baby Laundry Detergent
This laundry detergent is from the house of world-class products–Chicco. Chicco laundry detergent for babies is formulated with special care. The aloe-vera-based formula removes stains effectively while maintaining a subtle balance between product delicacy and effectiveness.
Chicco laundry detergent is effective in both hand wash and machine wash. They claim to leave no residue in the clothes–one of the primary reasons for rashes in babies. It is unscented and hypoallergenic.  
7. Natural Life Baby Laundry liquid
Natural Life is a made-in-India product specially formulated to harness the goodness of natural products. This laundry detergent created for babies is eco-friendly as it needs less water.
Made from natural and plant-based ingredients, Natural Life is free from toxins and harmful chemicals. The product also claims to be anti-bacterial and hypoallergenic. This is a new brand as compared to all the other products on the list.
These are a few of the baby laundry detergents that can make washing baby clothes stress-free. They are good brands with unique formulations designed for babies. Even though my kids are older, I tried Mother Sparsh plant powered laundry detergent and liked it for its effective cleaning and biodegradable qualities. What was your favorite laundry detergent brand as your babies were growing up? Share your experiences in the comments below.
Disclosure : The owner of this website may receive compensation for recommendations made in reference to the products or services on this website. The compensation may be in the form of money, services or complimentary products and could exist without any action from the website visitor. Read the complete disclosure here