The last flight home turned out to be an elusive chase of over 3 months for a seafarer.
A possibility of finding opportunities and international exposure turned out to be a nightmare for a fresh graduate.
These are horrors of lockdown that Indians stuck abroad suffered till they found a flight back home or managed to get a seat on Vande Bharat flight that brought thousands of citizens' back home last year.
As we continue to hear stories about people stuck in India or abroad because of lockdown and the flight suspensions, I spoke to a few who travelled from abroad during lockdown and corona to understand their experiences.
Aishwarya Kakade, a visiting researcher at Ohio State University, USA, was on a 1-year program before the pandemic hit. On her maiden trip abroad, she looked forward to spending the spring break travelling and exploring the country before returning to India. However, as the Covid lockdown and restrictions came in place, she was left with no option but to stay cooped up in her shared apartment while staying abreast about the news.
She finished her thesis while staying in the apartment, had a virtual graduation ceremony and grew anxious as the borders remained closed, even as her return dates came near. She and her friends got in touch with the Indian consulate and then started the game of waiting.
Aishwarya adds "The rules were changing frequently, the flights were getting cancelled at the last moment and the panic was enormous. At one point I even tried to extend my visa, however funding myself in a foreign country and that too for an indefinite time was not feasible. My visa was to expire in July and I had to return before that"
Finally, Aishwarya could book a flight back home–a direct flight from New York to Mumbai on 22nd July. Travelling from Ohio to New York meant another 4 hours in flight! The anxiety and fear of the corona virus was everywhere. However, after reaching New York, she was in for another rude shock. The flight had been cancelled and she would have to book another flight, which turned out to be on 25th July. This meant she had to find a hotel and stay in a strange city for another couple of days. "The anxiety and the stress were unbearable. I spent sleepless nights till I actually on-boarded a flight. Another cancelled flight would have meant extended stay in New York–the epicenter of Corona pandemic at that time, and being left with just days before my visa was set to expire. Not to mention the added expenses I was funding with just handful of resources."  
On the flight, people were afraid to touch anything or even talk to co-passengers. "Even on a 16 hour flight people were taking minimum bathroom breaks for the fear of virus. Nobody could walk in the aisle and the feet were stiff by the time we landed."
The empty airports looked haunted and the dry snacks and minimum water intake was strenuous on the mind and body, however, the wait was still not over. Then came the immigration processes, Covid testing, waiting for results while downloading the Arogya Setu app and completing other formalities. Then came the period of compulsory hotel quarantine and finally after 14 days she could reunite with her family.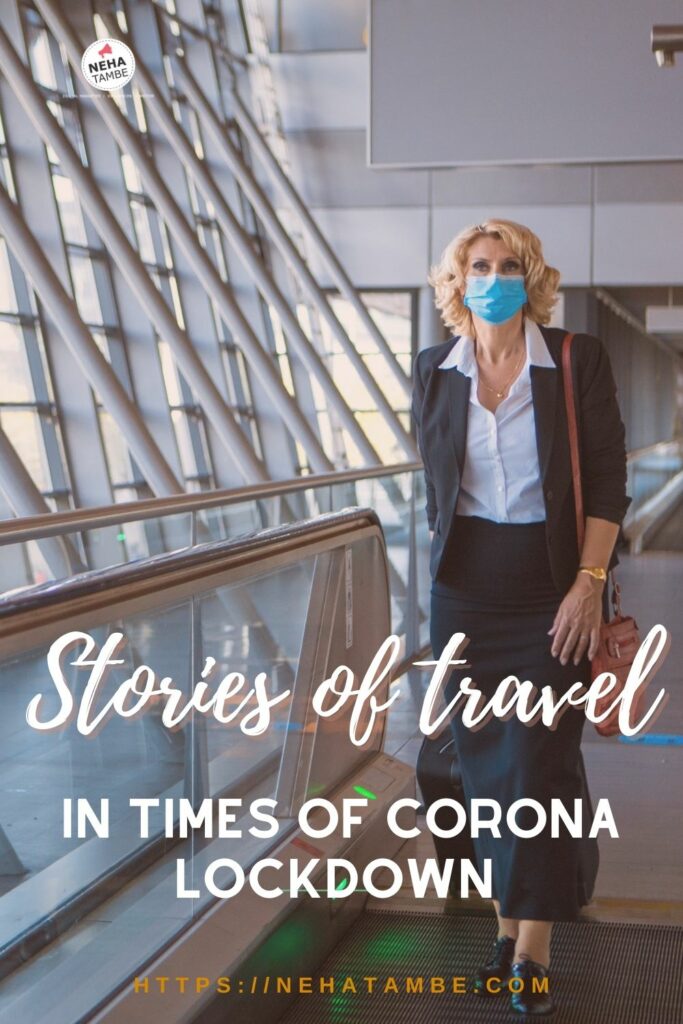 Another moving story is that of a young sailor. He had completed his service and was looking forward to meeting his family after nine months at sea. He reached New York to catch a flight back to India; however, it was a time when New York was battling the worst wave of COVID-19. With flights to India suspended and no real family in New York, he decided to continue on his ship to the next destination and catch a flight from there. "I travelled from The USA to Europe and then to Brazil, yet the story was the same everywhere. By then India had gone in lockdown and that meant there was literally no way to get home. There were no flights, the virus was ravaging every continent that we sailed to and there was absolutely no other option but to wait."
Another problem with the sailor was that as per rules, the shipping company could not continue to employ him beyond 12 months. As the deadline was coming closer, the sailor was getting anxious about having to spend an indefinite amount of time in a foreign country during the pandemic. Finally, he got some good news after nearly 1 month.
His company had managed to get him a flight out of Bazil to Qatar and from Qatar, a chartered flight had been booked for sailors like him from various marine shipping companies. The two flights, layovers and the long wait post landing were stressful and scary to say the least.
After reaching India, he chose to quarantine in a hotel as he wasn't sure about maintaining social distancing from his 6-year-old son.
Sharing the photo of his first hug to his son after nearly a year, he said "All the anxiety, stress and pain was worth it, when I came home to this."
There are numerous stories of travel from lockdown 1 and 2. Hearing these, it filled me with gratitude for having all my near ones around me. It also made me realize that human's everywhere are trying to survive and find a way to help someone.
When this pandemic is over and when we see Corona lockdown as a matter of the past, we will remember the human stories from around the world. Stories of goodness, stories of love and longing, stories of being responsible and kind.