Remember the joy of holding your baby for the first time?
The anxiety around making mistakes when cradling the baby
Worrying every time you thought of buying a new product for the little one?
It is natural for a new parent to feel all this and more. The good part is that thanks to the internet we can find a lot of information instantly and vet them with experts before finalizing one. However, the avalanche of information can be confusing. This is where product reviews, other parents' suggestions, and my pediatrician's suggestions worked for me.
As a mom, I have had anxiety attacks in the past over various things, and the one thing that I learnt from all of that was using natural products is best for the baby and the environment. Today I am going to share the best baby face creams, I found in India. I do not rank these in any specific order, and I am only focusing on the benefits and their efficacy.
Difference between baby face cream and baby lotion
This is the one thing that confused me initially. While both the face cream and the baby lotion help in moisturizing the baby's delicate skin, it is their formulation that marks them differently. A baby cream is thick and has nearly 50% cream and remaining water, while the lotion is a light solution with nearly 70% water.
I usually applied baby lotion once in the mornings and later moisturized with baby face cream as and when required depending on the season.
Things to consider when choosing a baby face moisturizer
A baby product must be free of Parabens, dyes, silicon, and other harsh chemicals
It must be hypoallergenic
It should not contain artificial fragrances
It should contain natural ingredients like shea butter, natural essential oils, milk proteins, or other essential fatty acids.
Always make it a point to read the labels before picking up a baby product.
Which are the Best Baby Face Creams In India?
Mother Sparsh Plant Powered Natural Baby Face Cream
Mother Sparsh is Dr. Juneja's brand that is well known in the natural products segment. This Made-In-India product is a natural face cream that has certified organic ingredients. It is called plant-powered for a reason–it is a combination of coconut oil, jojoba oil, and wheat germ oil which strengthen the moisture barrier and helps prevent dryness in the baby's skin.
Coconut oil possesses anti-bacterial properties and jojoba oil makes up of hypoallergenic properties that help soothe skin irritation and redness.
Wheat Germ Oil is an infusion of Vitamin A, B, and D and, antioxidants that keep the delicate skin smooth and supple.
Mother Sparsh Plant Powered Natural Baby Face Cream is made of 100% plant-based extracts like Shea Butter, Bees Wax, Aloe Vera Extract, Apricot Oil, etc., and is free from harmful chemicals such as silicon, parabens, dyes, phthalate, etc.
This natural nourishing, non-greasy formula absorbs quickly into the skin, keeping the baby's skin soft & supple for a long time.
While the product is well suited for all skin types, the brand recommends it as a great fit for extra dry skin. The presence of coconut and jojoba oil helps maintain the moisture of the baby's skin and protects it from rashes and inflammation.
Mother Sparsh baby face cream has no synthetic fragrance to it and is hypoallergenic and skin friendly.
The product comes in a flip lid tube bottle that is easy to carry even when travelling. As it is completely natural, the product is safe to use for new-born babies and infants as well.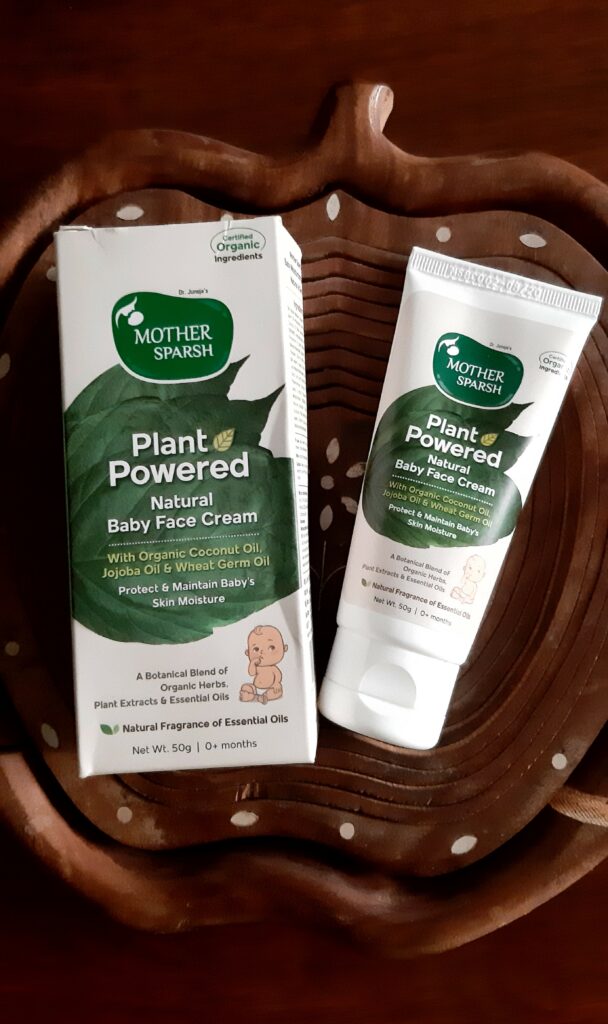 Himalaya baby cream
Himalaya is a formidable brand in the space of Ayurvedic medicines. They have a specific baby care product range that leverages their knowledge of Ayurveda for creating natural and safe baby care products.
Himalaya baby face moisturizer has the goodness of olive oil, licorice, and country mallow. Olive oil softens the skin and prevent chafing, while licorice soothes the skin. County Mallow has antioxidant properties, and that helps protect the tender skin.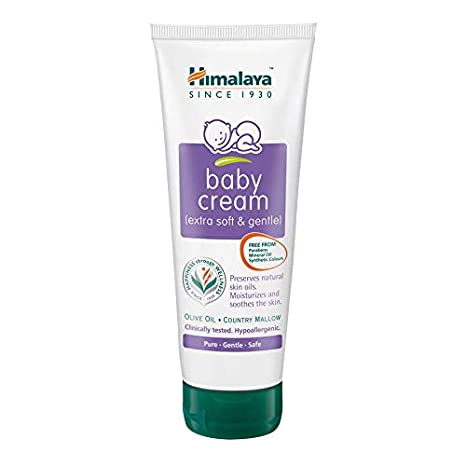 SebaMed Baby Protective Facial Cream
SebaMed is a world renowned brand in skincare from Germany. They have an exclusive range of skin care products for babies. SebaMed baby protective facial cream has panthenol and lipid compound that protects against irritation around mouth caused by saliva.
The product is rich in panthenol and allantoin that form a moisture barrier. It soothes and regenerates irritated skin. SebaMed maintains a good pH level and is clinically tested for 0% irritant reactions. (Source Sebapharma product manual)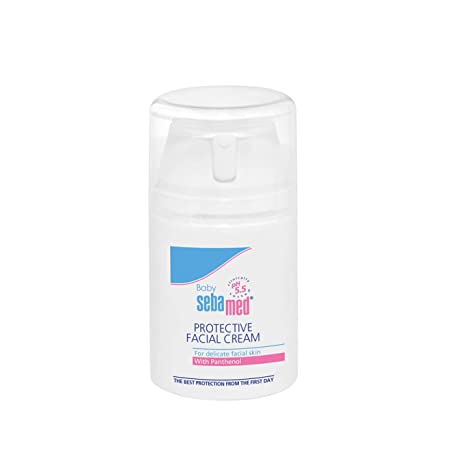 Aveeno Baby Soothing Relief Moisture Cream
Aveeno is an established brand in the field of baby care product range. Their baby soothing relief moisture cream is specially formulated for dry skin. Aveeno Baby Soothing Relief moisture has natural colloidal Oatmeal complex that aids in maintenance of skin's moisture and pH balance.
Apart from being fragrance free, paraben free, phthalate-free and hypoallergenic, it is also dermatologist tested. The brand claims to provide temporary relief from chafed, chapped or cracked skin. It is clinically proven to moisture for 24 hours and soothe dry skin.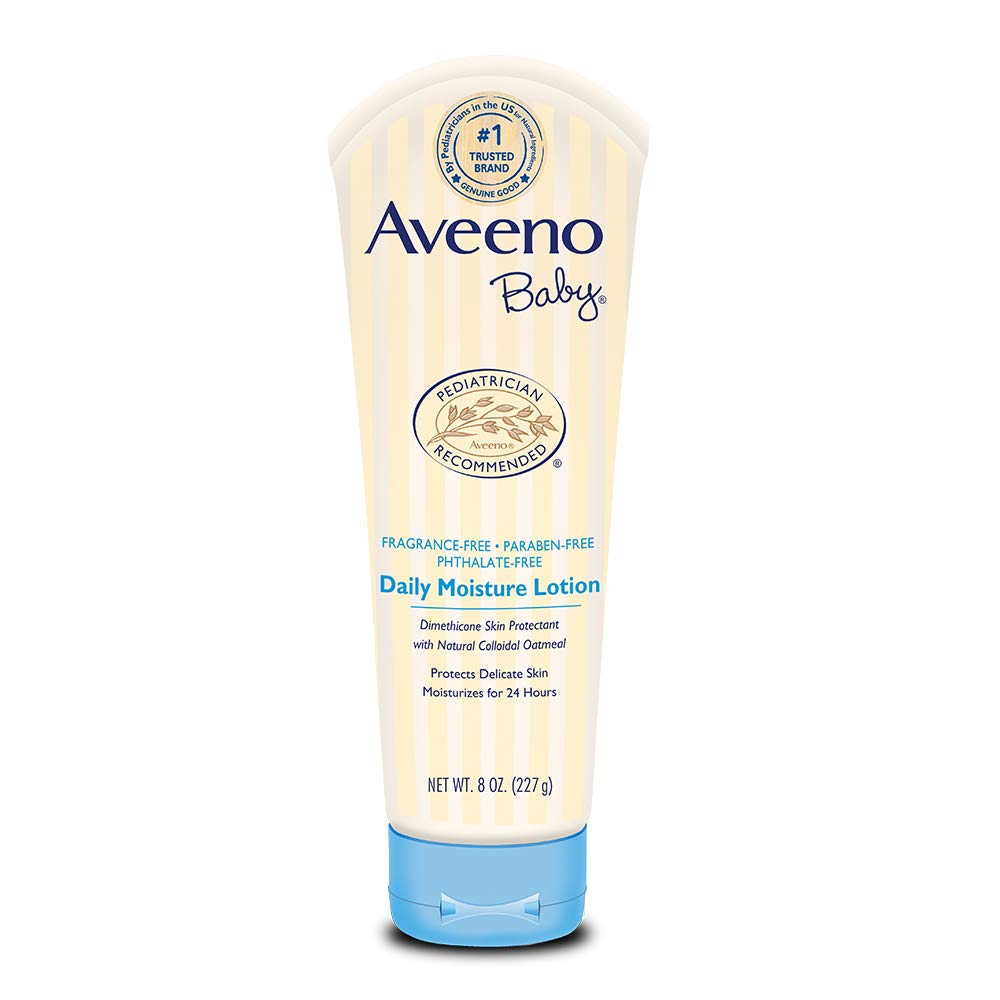 Moms Co Natural Baby Cream
Moms Co is another Made in India brand that focuses on creating a natural, toxin-free product for babies and kids. Moms Co natural baby cream is made of jojoba oil, shea butter, Avocado oil, cocoa butter and milk protein. It restores the skin's pH balance and locks moisture in the skin for longer duration. The Moms Co natural baby cream is an Australia certified toxin free product.
It is free from all kinds of harmful chemicals, mineral oil, and does not include artificial fragrances. The face cream has mild anti-inflammatory properties and works well to soothe the baby's irritated skin.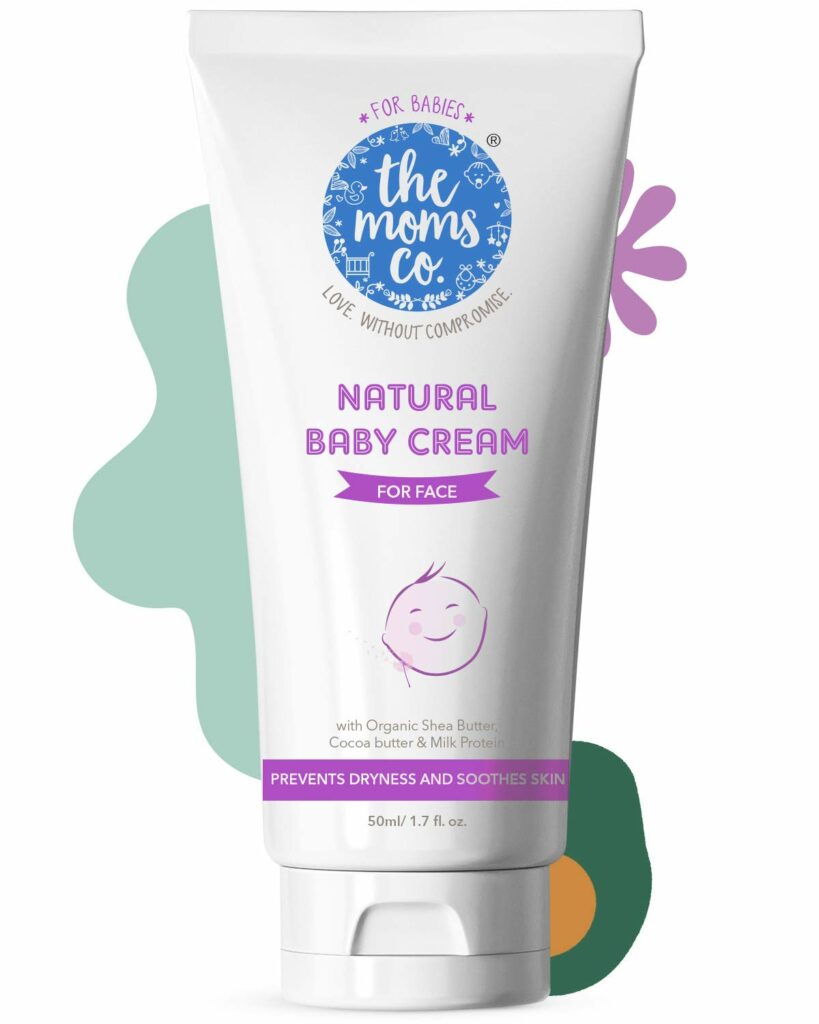 Lotus Feathery Pecks Soft Baby Cream
Lotus is a well-known brand in the beauty and skin care segment. It recently forayed into baby skin care product range and they too are betting on natural products to create natural, completely safe baby skin care products. The Lotus Feathery Pecks soft baby cream is infused with Olive butter and calendula extract.
Calendula oil is a natural oil extracted from marigold and has SPF properties that block harmful UV rays. It offers deep hydration for baby's skin and has anti-fungal, anti-inflammatory and anti-bacterial properties.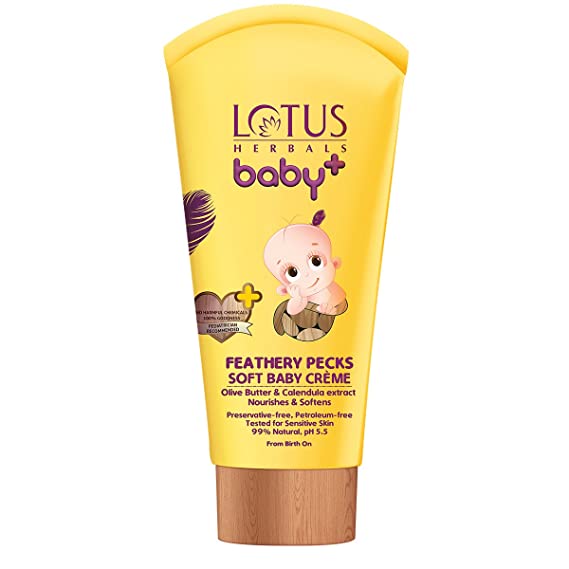 Moisturizing a baby's skin is essential. Apart from regular oiling and bathing, a baby's skin needs extra care in terms of moisturizing. With season changes, the requirement of a baby moisturizer might change and hence keeping one handy till for about 1 year of age is important. Choose a product that best suits your baby's skin care needs and always bet on natural and safe products.
Disclosure : The owner of this website may receive compensation for recommendations made in reference to the products or services on this website. The compensation may be in the form of money, services or complimentary products and could exist without any action from the website visitor. Read the complete disclosure here
#mothersparsh #plantandpure #PlantPoweredRange #AllergenFree #SafeForBaby #SafeForSkin #babyfacecream
This post is written as part of Blogchatter A-Z challenge.