Welcome to the next byte sized learning series in this A-Z challenge. We will be learning SEO basics for beginners in the coming few posts. I will be covering beginners SEO basics here as all the posts are designed for new bloggers who are new to blogging and learning SEO for the first time.
So let us begin with
What is SEO?
SEO stands for Search Engine Optimization. Do not confuse it with SEM which is Search engine marketing or paid advertising in simple terms. SEO are the organic or natural results that the search engine shows when you search for a particular term, while SEM are the sponsored links that are visible in search results.
While search engine seems to know exactly what you are looking up almost everytime, it is powered by machines. Robo spiders crawl thousands of webpages, index them and catalogue them. The basis for all of this classification is the words used or keywords. The machines then match the user keywords with the filing system to throw up relevant results each time you enter a search term. Over the years these machines have become smarter. Today they go beyond just words and try to understand the user intent when throwing up results.
Why is SEO important?
If you are a blogger, you are out on the internet to write about something that you are passionate about and you want more people to read it. The only big source of getting free and relevant audience is by organic traffic or ranking higher in search engines. Hence learning SEO is a smart choice to begin with.
SEO optimized content can continue to bring traffic to your website while SEM though helping you be high in search results, needs regular money. A blogger does not have the kind of money that a successful SEM campaign would need and hence good optimized pages is a safe bet to get good amount of traffic.
That said SEO is not just about what you write. It needs you to understand the intent of your audience, the kind of content they are searching for online, the words they use and the way your page is viewed by other pages. This brings me to the next point.
learning SEO basics – On page and off page SEO
On-page SEO means search engine optimization techniques that you would use on your blog. This involves readability and content depth. It also has a few common things that one should keep in mind before publishing the post. More on this later.
Off Page SEO is majorly related to link building activities that are undertaken outside of your website. These efforts are tuned towards signaling the search engines that your site is an expert in a particular field.
White hat v/s Black hat tricks
In simple terms there are some trusted and accepted ways to improve your site's SEO and then there are some grey routes that can improve your ranking in the short term; however it can cause your website to be penalized in the long run.
Always read up and follow industry best practices to improve SEO rankings. Rule of thumb is if someone is telling you a quick way to list higher on google, then you need to do a background check for that tip. Nobody expects you to be a pro in SEO, however learning SEO overview and keeping yourself updated with regular best practices will help a blogger come up with useful strategies. Ranking via SEO is something that can take 3-6 months at a minimum and even then it needs to be a sustained effort to continue ranking higher.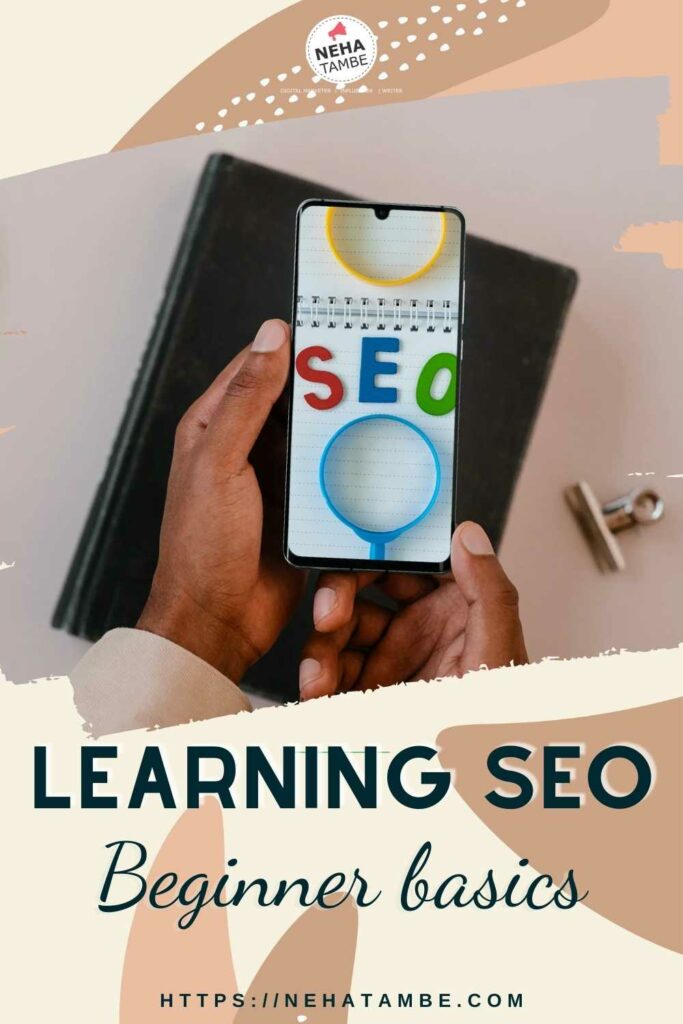 Common terms used in SEO that you must be aware of
SEO – Search Engine Optimization. It means you are optimizing your pages in such a way that search engines can understand the content and show it to relevant audience.
SEM  – Search Engine Marketing, this is where businesses bid for certain keywords and get top listings on search engines when the particular keyword is searched.
Backlinking – Backlinking is where you are linking to a relevant and authority site to provide more information about a topic to you audience. Always remember to backlink to content that can provide added information to the reader.
Internal linking – This means linking within the website. This is seen as a signal that your site has relevant and useful content around a particular topic.
SERP– Search Engine Result Pages. Search engines shows results in multiple forms – featured snippets, people also asked for, images, shopping etc. These are SERP pages.
PPC – Pay per click. This is one of the forms of SEM charging methods. When you choose to advertise you can choose to pay per click (CPC) or per impression (CPI)
Cloaking-Cloaking means showing different set of content to search engines and a different set of content to audience. This is a black hat trick and your site could be penalized for it.
Link schemes – Link schemes are any tricks that are aimed at tricking the search engines and manipulating the Page Rank. These are in violation to Google terms, hence beware of such schemes.
Page Rank – Page Rank is a way of measuring the importance of a website page. Google has its own parameters for deciding the page rank but one of the main component is backlink portfolio of a page.
A few things to remember when starting with SEO
SEO is successful when we start with a goal. Identify the reason for trying to rank higher on search engines.
Always create content with the end user in mind. Try to solve his problems.
Don't stuff keywords and provide irrelevant backlinks.
Do not add a lot of flash or javascript to the site.
Do not fall for any overnight success formulas
Hope you found this first installment of learning SEO basics helpful and are now clear about the concept and the good tricks that one must follow.
This post was created for the BlogchatterA2Z challenge.