The pandemic is continuing to affect our lives, even as we enter 2021. The novel coronavirus taught us many things and one of them was paying attention to home cleaning products. Today, major advertising around home care products seem to circle around their effectiveness against the coronavirus. Virus protection, 99.9% germ-free, tough on stains and virus, you have heard it all. But which one do you pick?
With many spending a majority of time at home, it is only logical that we focus on effective products, but for me, the toughest part is finding the balance between effectiveness and chemical-free. As part of a sustainable lifestyle, we are making a conscious decision to move away from chemical laden products, but are natural ones truly effective? Do you worry about this? How do you choose your homecare product?
Over the few months, as part of learning and research, I have come up with a few ways in which you can choose the right home cleaning product.
Good Old Referrals
This is a basic way that most of us follow. If a friend or family suggests that a particular product is good and they find it efficient, we tend to try it at least once to form our own opinions. I am no different. This works most of the time and I have been able to discover a few interesting products that are great to use and mostly made locally.
Try and choose Natural and non-toxic alternatives
By this, I don't mean try and scrub your home with Haldi and neem but find products that aren't laden with chemicals. Did you know surfactants (any kind of cleaners) can be made chemically or be plant-based? I didn't know it and found it heartening that products derived from nature can be equally effective.
Similarly, natural laundry detergent that is plant enzymes based can give equally effective laundry cleaning as compared to chemical enzymes. I recently received a trial pack from Puer which includes a Puer Liquid Detergent that has a powerful blend of Ecocert & Cosmos ingredients along with 4 plant based surfactants and 6 bio-enzymes. Using the product I realized that natural ingredients can be equally tough on stains.
After trying the natural and non-toxic alternatives, it was a no brainer when it came to choosing laundry products for my kid's garments.
A natural non-toxic alternative has its own benefits –
– The product helps reduce your impact on the environment
– It offers you healthier surroundings as there are no chemicals or toxins
– The products are safe for your skin while being tough on germs.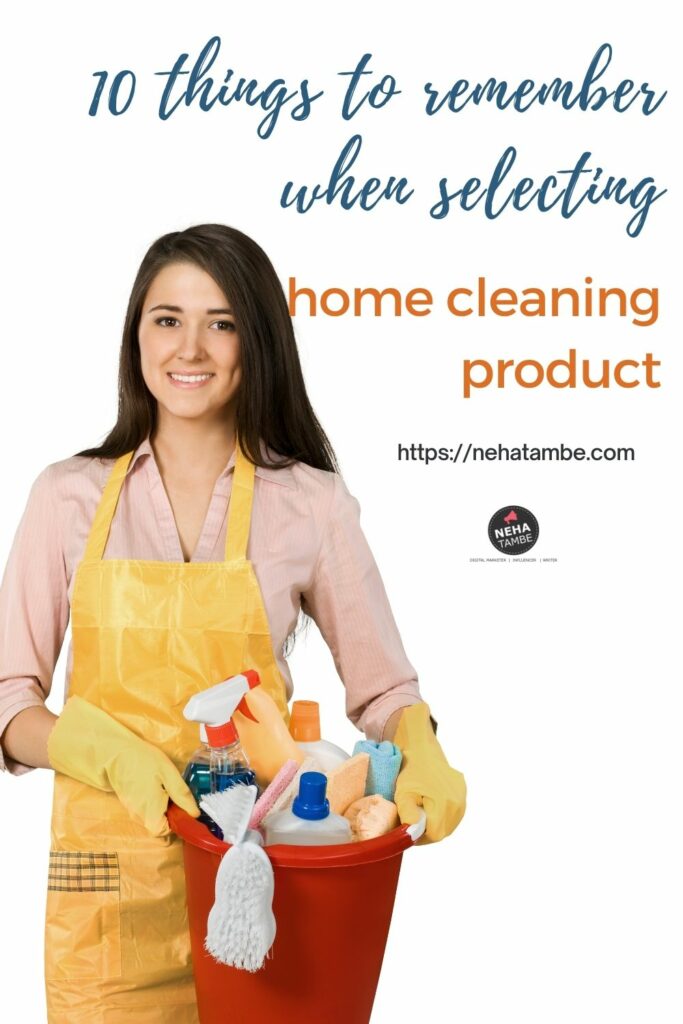 Find what is the product designed for or effective against?
By product effectiveness, I mean to go beyond the whole marketing jingles and find exactly which pain point is the product addressing. Most products are created for a certain kind of use. So if we are looking at laundry detergent or dishwashing gel, do take the time to read if it suits all kinds of clothes, or is it effective when used for hand wash or machine wash, etc.
Know the Ingredients
Nobody reads ingredients. I know I didn't! It was only when I had to choose products that were available online during the pandemic did I bother with the ingredients. The funny story was that on one of my online shopping expeditions, my son who was sitting with me kept asking 'What does this have?' To get him off my back, I started reading the ingredient list and that was an eye-opener for me. Read what goes into the product that you choose and then consider what's best for your home cleaning. For eg: I recently moved to a natural laundry detergent as I didn't want 'leave-in' chemicals in my children's clothing.
Dosage per-use and monthly requirements
This is another important factor that we need to consider when choosing a home cleaning product. How much do we need per-use, needs to be considered when we focus on monthly budgets and the effluents that we discharge. If I need to use 2 caps of floor cleaner each time as opposed to a product that can provide the same cleanliness and effectiveness with 1 cap, which one would you choose?
Need for different products
I am lazy when it comes to buying hundred different products for one task. Like for laundry, there is one for whites, one for woolen, one for delicate, and one for everyday use, one for formals – the list is endless. I find it tiresome to manage and way too expensive in the long run. I just pick products that cover a broad spectrum of laundry and stick to it. This way though it might sound like I am buying an expensive detergent, as compared to others in a similar category, the fact that I can avoid two other products altogether negates the cost hike.
Packaging for comfort
I am not talking about the pretty colors or the celebrity on the box; I am talking about the ease in use. If the packaging is simple and easy to manage, it's always better to pick that one. If a home cleaning product is making my life easy and is effective then that is what I personally prefer. I was irritated with the flip lid sanitizer bottle packaging that was available earlier. Who is cleaning the lid every time someone is using it?
Fragrances: Milder the better
This is again a personal choice as one of my kids has a super sensitive nose. Strong fragrances are a strict no-no for him, so I am careful not to choose anything that has strong smells. Another factor is that all fragrances are mostly artificial, so instead of using products with strong fragrances, it is better to go for a milder or non-fragrant one.
One more thing that needs inspection and this is especially true with utensil cleaning gels is the odor removal aspect. Even if a utensil or container looks clean but has the residual odor of earlier food that was stored in it, the utensil/container does not feel clean. I prefer using a dish wash that can remove such odors while making it easy to clean the utensils. The Puer natural dish washing gel that I am trying currently has NEOFRESH® Aroma Molecule that removes foul odor from the dishes. Nontoxic dishwashing gel with natural enzymes is an added bonus.
Don't blindly believe that all things imported are great
We have some fantastic homegrown brands that are competing in the international arena and have all the certifications and approvals that any imported brand can have. The keyword here is the kind of approvals and certifications the product has. Use product research as your reason to buy something and not it's country of origin.
I had been to an event focused on parenting and the doctor working at Johnson's addressed this myth by saying that the main reason why you consider a product as different is the fragrance that same product has in different countries, however most times the formulation of the product is the same and the fragrance is changed as per the buyer persona and preference of a particular country audience!
Always try before you buy
This is the rule of thumb for me. I usually pick a small bottle to try and if I like it, go for it again. And I personally like brands that are ready to give me a trial pack. They are saving me money and building confidence in me that the product must be good. Why would anyone offer trial packs when they aren't sure the customer is going to come back for more.
Bonus
Some things to remember are to rise above the advertising noise and understand the product and its offerings before bringing it into your home. More foam is not equal to better cleaning. It just means that there are more foaming agents.
When possible, prefer and opt for natural and chemical free products. This is good not just for your family and home but also for the environment.
I hope you found this helpful and are in a better position to choose a home cleaning product that is more suited to your needs. Do share your views in the comments below.