The schools are slowly opening all over India and gearing up to welcome students back to school in the age of coronavirus. While the school will have the necessary SOP's in place and provide detailed guidelines to teachers and students alike, as a parent I am worried.
With two high-risk people in the family, I cannot risk the possibility of being infected with coronavirus; however, I also understand that in-person school is important for the overall development of my children. My elder child is in middle school and the younger son just entered primary schooling. Both of them are eagerly awaiting school reopening, but my concerns too are real, aren't they?
Concerns about sending the child to school
Even in staggered school times, there will be a risk of meeting small groups of students and teachers.
An asymptomatic patient cannot be identified with the current measures of sanitization and mask.
Mass access to vaccines is still a long way for a country of India's size.
5 Tips to keep your home safe as children go back to school in COVID
The best way to tackle my fears ended up being researching about the topic and identifying important tools that I can use to keep Coronavirus at bay while ensuring that kids are back to school. As in Maharashtra, the schools are operational only for students from 5th Std onwards. My post details tips that they can follow when getting back to school.
Carry on Sanitizer bottles
Children will touch surfaces when they are en route to school or at the school. It could be the desk, the staircase railings, or a window. It is important that children wash their hands with soap and water whenever possible. During breaks, before and after school are recommended, however on other times it is important that children carry a small sanitizer bottle and apply as and when required. A natural hand sanitizer that kills 99.9% germs with no harmful chemicals can be a great choice.
A few things to remember when choosing a hand sanitizer
Choose a hand sanitizer with at least 60% alcohol.
See if the sanitizer is approved by the local food and drug governing agency.
Always rub the sanitizer all over the hands and nails and wait till it dries up.
Keep sanitizer away from your eyes when applying.
Wash your hands instead of sanitizing when touching food.
Buy a hand sanitizer that moisturizes your hands as regular sanitizer use will make the children's hands dry.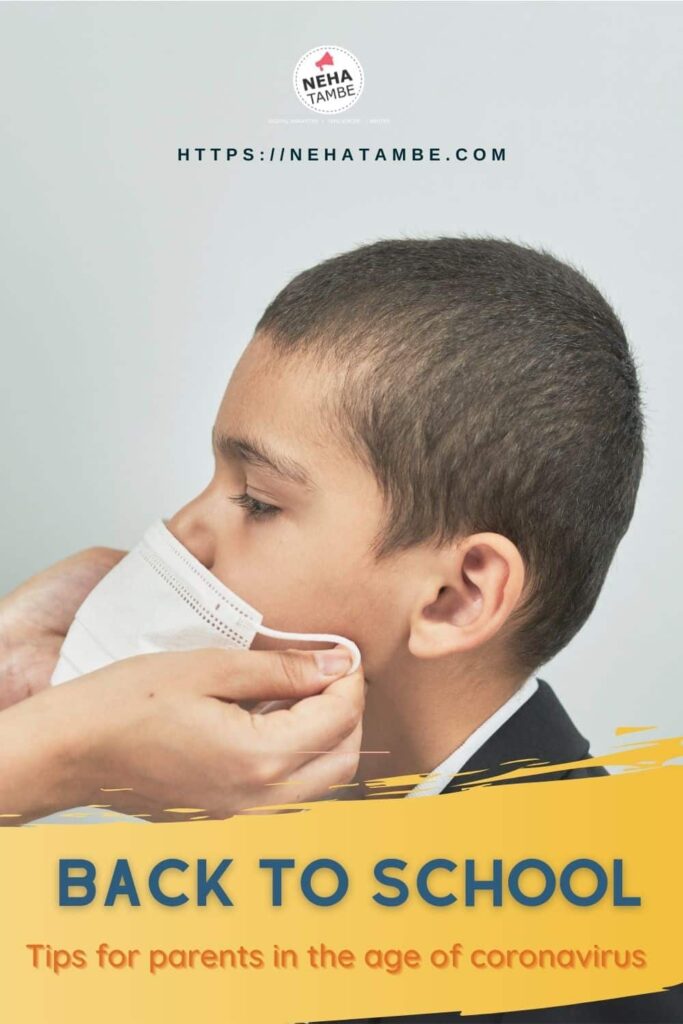 Good Quality masks- One per day
A good quality mask is the one that covers the nose and mouth well and is made of breathable fabric. Cotton two or three layer masks are great for this. Ensure that the fit of the mask is perfect and comfortable. I would recommend getting atleast 4 masks so that after the school day, the mask can go to wash and there are spare to use when going out otherwise. Teach children the correct way to wear the mask and ensure that it is over the nose at all times. This is not just for their safety but also for the safety of their friends and family.
Sanitizer spray for shoes and other belongings
While washing hands and hand sanitizer can keep children's hands safe, what about their belongings? We know for a fact that the virus can transfer from surfaces. Even with periodic sanitization, one cannot be sure about non-transferability of the virus hence it is important to keep a sanitizer spray in the house. Once children are back spray their belongings that will not be washed right away.
Anti-Bacterial soap for body wash
An anti-bacterial natural handwash and body soap are an important addition to the grocery list. Puer has a natural handwash that is made of natural ingredients which are completely effective against germs. This is a great way to care for the environment as well as the family. A good bath after coming back from the school is recommended as that will clean the child's body of any possible pathogens.
A good floor cleaner for regular cleaning of the house
A natural floor cleaner with a capful anti-septic liquid is a great combination to keep the surfaces germ free. Mopping the floor after the children have arrived back will help in keeping the home safe. Plant based floor cleaners and anti-septic liquids can handle dirt, grime and germs while leaving a pleasant smell. Puer floor cleaner is a great choice for any kind of floor type and its malodour control technology leaves the room smelling great while being effective against germs.
Daily uniform washing routine
Just like masks, make uniform washing a routine. Washing uniforms daily after use and drying them in the sun will be a great way to keep corona at bay.
Oximeter to check daily oxygen levels
Oximeter can detect oxygen levels in the blood. With a lot of handy oximeters available in the market, it is a great idea to have one handy at home. Low oxygen levels in the blood can be an early warning sign in Covid patients. It can also help detect asymptomatic patients.
These are the few things that I am doing to help my children get back to school safely. Do you have any suggestions or ideas that can be implemented? Do share in comments below.