'Mom I think I need a cellphone!' This was a declaration that had me falling off my chair. Now my tween is barely 10 and has a pretty normal and non-stressful life. I mean she is not too busy with multiple classes, she isn't a gifted child who needs extra coaching and the likes to hone her exceptional skills, nor is she super competitive or athletic that she needs chauffeuring around for classes, matches, practice sessions, and the likes. So you can imagine my surprise when she declared about wanting a cellphone!
I mean what is the need? But as I was doing some extensive research around tween psychology I decided to try it out and instead of my initial reaction, which was to give her an earful about fancy expectations, I decided to go the wise mom route and got her to sit down to discuss!
Mind you, here my voice was calm, okay that's an overstatement, but it was not yelling for sure. It could be frantic but not shrill. So here is the extract of our conversation.
ME- Okay, let's talk about the need for cellphone in your life.
DD – Eh?
Me- I mean, who is it that you need to call? Your parents and friends are around. Your society friends can be reached via the intercom. For school friends, we do give you our cell phones. The only extra class that you go to is within society and easily connected via intercom or worst-case scenarios you could ask someone to give you the mobile to make a call. (Phew! I thought I managed well, no shouting and all sound reasoning)
DD- My friend has it.
Me – Huh! How does that make you eligible for a cellphone?
DD- She has her own number and all! I don't need a new one, you could give me your old cell phone.
Me – Why is she using her cell phone?
DD- I think because she could contact her mom anywhere
Me- Hmmm ( I had no answer for this one! Am I a bad mother for not wanting to know where my child is every minute of her life! But then, sense prevailed and I decided to take a break from this conversation)
Let's talk in some time. I have to finish something. Also, I need to understand why your friend's mom is so concerned about constant connectivity with her.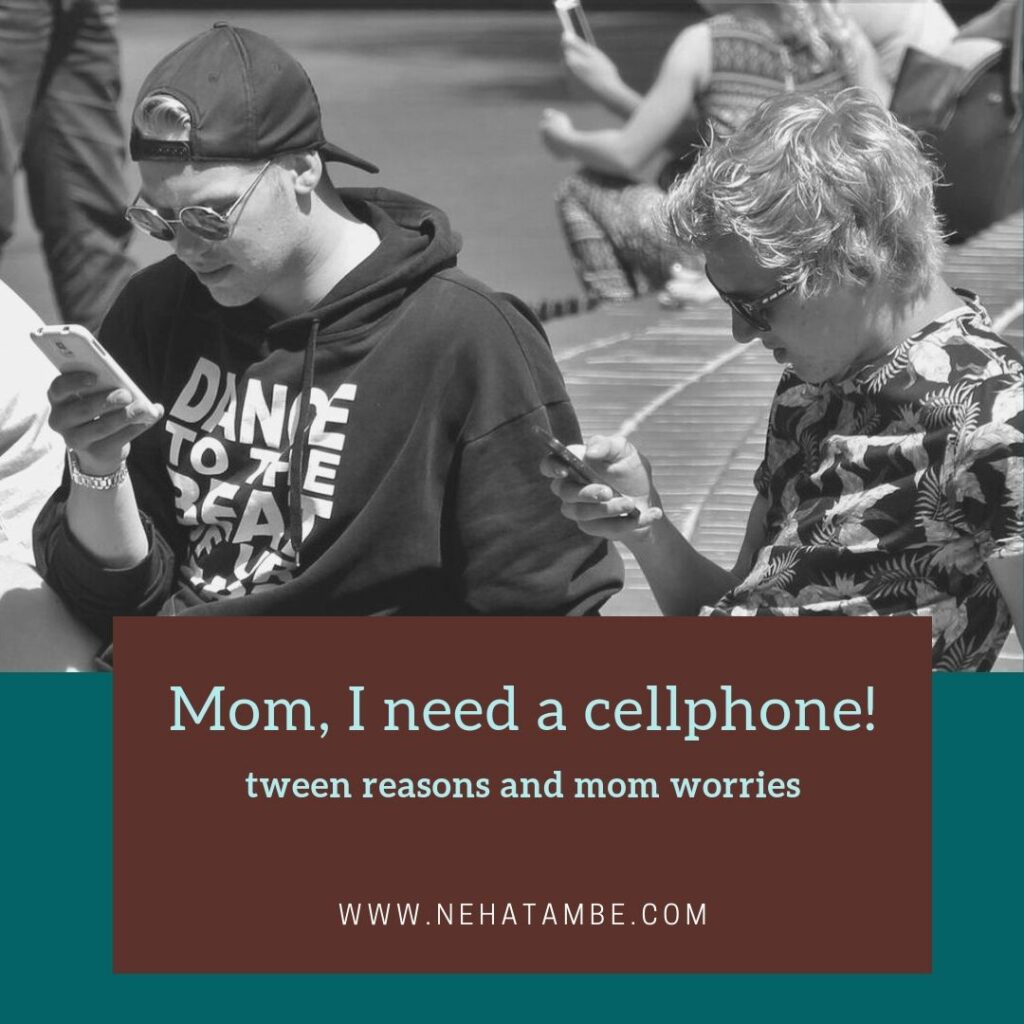 So basically we ended at an impasse, but she didn't seem to be hell-bent on having a cellphone so I realized it wasn't something that she desperately needed, but was probably testing waters. So instead of just ignoring the matter, I decided to talk to her after some more days had passed.
I understood that the other girl's mom was expecting a baby and was tied up in the office for long hours. She had a nanny at home, but just to know her daughter's whereabouts she had given her a cell phone. With that knowledge, I could discuss things better with my daughter. I told her the fears that her friend's mom might have and the phone was more as a comfort to the mom than anything else. My DD seems to understand that and didn't go the 'My friend has it so I want it' route. But since we were on the topic I decided to understand how her other friends thought about phones.
It seems the girl's cell phone had caught every child's fancy but like me, most parents had denied a cell phone.
The girl had an iPhone, which was another hot topic for discussion and interest. Though it was an old one, I generally asked my daughter if she knew what iPhone meant? She knew it was a very popular brand, but other than that she hardly knew anything.
"Do you know the iPhone is a very big brand and their phones are mostly very costly? I asked.
"Hmm, I didn't know that, but how does that matter? It's not like she is selling it." My daughter pointed.
"But people around do know when they see an apple logo that the phone is costly. Can you imagine what might happen if a child is seen with an iPhone by people with ill intentions?" I prodded.
Pat came the reply "Ah! Now I get it. There could be kidnapping, theft and the likes! That's good thinking mom!"
(Kid seems to be watching too much television, need to fix that, but this was a topic of discussion for some other time.)
The friends among themselves had also discussed the positives and negatives of having a cell phone. Case of sour grapes? Who cares! I was proud that they were having a discussion and sharing notes about what their parents were telling them. Collective wisdom is always helpful.
We discussed how the family tablet gets most of her work done. I informed her about the safety features that I had installed on the tablet-like Family link and its necessity. It also became clear to her that whether it's the cellphone or the tablet, the family rules for gadgets will apply. This was another downer for the girl.
Overall the storm has passed and the kid is back to being the happy and somewhat sloppy child that she is. But it did give me a precursor to many of the things that I might have to counter in the coming years.