India enters its 71st year of independence. We have gained a lot in these 70 years, however there is a lot more to be achieved. As a woman, born in Free India I still want a few things to change and a few replaced and as a mother I dream of a certain future for my children. This is a post about those wants and aspirations.
Manyavar did an ad of India- 70 not out and that quite sums up India's journey of the past 70 years. I loved it.
But I also believe there is a lot more that needs to be done. I am a woman and a mother and I am drawing my list from my experiences and what I see around
What Freedom means to me as a Woman
Freedom for me means I can take a walk or go about my life fearlessly, be it morning or night.
Freedom for me means not being slotted as an 'abala naari' who always needs a 'man's' help
I don't want extra benefits like reservation for being a woman but I want equal opportunities and rights
As a woman, I want people to ask me about my dreams and my ambitions, and not about when I am planning to 'settle down'
I want the freedom to be able to choose between being a SAHM, working mom, entrepreneur, part-time work or be content in being a homemaker and not be judged for my decisions.
Freedom from being portrayed in a certain image in our serials and the burden of carrying that out in the real world.
Freedom from being expected to do only certain kinds of jobs. Cooking, Cleaning, and Child-rearing need not be allotted to a woman by the society. It needs to be the duty of each partner irrespective of gender.
Freedom means being something more than 'a hot piece of ass', 'a dumb maiden,'  or a 'damsel in distress'
Freedom means not worrying if I would be able to get back to work after having a kid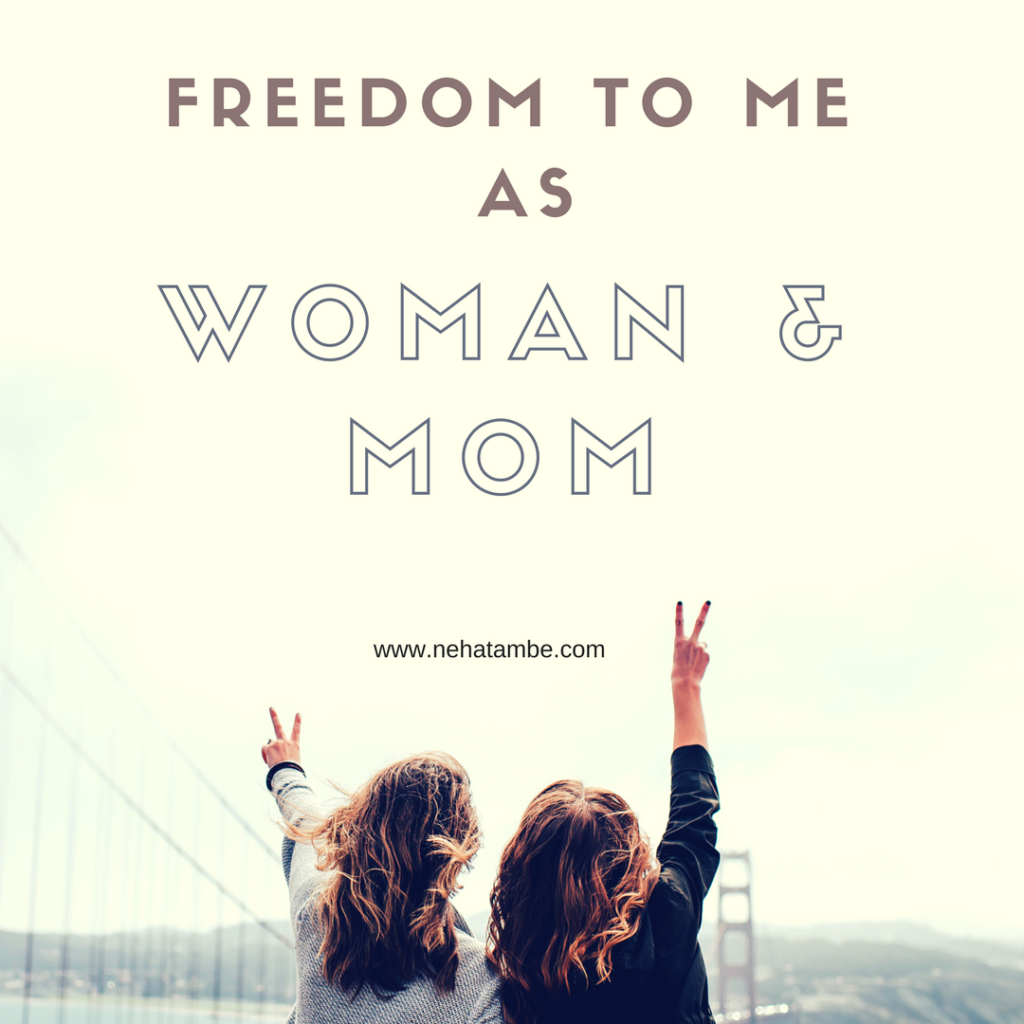 What Freedom means to me as a Mother
Freedom to happily welcome my baby in this world, be it a girl or a boy
Freedom to find the right balance between my family and my personal ambitions
Inclusive and supportive workplaces that respect Work-Life balance
Freedom of letting my children live their lives on their terms and not be bogged down with 'Log Kya Kahenge' or 'Girls shouldn't be doing this'
Freedom to inspire my children to dream big and achieve whatever they wish for in our country
Ensuring that my daughter knows 'being fair skinned' is not an achievement and finding a 'fair wife' is not the biggest accomplishment in life. Beauty should not be just skin deep.
 Respecting everyone and not-judging people based on their body type, skin type, kind of job they do or their educational qualifications. The most educated and wealthy may lack basic civic sense and the most illiterate might have a heart of gold. See good in others.
Respecting a hard-working person, irrespective of the kind of work he/she does. No work is big or small as long as it is being done with good intent and complete honesty.
Freedom from the fear of "Will my children's career or educational prospects me hampered because of – caste, corruption, red-tapism or donations"
What are your dreams and aspirations for India after 80 years of Independence? Do share and add your ideas to those above.