Book- Digital Marketing Insights 2017
Author – Social Beat Digital Marketing LLP
Published by- Notion Press
Available on– Amazon, You can buy a copy here – Digital Marketing Insights 2017
About Social Beat – Social Beat is South India's leading digital agency with offices in Bangalore, Chennai, and Mumbai. Social Beat is a premier Google Partner, Member of Facebook India SME Council. They have a rich experience of working with various clients across verticals like Real-estate, e-commerce, hospitality, and Wellness etc. Honoring its exceptional accomplishments, in the Digital Marketing space, Social Beat was awarded the Best Social Media brands awards for its social media marketing efforts. Social Beat's co-founder Suneil Chawla was awarded the Best Digital Marketing Professional by SMO Council and the Outstanding Digital Person of the Year award at the Digital Marketing Conclave & Awards by Think Media and VIT University Business School. In 2016, Vikas Chawla was recognized as one of the Most Influential Digital Marketing Leaders by CMO Asia.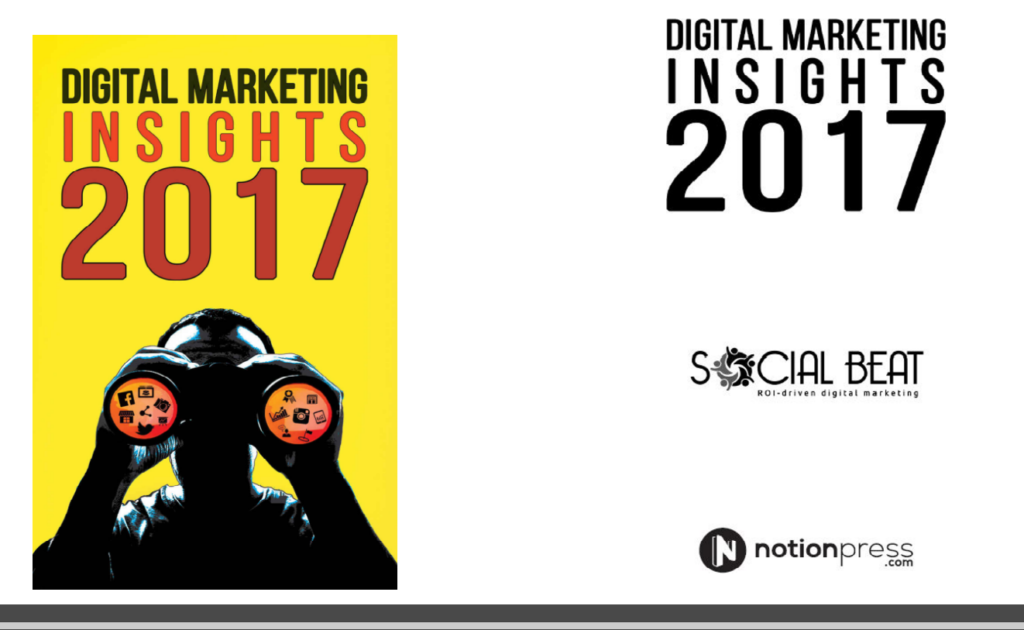 The Book Review
A book about Digital Marketing, coming from the house of Social Beat, an established digital agency, makes it one of the most sought after books in the online marketing circles. In those terms, Digital Marketing Insights 2017 hits all the right notes. Right from the structure, the content and the layout has been created keeping in mind that the book will serve as a quick reference guide.
This is a definitive guide for someone trying to understand and explore the Digital Marketing Arena. Digital Marketing grew organically and then exploded on the marketing scene world over. When India caught up with the world trends, there was a lot happening already and we had to catch up real fast. Hence there was never a structured learning in place when it came to Digital Marketing. This book acts as a stepping stone for those looking to explore and understand the Digital Marketing Space and it does a good job at that. Currently, there are a lot of Digital Marketing schools or online courses. I would definitely recommend this book to those pursuing such courses as it gives a detailed idea of what they need to prepare for.
The book chapters are well organized and they start by forecasting trends for 2017 along with Industry Report for 2016. This acts as a great guideline for marketers and clients looking to benefit from online marketing in 2017. It further explores each social media channel starting with the most popular one in India. This helps as there are very little insights about India specific data for social media marketing. Then the book moves on to other aspects of digital marketing like the content marketing, UX and Web Design, Video Marketing etc. The book does a good job of explaining the approach to a client or business that a person should take before getting on with their Digital Marketing.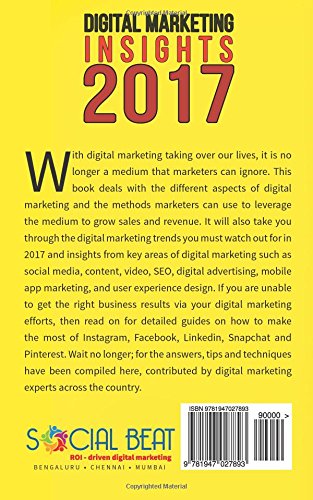 What I liked about this book
A nice progression into the topic for those who wish to learn about Digital Marketing. It is well categorized and delves into all aspects of Digital Marketing in India
One of the few books available in the market that focus on Indian audience and their thought process.
The book touches upon the various best practices for websites, UX, design and content marketing
Has an easy to understand How-To section for better understanding of social media channels and various forms of advertising
It rightly touches upon the rise of content in local languages and how the Year 2017 could be the year of exponential growth in local language content.
Influencer marketing is something that has not been given its due credit in the Indian marketing sector; however, the book puts the focus on its importance and showcases new ways of exploring this under-utilized opportunity.
It also touches upon app marketing, which is comparatively new and still catching up in India.
The Industry Report for 2016 helps with deeper understanding of the market shift and current trends that the businesses should focus on.
Social Beat has established itself as a thought leader in the industry. I bought a Kindle Version of the book and it was certainly worth it. Overall I would rate the book a four and a half star and definitely suggest it to all those trying to get a foot hold in the online marketing industry.
Extra- Tip – I came across a content marketing book review by Vasantha. She talks about a book on content marketing by Sourav Jain. Do take a look if you are interested in online marketing.