Smartwatch for a kid, you might wonder, but hear me out. Nowadays, everyone is screen-dependent for almost every activity, thanks to digitalization. Most of the kids, are now spending longer hours on mobile phones, spending time playing games and watching videos online rather than playing outdoor games. Apart from the physical implication, there are a lot of psychological problems associated with longer screen time.
Getting a kids smartwatch can certainly reduce your worries up to some extent as it is considered the perfect alternative for the smartphone. With kids smartwatches, you can let your child explore and enjoy various features of a phone without adding screen time and guilt. Here we will be talking about a few of the reasons that you can consider for getting the smartwatches for your kids.
Busy Schedule makes tracking difficult
Being a working professional, it might not be possible for you to monitor your child's activities. Similarly, not everyone knows about the child safe features to be activated on a smartphone. We regularly read about kids downloading a malware inadvertently on the phone. with your kids A kids smartwatch can certainly help you avoid such pitfalls.
You will always have the peace of mind that I does not addict your child to screen . Most of the smartwatches come with the feature of a built-in distress signal that helps to send the signal to the parent's phones in case of any emergency or trouble. This function can be accessed with a single tap.
These smartwatches also come with the built-in GPS technology that helps to track your kid's whereabouts with your smartphone.
Stay Connected with your kid
As a parent, you always think of your kid's safety and hence you wish to stay connected with them even when you are out. A kids smartwatch can be your all-in-one device to communicate and start connecting with your kid no matter where you are. These smartwatches allow kids to make calls and send messages. Here you can also block strangers from contacting your kids.
I came across a smartwatch from COSMO that comes with the COSMO Mission control app where you can set a list of numbers that your kid can access. Hence no one else apart from this list would be able to call them. You can also enable the automatic answer feature in it so that your kid cannot ignore your call.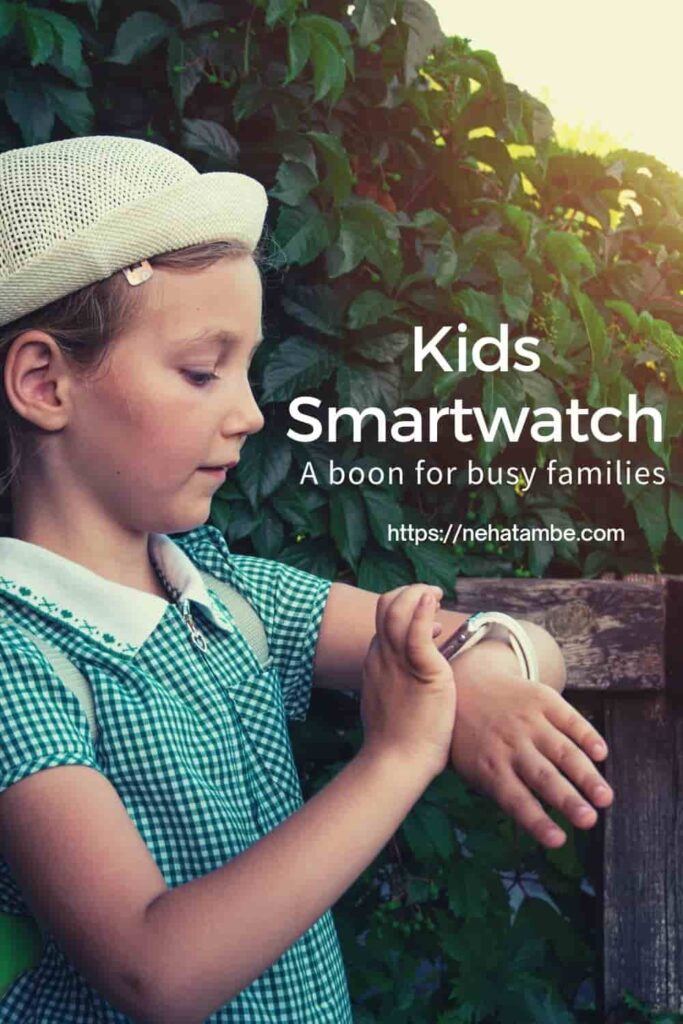 What features should you look for in a kids smartwatch?
A kids smartwatch should have certain features that can keep them safe, while ensuring that they are not addicted to devices. While there are multiple bands available online, choosing the right one is important. A few features that can help you decide.
Reliable 4G Connection
Your basic purpose to get a smartwatch for your kids is to stay connected. Hence the first feature that you should look for while getting the smartwatch for your kid is its 4G compatibility .
GPS Tracking
Since you wish to track your kid's activities and whereabouts, it is important to get the smartwatch that comes with the GPS tracking facility. With a GPS facility, you can track your kid's location in real-time. But this feature turns off once the battery dies. Hence it is important to keep the smartwatch charged all the time.
Contact Blocking
. Contact blocking or restricted calling feature comes as a saviour if you wish to keep your kids away from stranger's calls. But you would need a strong 4G connection to access this facility. With the contact blocking feature, you will be able to allow only certain people to call your kids.
Setting the Safe zone
Setting up the Safe zone or boundaries on smartwatches will help you to get the notifications in case your child leaves the permitted area. This facility is also known as Geofencing.
Durability
Getting the smartwatch might be the coolest thing for kids but as a parent, you would need to think of other factors as well, including your budget. It is important to invest in a good brand and a durable design that can last longer. Most of the brands also offer a return policy You can do your research on such offers before getting one for your kid.
Introducing a smartwatch to your kid could be the best thing if you are not comfortable giving them a smartphone. Hence make sure to find the best one for them.