Remember your naani or daadi telling you to apply cream and besan to a baby when bathing? This ancient wisdom was not some superstition but based on some very important facts. Baby wash with natural products like gram flour and cream help retain moisture and don't have any adverse effect on the child. However, in this day and age of adulteration, we cannot rely on these products as well.
So what's the solution?
Natural body washes for kids!
Why Choose Natural body wash for kids?
• Natural body wash, made of organic products is mild and perfect for sensitive baby skin. Regular soaps can dry a baby's skin and cause skin flaking.
• Babies or small kids may need mild soaps or baby wash if they have diaper rash, eczema or baby acne.
• Regular soaps can irritate the eye. A mild baby wash is tear-free.
A natural body wash, made of organic products is a boon for the parents. New-age parents are well-read and well-travelled. They are aware of the harmful chemicals used in baby products. Parents are making a conscious decision to stay away from synthesized products.
Best Natural Body Wash for Kids 2021
1. Mother Sparsh Plant Powered Natural Baby Wash
Mother Sparsh has come up with a range of Plant-Powered Products, derived from plant extracts, herbal extracts and essential oils. Natural Baby wash is a part of this product range and it is a perfect choice for a young infant.
Benefits of Mother Sparsh Plant Powered Natural Baby Wash
1. The products are made from certified organic material and are free from harmful chemicals like Silicon, Paraben, Dyes, SLS/SLES and Formaldehyde.
2. The products in the plant powered range have no artificial fragrance and are free from allergens and harmful chemicals.
3. Mother Sparsh Plant powered Natural Baby Wash has a no-tear formula and is safe for infants.
Key Ingredients of Mother Sparsh Plant Powered Natural Baby Wash
• Avocado Oil – Avocado Oil nourishes and protects a baby's sensitive skin. Natural skin moisturizers like avocado oil can help keep the skin soft and supple for longer.
• Grape seed oil – Skin inflammation is a common problem in small babies and infants. Grapeseed oil with its goodness of Vitamin E can reduce that. It also protects the skin from UV damage.
• Chamomile Oil – Soothing a baby's skin is important as it is tender. Chamomile's calming properties act as a natural remedy that soothes the skin.
• Coconut based cleanser – This is a good moisturizer and helps exfoliate the baby's skin gently while locking the moisture in.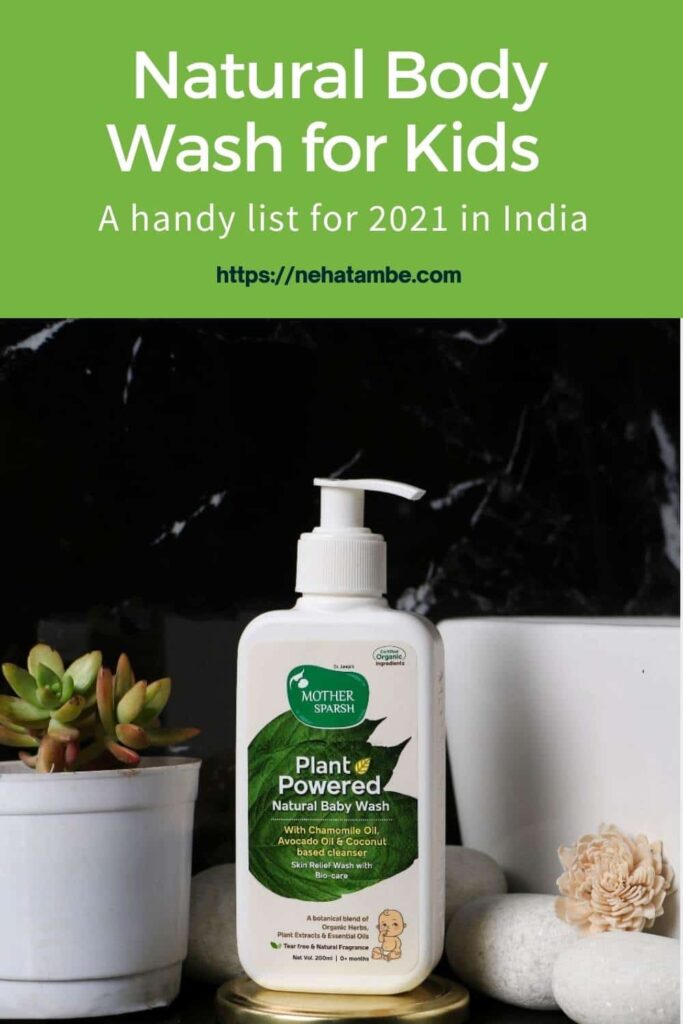 2. Aveeno Baby Wash
Aveeno has a product range called Aveeno Active Naturals, which derives ingredients from nature. It is formulated to provide benefits to the baby. While this is not purely a natural product, it has active natural ingredients. Apart from being a well-known brand Aveeno is a US pediatrician recommended product. It is free from harmful chemicals and allergens. It has a tear-free formula, is hypoallergenic and gentle enough for daily use.
Benefits
Tear-free formula
Gentle for everyday use
Includes the goodness of oat extracts
3. Goodness.me – https://amzn.to/3eEt0uh
Goodness.me is a brand from the house of Godrej. Focusing on creating organic products, goodness.me is ECOCERT GREENLIFE certified organic product. It has the goodness of Chamomile, lavender, coconut and rose. Chamomile, rose and lavender have soothing properties while coconut extracts prevent scalp irritation. Goodness.me too is pediatrician certified, dermatologically tested, hypoallergenic and cruelty-free.
Benefits
Contains the goodness of organic chamomile, organic lavender and organic rose.
COSMOS ORGANIC certified by ECOCERT GREENLIFE – France
No toxins, no parabens and other synthetic and harmful chemicals.
4. Baby Dove Rich Moisture Baby Wash – https://amzn.to/3kE3QzQ
Baby Dove is a special baby care range from Dove. Being true to its brand promise, Baby Dove too is mild and pH Neutral. It is formulated with prebiotic moisture for healthy, resilient skin. Baby Dove also contains 100% skin natural nutrients that replenish the skin moisture lost during bath. It is hypoallergenic, tear-free and contains no harmful chemicals or parabens.
Benefits
Tear-free formula
Suitable for infants and compatible with eczema-prone skin
Ophthalmologist, Dermatologist & Pediatrician Tested
Hypoallergenic and pH neutral formula.
5. Himalaya Extra Moisturizing Baby Wash
Himalaya is a well-known brand in Ayurveda. Its baby care product range too is derived from natural products. Himalaya Extra Moisturizing Baby Wash hydrates baby's skin and locks the moisture in. The key ingredients are almond oil, Indian Aloe, Indian Lotus, Olive oil and milk. While almond oil, aloe and lotus moisturize the skin, olive oil and milk nourishes and protects the skin. It is free from parabens, synthetic colours and other harmful chemicals.
Benefits
Contains the goodness of milk, aloe, lotus, almond oil and olive oil.
Provides a gentle bath
Is good to use in winter.
6. Sebamed Baby Wash Extra Soft
Sebamed is a German brand that has an exclusive baby care range of products. The gentle wash is specially formulated for delicate skin and is dermatologically tested. It is made of botanical extracts and has a pH of 5.5. This extra soft formula with allantoin helps guard the delicate baby skin against dryness.
Benefits
Suitable for all skin types
Provides vital protection against irritations
Protects skin from dryness.Has a pH of 5.5
Baby care product range manufacturers are realizing the importance of natural and organic products. This is great news for parents as their options continue to grow. I have used some of these products like Mother Sparsh plant powered natural baby wash and found it to be very mild and refreshing. I have curated this list of natural body washes that are available in India currently to help parents of newborns choose wisely.