Your little baby is now a year old. He has entered into the stage of toddlerhood! You have maybe thought out plans for a big party or will now think about it.
Or, there is a party coming up for your kin's child who is reaching the stage of toddlerhood. In any case, you now have to decide which gifts are going to be worthy of the baby's special occasion.
Are you thinking of something educational, fun, or sweet? Yup, these qualities are likely going to be very much a part of the gifts that you will buy.
Once kids surpass the one year mark, they start to show developmental traits. In other words, their movement ability surfaces, they become more discerning and begin exploring things.
They start to stand and walk and begin touching things with the intent of feeling them. It would be just right to bring gifts that encourage the baby to implement its new learning abilities.
Also important is to consider the age of the baby. Try to include an element of surprise in the gift and let the gift be in some shape form that seems personalized.
Since this is going to be his first gift, make sure it is the best gift you give him. Let the gift be memorable and ever-lasting.
We have brought for you a suggestion of gift collections from which you can choose.
Below are some gifting ideas for a baby's birthday bash:
KLEEGER Talking Animal Set
This little precious toy set comes with a bunch of four stuffed animals: monkey, tiger, giraffe, and elephant.
Help the kid by introducing him to the world of wildlife – the wild animals. Witness the baby enjoy hugging, cuddling, and squeezing the toys. Spend some useful and fun time with your baby while making him imaginative.
A safe and comfortable toy set, it has passed the quality and safety standard guidelines. The set not only includes the stuffed animals but also includes the jungle house, where the animals sleep.
The convenient carrier that is tree-shaped, allows easy carrying of the toys wherever you go. Buy it soon from Amazon's website.
Baby Portrait from Photo (by PortraitFlip)
How about this unique piece of a gift that has the potential to last throughout the baby's lifetime.
You surely must be having many photos of your baby by now.
How about something that creates your baby's photo into an artwork? Wouldn't this make for a memorable present?
Choose one of your favorite photos of the baby and send it to the service called PortraitFlip. The artists at PortraitFlip will convert this pic into a handmade painting with their painting skills.
What you will have is a handmade portrait painting of your 1-year-old kid. The service provides a wide choice of mediums for the painting.
The mediums include charcoal and pencil sketches, oil paintings, watercolor paintings, colored pencil drawings, and acrylic paintings.
Won't it be amazing to look back at the painting after he grows up? We are sure he/she will love this when they grow up!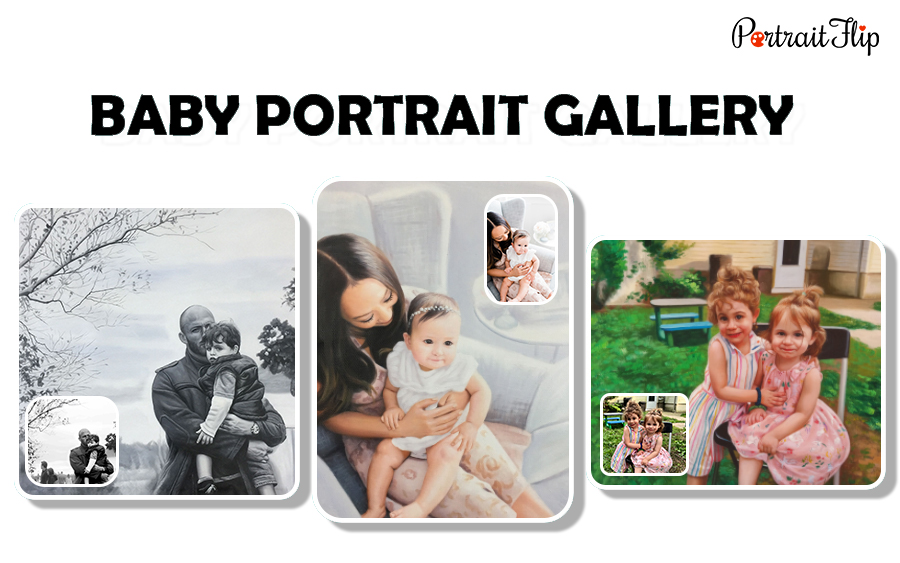 Baby Balance Bike
The balance bike is an ideal toy for a 10 – 24 -month old toddler. It doesn't have pedals and consists of enclosed wheels that prevent your baby's feet from getting stuck
It has a restricted turning magnitude especially implemented to prevent the baby from falling sideways. A sturdily built bike with a carbon steel frame, the wheel and handlebar are eco-friendly.
The bike can help your child develop balance, helping him go forward and backward with his feet. This toy is a good option for both indoor and outdoor.
Riding this bike won't only build the baby's strength, but will also develop his agility, and coordination. Get yourself one from amazon.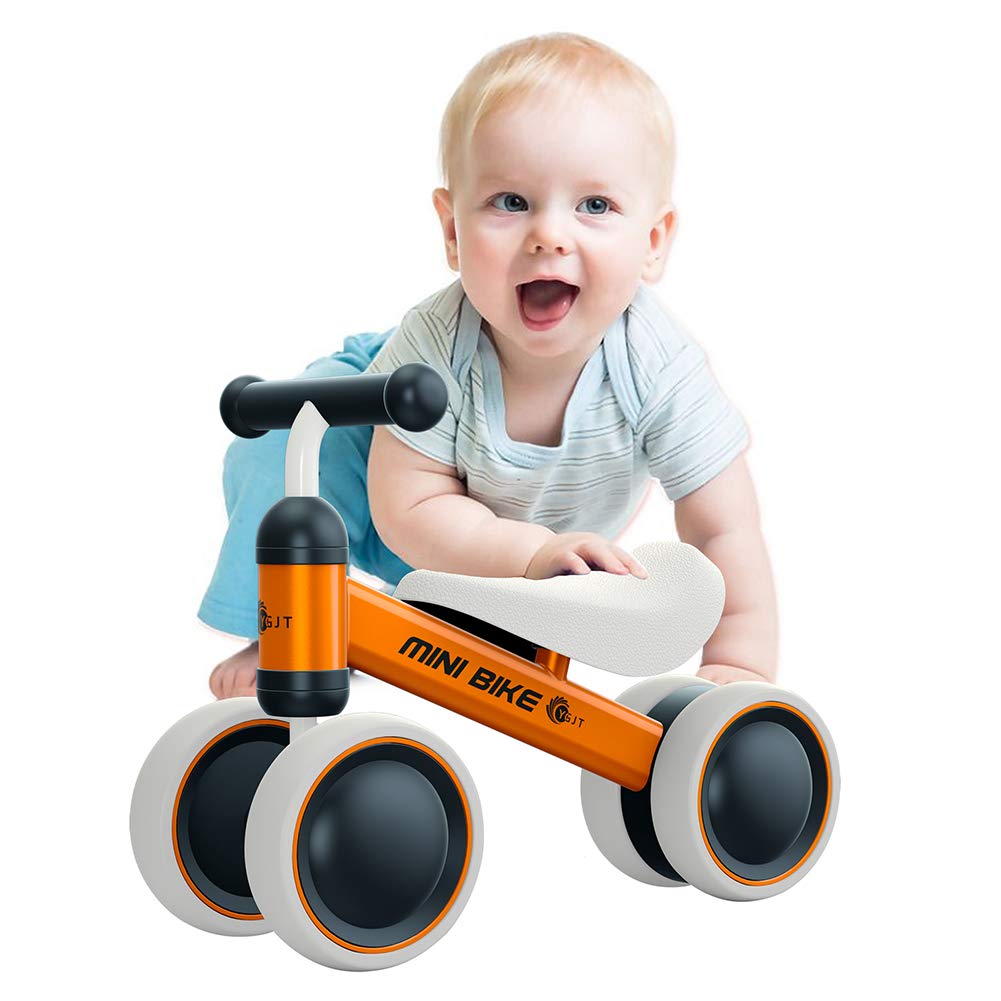 Ray's Pull Along Toys
This kit from Ray's Toys includes 3 animal toys that act as pull along. The animals included are giraffe, elephant, and zebra.
Give your baby one animal at a time to reduce boredom. Carefully designed pull along toys help your kid develop hand-eye coordination, early walking, and balance.
Keep your child from throwing these toys as they may get damaged. These are non-toxic toys and are safe for children. They are good quality toys that don't present a choking danger.
Your kid will enjoy walking with the animal toys inside the house or in the garden. At last, your baby will have a company that he can walk with the entire day. Go to Amazon for further details.
Utex Inflatable Ball Pool Tent
A durable game toy, built with a high-grade polyester material; it is resistant to wear.
The game kit includes a conical tent-house, a square tent-house, and a long tunnel, each capable of being used together or separately.
The tunnel and ball pool have mesh windows that allow air circulation inside. The tent also consists of two small holes in the square and long tunnel.
The game is also suited to cats, dogs, and pets. When disassembled, it is light in weight and easy to carry and transport.
A great item for the physical activity of your child, providing exercise also. To order this tent, go to Amazon's website.

Dr. Seuss Happy Birthday Table Book
This book is an interactive one for curious readers. It has elements of smell, pull, spin, and touch.
The cover of the book is a beautiful blue color, the book in itself is a good birthday gift for a toddler.
With this book, toddlers celebrate the arrival of the Day of Days of the Great Birthday bird every year.
The collection consists of nursery rhymes that are the signature of Dr. Seuss.
Each book presents to the kids the most popular characters that grab the attention of kids and generate a deep interest. Order a book from amazon for the toddler's birthday.
Woby Musical Bank Toy
This toy consists of many tools and is ideal as a construction toy. When the tools get activated, they create sound.
Apart from tools, the kit also contains mechanical machines such as bench clamp, chainsaw, and the electric drill.
A perfect gift for young and inquisitive children, it helps children strengthen their hand muscles and learn the functioning of basic tools.
It also has tools such as screwdriver, hammer, and wrench. In all, it has 7 tools. With these, there are corresponding 7 melodies accompanied by cheerful lights and sounds.
The inbuilt form-matching game allows the kid to learn colors by matching shapes. To buy this item, visit Amazon.
Keep these ideas in mind until the baby's first birthday. If you end up giving one of these gifts, make sure to observe the baby's face when he grabs it. You'll love the moment! Just go for it. Cheers!