Sometime during the last quarter of 2019 I saw this video about #NatureNow – a climate crisis video by Greta Thunburg and George Monbiot. The video focused on three most important things to reverse climate change – Protect – Restore and Fund.
This got me thinking and looking for climate change warriors who are doing their bit to spread the message about nature conservation, climate change and more. While the Greta Thunburg's of the world are taking over the policy makers and holding them accountable, there is another huge army of warriors who are silently working towards restoring and rejuvenating the earth.
You would be surprised to know that there are many such warriors who have taken up a cause and are working relentlessly towards it. While I can't be a part of every crusade, I can definitely bring them to you and hope that it reaches thousands. We can contribute by volunteering, paying or even adopting small changes in our life.
The first of such warriors that I came across is an organization called JeevitNadi –a Marathi word translated as living river.
JeevitNadi started their work in 2014 and registered as a Sec 8 company in 2016. These are men and women from various walks of life who are striving to keep Pune's rivers clean.
Rivers of Pune
Pune is blessed with many rivers in and around the city limits. The two main arterial rivers that flow through Pune are Mula and Mutha. As kids we had always heard our elders call the rivers as a mother, but today the condition of these rivers is heartbreaking. Somewhere in the race to progress, we seemed to have lost that man-river connect. Today the river is more of a dumping place – dumping of waste,
Warriors take arms to fight river crises
Thankfully, not all were indifferent to this plight of our rivers. A group of young warriors from diverse professions came together to restore and rejuvenate these rivers. These restless warriors came up with a plan to restore and rejuvenate rivers.
They decided to do something and every weekend they come armed to fight a war against pollution. The arms for this mammoth task are gloves, bins, man-power and motivation. They actually get into the slush and cleaned the river banks one stretch at a time.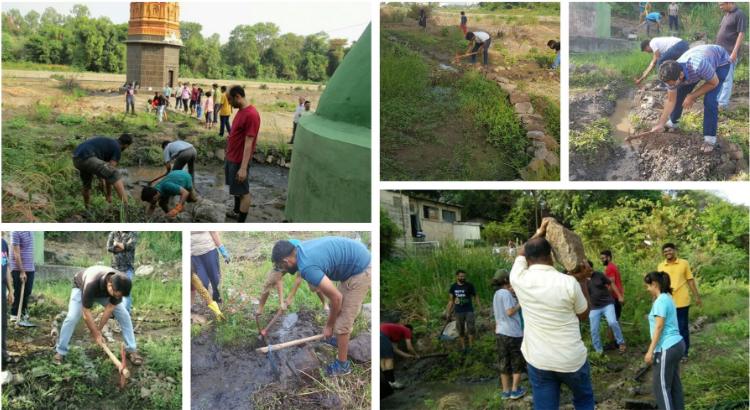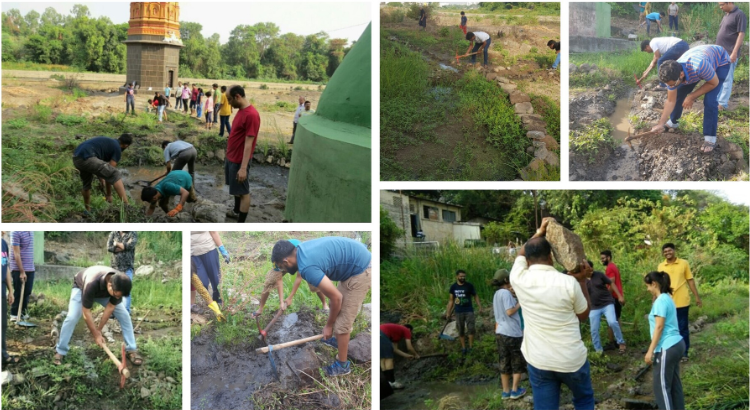 What is Jeevitnadi – Living River Foundation?
Jeevitnadi – Living River Foundation is an organization comprising of individuals from diverse professional fields who are passionate about environment conservation. The mission of reviving rivers is their drive.
What is Jeevitnadi doing to increase awareness?
Jeevitnadi majorly focuses on treating the pollution at the source.
They undertake many awareness and volunteering programs where the solid waste dumped along the river is cleaned. The waste collected is categorized, recycled and documented.
Documentation of Bio-diversity and habitats along the river.
Dissolved Oxygen is an important factor in the river to help sustain the river eco-system. Jeevitnadi regularly monitors this level.
Apart from these activities, Jeevitnadi realized that motivating young adults was vital for the river's health. They undertake fun activities regularly to engage these young minds.
There are story-telling sessions along the banks of rivers to help children and parents connect with these rivers.
One of the major sources of river pollution is the nirmalya (flowers and other natural products used in rituals) To educate people about it and ask them to dispose of the same in Nirmalya Kund (which is then converted into compost) Jeevitnadi took the help of Kirtans. With kirtans, they brought the issues of the river and our responsibilities towards the river in the temples surrounding the rivers.
Alterations around the river beds have caused marshy patches and stagnant pools along the river banks. Jeevitnadi is helping connect these places with feeder streams to ensure that the water is flowing. They also beautify and treat these areas with plants.
Water hyacinth is removed from the river and used in creating compost.
Engaging events like the Muthai River Festival to spread the message about rejuvenation and restoration of rivers through fun activities.
With a simple message of – My river, my responsibility and powerful thought that no river revival program would be successful without the participation of the citizens, they have come up with various events like the River Festival, River Walks, an exhibition about rivers, conducting discussions around river revival and much more. To know more about Jeevitnadi and how you can contribute, check out their website.
I am writing this blogpost for Blogchatter's program #CauseAChatter. If you too have a cause that you wish to create a chatter about, register here