What plans for today? Let's go shopping!
Or
I have nothing to wear, let me shop for a new dress for the party this Friday!
Innocent statements that we all regularly use, isn't it?
But did you know that as fast fashion has made clothing affordable, it is also putting a lot of strain on our environment?
You might say, but I donate all the clothes, some even recycle it to ensure maximum utility. While all that is wonderful and great steps that we can take on individual level, here are some dark secrets of fashion industry that you must know
Did you know these dirty secrets of the fashion industry?
The fashion industry produces 10% of all humanity's carbon emissions.
It is the second-largest consumer of the world's water supply and pollutes the ocean world over with microplastics.
The equivalent of one garbage truck full of clothes is burned or dumped in a landfill every second.
And these are just some of the grim statistics..
So what's the solution?
Doodlage!
This has nothing to do with the doodles that you draw on your notebooks or tissuepaper. This is actually a made in India brand that is working to reduce the strain on the environment one scrap at a time!
What is Doodlage?
Doodlage is a sustainable fashion label that tackles with post-production wastage. They work in something called circular fashion. Doodlage is the result of a unique vision by its founder- Kriti Tula. While working as an intern at a large export house, she realized the enormity of fabric wastage. Little variation in pattern, color or even a misprint is enough to reject the fabric. But what do you do with it? This is when Kriti had her aha-moment. She started working on an idea to create a fashion label that was working with wastage and that's how Doodlage was born.
Being a fashion brand with a conscience
They take post-production wastage and create beautiful fashionable dresses out of it! They work with all kinds of industrial waste created in the fashion industry and make sustainable eco-friendly fashion.
"In more straight forward words we up-cycle a mix lot of raw material which our team of designers patches and embroiders to create a similar pieces each time."
So each piece ends up being a unique garment.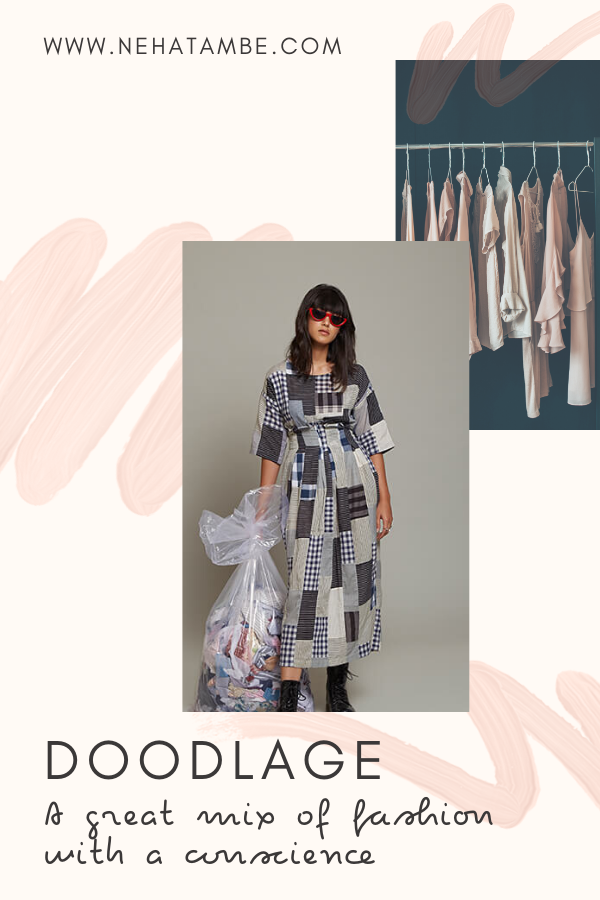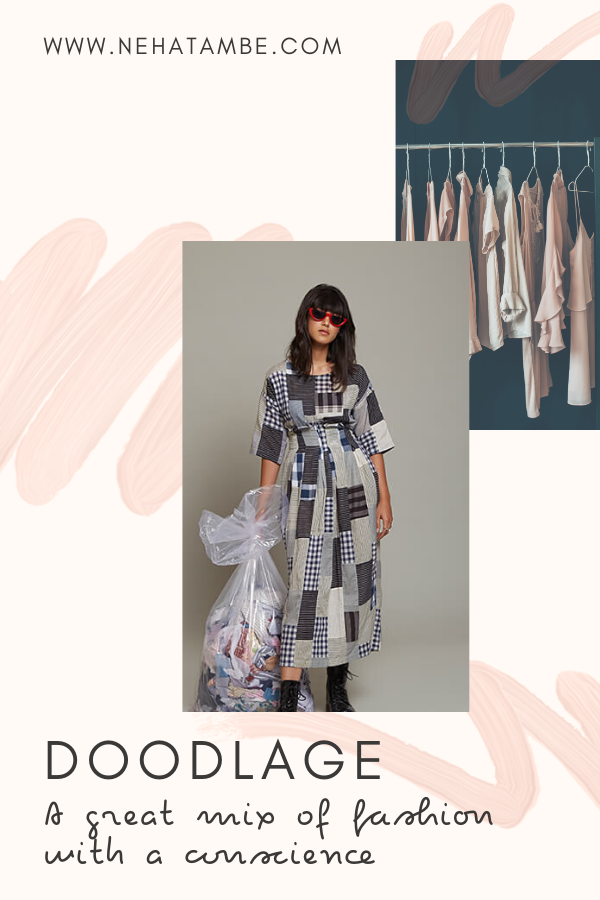 The moment I saw their video I remembered how my mom and aunt used to make lovely dresses and embroidery patches from scrap clothing. We had a sewing machine back then and also someone who could stich 😛
While not everybody is savvy in stiching, Doodlage does offer us an alternative that is caring for earth as well. Clothing today is way beyond something that is essential to protect our body. It is a statement, a part of who we are; so why not make it sustainable one?
Also if you were wondering what they do with the waste that they create, here's the answer. They create accessories with that waste. They create purses, coasters and much more. Now this is what I call complete use of a product.
I hope you enjoyed reading about this as much as I loved researching it. As an individual, if we are mindful about the fashion waste that we create and recycle or upcycle our garments, we will be helping bring about sustainability at our own micro-level. It's time to think about it!
This is my post for #CauseAChatter by Blogchatter, where I will be writing one article every month about eco-warriors who are working at grass root levels to bring about changes and address climate change.
This is not a sponsored post. It is based on my research about the brand and sustainable fashion. I am sure there are many other fashion conscience brands however for this post I have researched only this particular brand,
---