I came across this prompt on Amrita and Deepa's Thankful Thursday's. I loved it the moment I read it but wasn't getting around to put it down. That is when I read about #Tiniature on Twitter and decided to work on that with this theme.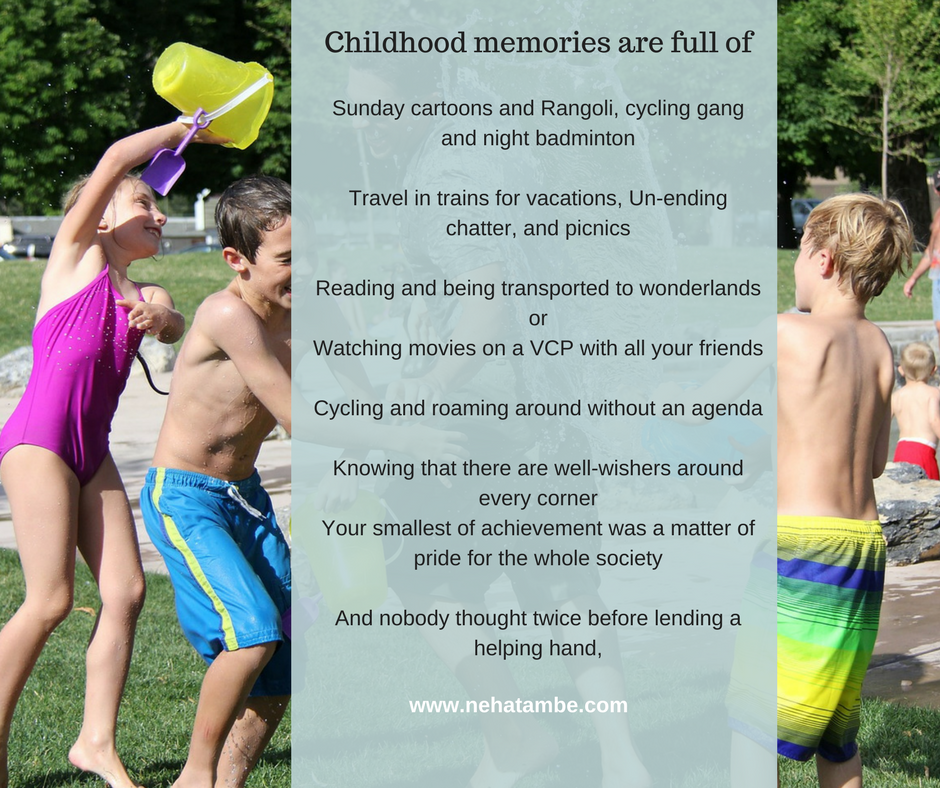 In a way, I am thankful that my childhood memories do not include gadgets and expensive toys as it was through these memories that I discovered kindness and humanity.
There were no mobiles then, but still, somehow we managed to communicate and there was never a worried moment for my parents, caused by non-communication. We didn't even have a landline for a long time and giving out a PP phone number was okay, but it came with a long list of do's and don'ts. Interestingly, these lists did teach me to think from other's perspective. There were no maps but we never got lost. We relied on the knowledge of helpful rickshaw drivers, the traffic policeman, and others.
I traveled alone to school right from my primary schooling days. Went in a public transport, but was never worried as I knew the streets were filled with guardian angels. I didn't know about the evils of the society but have experienced numerous instances where these guardian angels came in and swooped me away from any possible harm. In most cases, these were strangers who considered a child as a collective responsibility. That was a time when people were watchful about their surroundings and weren't lost in their mobile world.
It was a time when strangers didn't think twice before questioning someone's intent and if anybody questioned, 'Why are you bothered?' the instant reply was 'Hamari beti hai' Though the nosy neighbor was annoying, she would keep an eye if your child went out alone. The local grocer would be watchful till you turned into your lane if you came to buy something alone.
Those were the days when for every single evil there were a hundred angels. Today we have progressed a lot but the human connect seems missing. How I wish we could have a happy blend of both the world's so that my children could enjoy an equally carefree childhood.
Update – This post went on to be the winning post for the prompt! Yay!! Super happy 🙂