Varanasi is called the place of salvation for many. Be it pilgrims or tourists, the scenic beauty and around 2,000 temples are sure to catch your eye when in Varanasi. Adorned like beautiful jewels, you will find temples and picturesque beauty everywhere you lay your eyes. Aren't road trips thrilling than the usual normal train or plan traveling? I always preferred road trips to other ways of commuting while going somewhere. It took me only 3 hrs to reach Prayagraj with two breaks at restaurant joints. The total distance to be traveled is around 121.6km via Varanasi – Allahabad Road NH19. Since I do not own a car, I decided to Book a dependable taxi in Varanasi for the trip. The distance of this 121.6km is smooth and comes with a guarantee of no bumpy ride, that's a win, right? You have petrol pumps and resting zones all along the way.
Choose from a plethora of mouth-watering street foods
The real fun part of a road trip has to be the amazing street food options. Once you have booked a cab from Varanasi to Prayagraj, all you need to concentrate on is the many such local delicacies and street food stalls. From delicious kachori sabzi to lassi and bati choka, I was offered a buffet of their local delicacies. On a 3 hour journey, I was starving and stepped out to eat Varanasi's famous kachori and sabzi. The crisp and hot kachoris are a soul saver along with the spicy sabzi. Also, I tried their Dahi chutney gol gappe which brings this entire range of flavors in your mouth. If you tend to like spicy food, then this is just for you. After gorging on gol gappe, I quenched my thirst with their very famous malai lassi, which is a must-try if you happen to take this trip! With numerous tea stalls to rejuvenate your energy level; the tea is as amazing as the other food options here, one is bound to fall in love with the food here.
My cab driver while chatting with me, made me aware of the two routes that you can avail when you take this trip. There are specific routes preferred by travelers to view offbeat places, scenic beauty, or romantic places.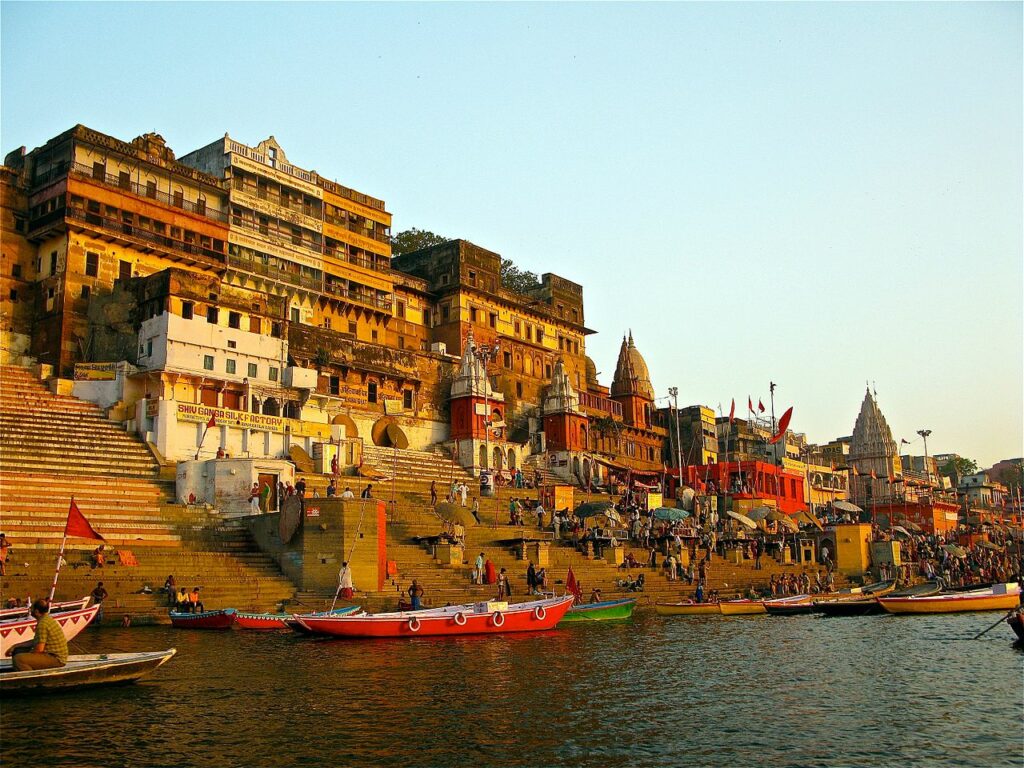 Add colors to your life with Prayagraj's finest markets
Once I reached Prayagraj, it was difficult to concentrate on anything other than the markets and the local crafts they sold. From colorful chikankari materials to brass lamps with intricate work, the markets are a shopper's haven I bought my friends some souvenirs and incense sticks to take back home for my family. With the most reputed and renowned bookstores, I also grabbed a couple of books too.
When in Prayagraj, you can never miss out on Triveni Sangam
Filled with tourists and pilgrims, the Triveni Sangam still has its tranquillity untouched. The merging of three rivers looked so calming and beautiful. Even amidst the hustle-bustle of pilgrims who take a dip and chant prayers, the place has magic and glory of its own. When you are standing by the Sangam, there is a sense of belonging and longing to be there forever.
To relive old majestic days, visit Khusro Bagh
With a handy camera and a fresh pair of eyes, I went to Khusro Bagh on the second day of my trip. With intricate Mughal architecture, the Bagh reeks elegance and beauty. The patterned and extraordinary designs will soothe your eyes and soul. The Khusro Bagh is approximately 6 or 7 km away from The Akbar Fort, another example of Mughal designs and layered work.
Allahabad Fort that speaks for itself
The Allahabad Fort is majestic in its being. Built approximately 436 years ago, the place stands distinguished and dignified. Basking on the banks of the river Yamuna, the fort stands close to the confluence with the river Ganges. A sight as magnificent like this should not be missed at all.
While visiting the Ganga Ghat, I witnessed a mesmerizing view of thousands of people taking a dip in the Ganges while chanting prayers. With bells tolling and people clad in the spiritual glory, taking a stroll by the Ghat, it is nothing short of absolute wonder. I missed glancing upon the perfect sunset at the Ghats as I was traveling by road from Varanasi to Prayagraj, but it is something that is definitely on my mind for the next time.
This is a guest post by Vijay C who is an avid traveler and a road trip enthusiast. All opinions are personal to the writer. The images and the content is provided by the writer.