Travel from Pune- Sirsi
Kilometers and time taken – 542km, 9.5 hours
Road conditions – Okay till Kolhapur and superb after that. (Road expansion work ongoing in Satara and nearby areas)
Safety gear – Car seats
What to do in and around Sirsi – Attivere Bird Sanctuary, Shalmala Gardens, Unchanhalli Waterfalls, Magod falls, Satodi Falls, Banavasi, Sahasralinga, Shivamogga
This summer we decided to do something different and thought of trying a road trip with both the kids in tow. While hubby dear was super excited about the long drive, I was skeptical as my kids are not known to be quiet and sitting obediently in long drives. Hell, they start asking about the destination even before they get in the car. Add to it the constant string of querulous statements ranging from boring surroundings, to cramped spaces and the road trip suddenly seems like a very bad idea. After a lot of coaxing from the hubby, I decided to give it a try, but not without preparations.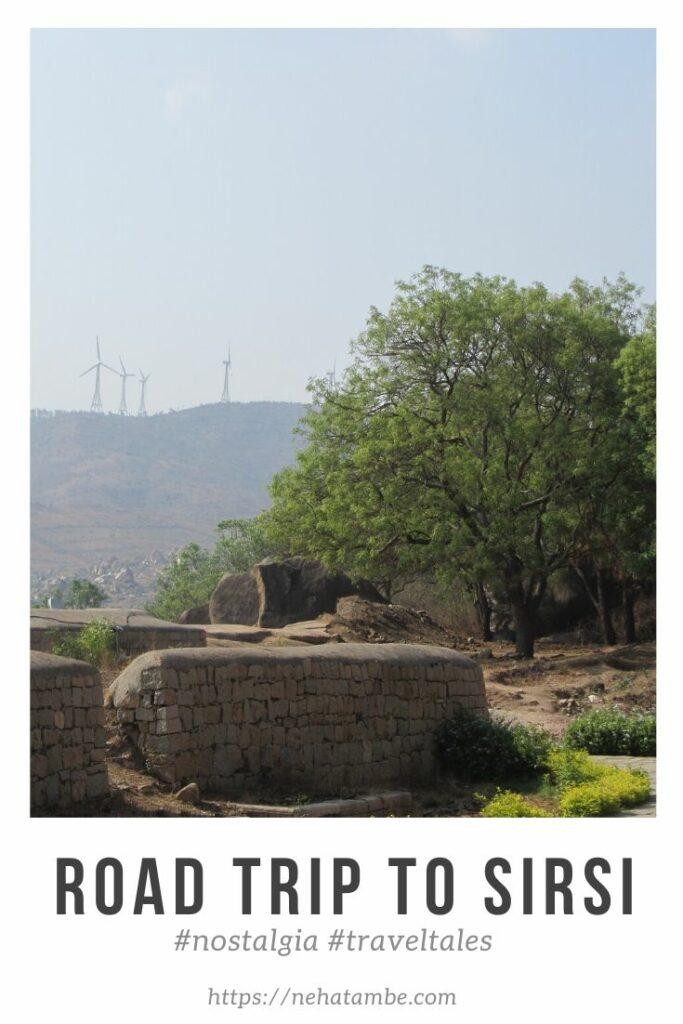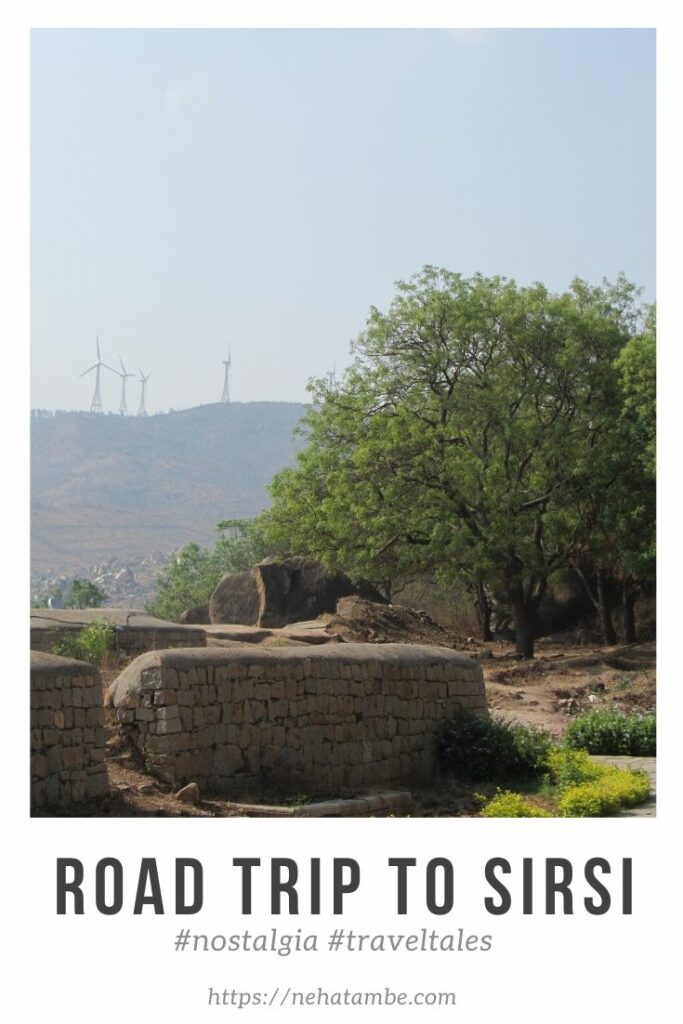 I started preparing for it before a week. First thing to do was load the phone with interesting and educational games and songs. Next was to make a list of required toys, colors, clay and coloring books. Once the in-car entertainment was sorted out, I went to the next important thing and that was snacks! Before the journey I felt like I was an airhostess entrusted with the duty of in-flight entertainment and food.
We decided to leave early in the morning to ensure that we cover major part of the journey before the sun reaches its peak. As this journey was in the first week of May we wanted to avoid driving when the sun was at its peak. We started our journey at around 6 in the morning. The kids were super excited in the morning, but as there wasn't anything interesting to do and it was still early morning with a nice cool breeze, they quickly dozed off and our first 3 hours of journey was covered quickly and quietly.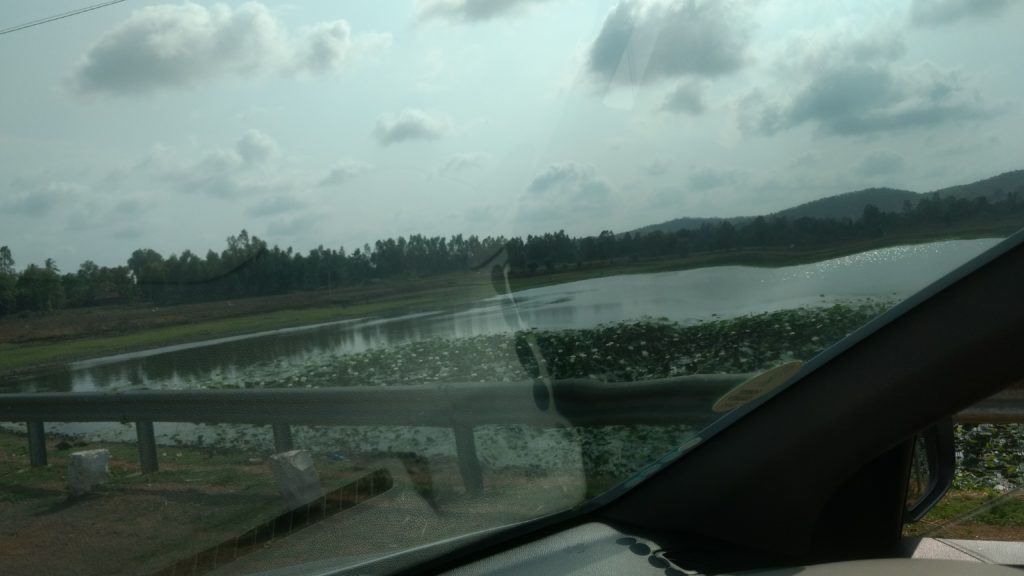 By then, we decided to take our first break for tea and snacks. Good places to stop for Tea and snacks are around Satara and Kolhapur. Places like Natraj snacks, Vitthal Kamat offer good breakfast options at reasonable prices. After having a sumptuous breakfast at Vitthal Kamat after Kini toll naka we proceeded towards Sirsi.
The roads till Kolhapur can be a little bumpy or you could experience slow moving traffic because of highway expansion work. However after that it's a beautiful road, with little or no traffic hold-up's. The roads are lined with Gulmohar, BoganVillas and bright yellow flowering trees. These were in full bloom and looked stunning. The color hues on both sides of the roads were captivating. The soil too was slowly turning from brown or black to a distinct red. This riot of colors made the summer travel worth it. Sadly there were no places to stop and click pictures, hence we missed that.
The kids in the back, hardly had anything at the breakfast break, and were now rummaging through the snack pack. Thankfully, we had enough options to keep them busy and full. After a round of snacks, coloring and clay art, the kids dozed off again and I could get back to enjoying the life around. There are good places for lunch around Belgaum and Hubli. It is better to have your lunch latest at Hubli as post that it is a single road going through small villages and forest area with almost no eatery options.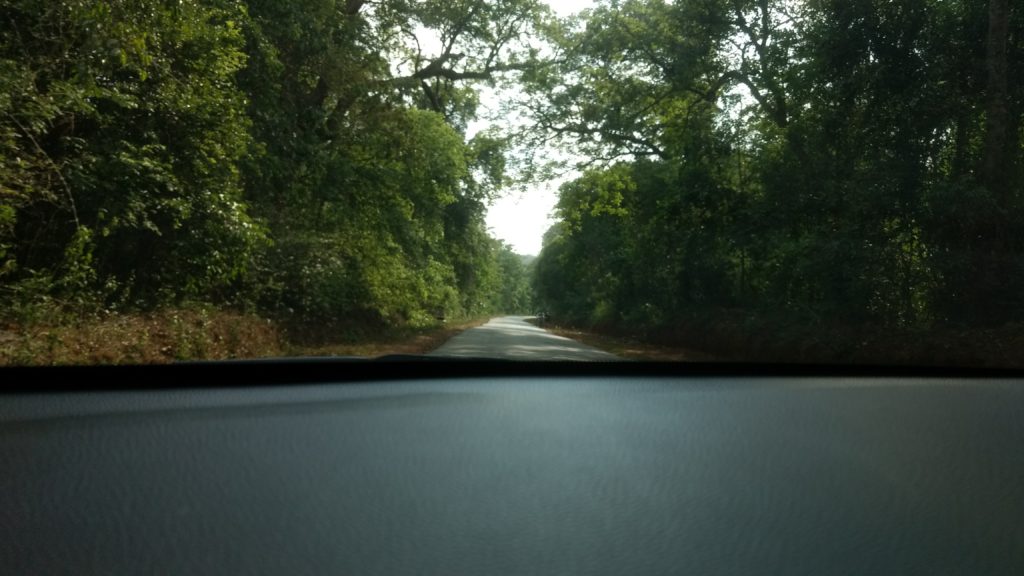 Once you take a right and get on the single road, dense trees welcome you. We hit this road around 1.30pm and though it was a blazing sun outside, the shades of the trees provided ample rest to the eyes. The road cuts through a forest and sightings of birds and monkeys are easily possible. If you travel by this road early in the morning, peacocks too are a common sight. We reached Sirsi in roughly two hours after that.
Sirsi is a bigger town as compared to its surrounding areas and it is better to stay in Sirsi and travel to the nearby sightseeing locations. Availability of vehicle on hire is easy and the hotels do assist in the same. Popular hotels to stay are Madhuvan, Samrat and Panchavati.