Flu and the common cold are something that is easily confused by people. I was one of them and never realized that the flu can be dangerous. Recently, as I was helping my daughter with a science project I came to know about the difference. 
We were to collect statistics about common illnesses and that is when I came across some startling facts about influenza or flu.  For eg: Did you know – 
The flu pandemic of 1918-1919 killed more people than the First World War?
And 100 years on, India remains as vulnerable to deaths by influenza as it was during the global pandemic.
This got me worried as according to this, the danger was closer home than expected and I seemed to be extremely ill-prepared for it! Another thing that I realized was flu and its related complications can cause death and children are at major risk of this disease.
And those who know me, know well that when I get worried about not knowing enough, I read up about it and that's what I promptly did! While no one had flu in the house or even slight fever, 'It is always better to be prepared' is my motto.
So along with the school project, I started a project of my own – 'To know well about the precautions that I can take to protect my child against flu.'
In the various papers, science articles and tips around precautions that I read, I realized the one thing that I can and should do to protect my children is getting them a flu shot!
What is a flu shot?
WHO recommends yearly vaccination for protection against seasonal influenza. This vaccination is created yearly based on the most common flu viruses in that specific flu season. Though this is a vaccination that needs to be taken every year, it can reduce the flu risk considerably. Such vaccinations help trigger antibodies in the body and reduce the risk by 40-60%
Antiviral drugs for Influenza, if given early may reduce severe complications and deaths.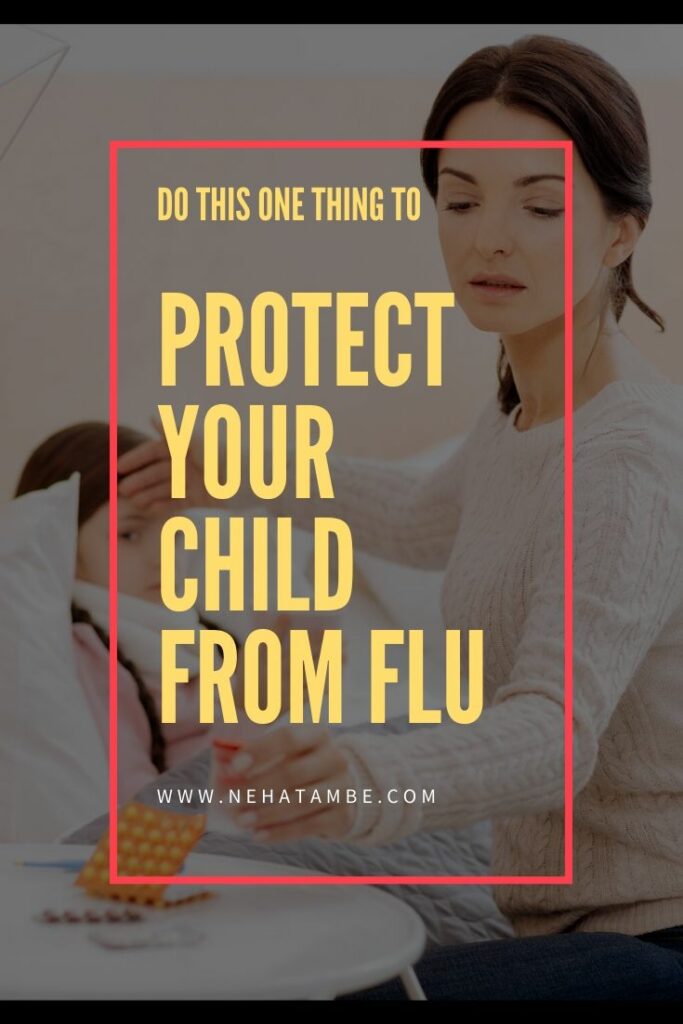 Some other common precautions that can help tide over the flu season are
Avoid close contact with sick people as the flu is highly contagious.
If you have flu-like symptoms avoid going out or being in contact with other people. If you are the primary caregiver with symptoms, arrange for another caregiver and stay away from the children.
Wash your hands frequently and avoid touching nose, mouth or eyes
Use a tissue to cover your mouth and nose while sneezing and coughing. Dispose off the tissue immediately after use.
Quit smoking as people who smoke have an aggravated response to viruses including flu.
Another important thing that you can do as a parent is to maintain a healthy immune system of your child. Including lots of fruits and vegetables in the daily diet will help maintain a good immune system. Apart from this, letting children play outside will help them get the necessary amount of Vitamin D which in turn helps improve immunity.
These are some really simple things that we as parents can do to protect our children this flu season. I am getting my kids a flu shot because #IPromiseToStopFlu. Are you?
Sources
https://www.medicalnewstoday.com/articles/321005.php
https://www.livemint.com/science/health/100-years-on-india-is-still-seen-as-vulnerable-to-influenza-pandemic-1549905479358.html