With summers just around the corner, it is time to stay hydrated. But what if you could stay hydrated and healthy? In summers I usually drink enough water, but I don't feel like eating anything. I pick at my food and prefer drinking something. However after being a mother, I knew I had to lead by example and hence I forced myself to eat in summers, but it's easier said than done!
I read about infused water sometime back and decided to give it a try, but my trials with dumping fruits and herbs in water, didn't actually look appetizing for me to continue. That's when I heard about infuser bottles. These bottles have a special chamber that holds chopped fruits. The separate compartment helps as it allows us to reuse the fruits, till the flavor diminishes.
Goodness of Infused water
Fruit Infused water adds taste and health to plain water. This helps us drink more water while adding some important minerals and vitamins to your body.
Increases Metabolism
Citrus fruits and water can help improve metabolism thereby helping you in losing weight. However fruit juice or smoothies also bring along added calories that you need to worry about. Fruit infused water helps in losing weight the healthy way and keeps you fresh all day long.
Calorie Free
As infused water is natural flavored water, it is the best way to gain nutrition without adding calories. The goodness of fruit gets infused in the water and this makes a healthy drink that you can drink without worrying to read about the calorie content.
Boosts Energy Levels
Fresh fruits and water help boost energy levels. They not only keep you hydrated through the day, you gain the additional minerals and vitamins from the fruit. At times you might not enjoy a particular fruit or it might be a tedious affair to eat the fruit on the go, in such situations fruit infused water is the perfect alternative to give you an energy boost on the go!
Makes plain water interesting
It is important that we drink atleast 3 litres of water, however with the daily grind it becomes tough to drink that required amount. Add to it the fact that there is no motivation to drink water, you sub-consciously end up choosing some over the counter fruit juice. However just adding some chopped fruit to water can give you a refreshing and healthy drink.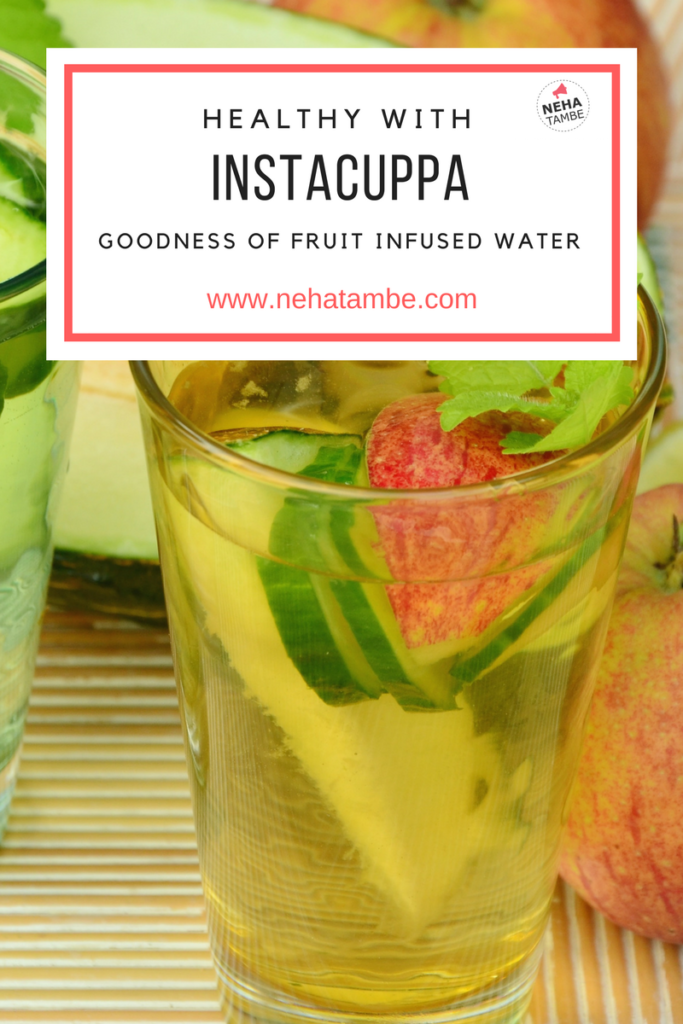 Why buy an Instacuppa infuser bottle you ask?
Minimum Plastic
Instacuppa was started with their heart in the right place. They want to make an impact and hence there is a conscious effort to minimize the use of plastic.
100% BPA free
Instacuppa uses 100% BPA free material. The materials like glass, bamboo etc. are bio-degradable and hence good for the environment while being great for our health.
Light weight
There is a special effort in making the products light weight so that it is easier to carry.
1 year warranty
For any reason, if you are not satisfied with the product, or any part of the product is broken or damaged, you have 1 year warranty! Isn't that a cool offer!
Cost effective
All the products are cost effective and in the range of Rs.999-  Rs.1999 making it a sound investment for good health.
Instacuppa has a range of products like cold brew coffee maker, French press coffee maker, infusers, froth makers etc. While the product range is wide, it is focused on making all kinds of Indian beverages delicious and tasty. They take their tag line Flavor reimagined very seriously!
This article is written as part of #SuperBloggerChallenge2018.