"That's not a woman's job!" Let no one ever tell you that! We have heard and seen such stereotypes for a long time, but when you see someone break the mould and stand tall, it's important that we celebrate it. This woman's day I wish to celebrate five such women who dared to dream and made a mark for themselves in uncharted careers. I bring you five inspiring women from India who took up unconventional careers and paved the way for girls to dream.
Short of time? Watch this quick video
Five inspiring women from India following their passion and taking up unconventional careers.
Sommelier – Sovna Puri
A sommelier is a trained and knowledgeable wine professional who specializes in all aspects of wine service and wine and food pairing. Sovna Puri is a path breaker, who has established a name for herself in the wine industry and is SULA's only Nominated Educator to Conduct WSET Level 1 & Level 2 courses across India. Sovna was initiated into the wine industry after meeting a sommelier in France and understanding the importance of one in a restaurant. Today, she works with SULA Vineyards and has conducted successful wine tasting sessions across India. They also conduct WSET Level 1 and Level 2 courses, thereby improving wine appreciation and opening the field to many more.
Surfer -Ishita Malviya
Surfing and in India, you might wonder, but this young girl is doing exactly that! Ishita Malaviya is India's first female surfer. Her surfing journey started in 2007 when she met a German exchange student and learnt the ropes of the sport from him and two American yogis's near Udupi. She took up the sport seriously and is today the owner of Shaka Surf Club. Ishita and her partner Tushar are training children in and around Udupi in surfing! She was part of the first Summer Swell Challenge in Pondicherry. Her dream is to promote India's coastline as an International surfing destination.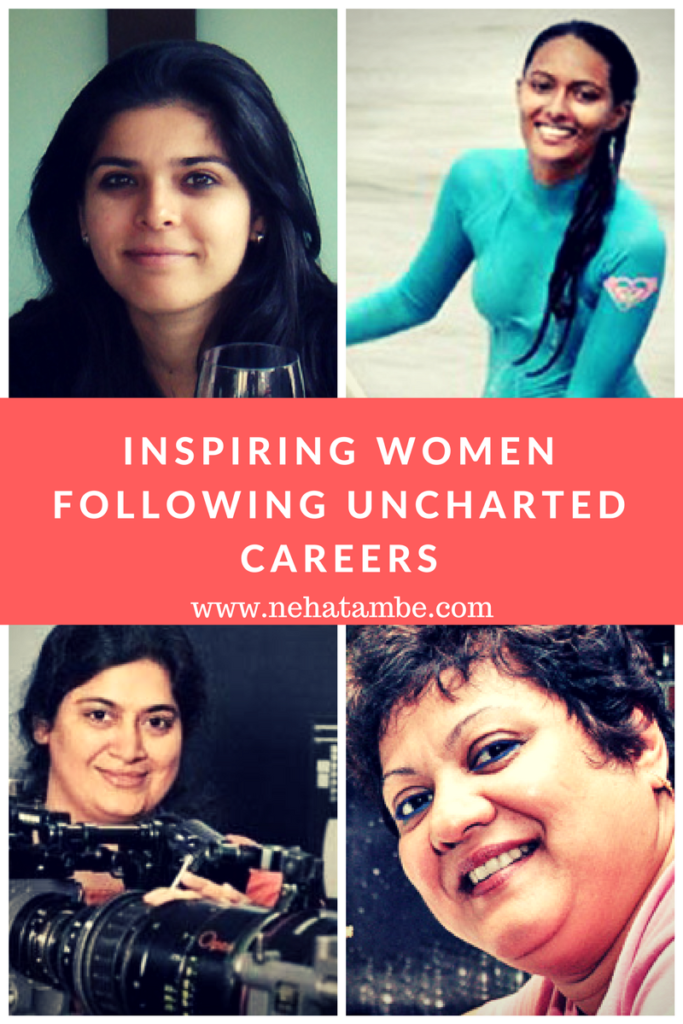 Cinematographer- Anjuli Shukla
Anjuli Shukla is a cinematographer and the only woman to have won National award for cinematography in India. Coming from a non-filmy background, Anjuli knew she wanted to get into media to express her creativity. She did a cinematography course from FTII, Pune and then started her career as an assistant cinematographer to Santosh Sivan. In an industry where women are usually assumed to just act or sing, Anjuli Shukla is paving way for woman technicians and camerawoman's who have a passion for their craft.
Bartender – Shatbhi Basu
She is someone who holds a strong position in a fairly male-dominated industry and she is 50+. Starting at the young age of 21, Shatbhi Basu has been creating beautiful cocktails, mixing drinks and managing a bar for more than 2 decades. Today she is a beverage consultant, author, head of a bartending academy and American Whiskey Ambassador for India! Getting a bartenders manual as a gift from her mom and aunt during her hotel management days, changed the course of her life forever.
These inspiring women are brilliant, beautiful ladies creating history every day as they follow their passion and encourage more women to take up such uncommon careers. This woman's day I salute their will and their contribution towards breaking some traditional stereotypes and glass ceilings in India.
Let us share and celebrate stories of such brilliant and inspiring women to encourage our girls to take up the professions that excite them rather than just following the societal norms.
You can also listen to this post on my Podcast below