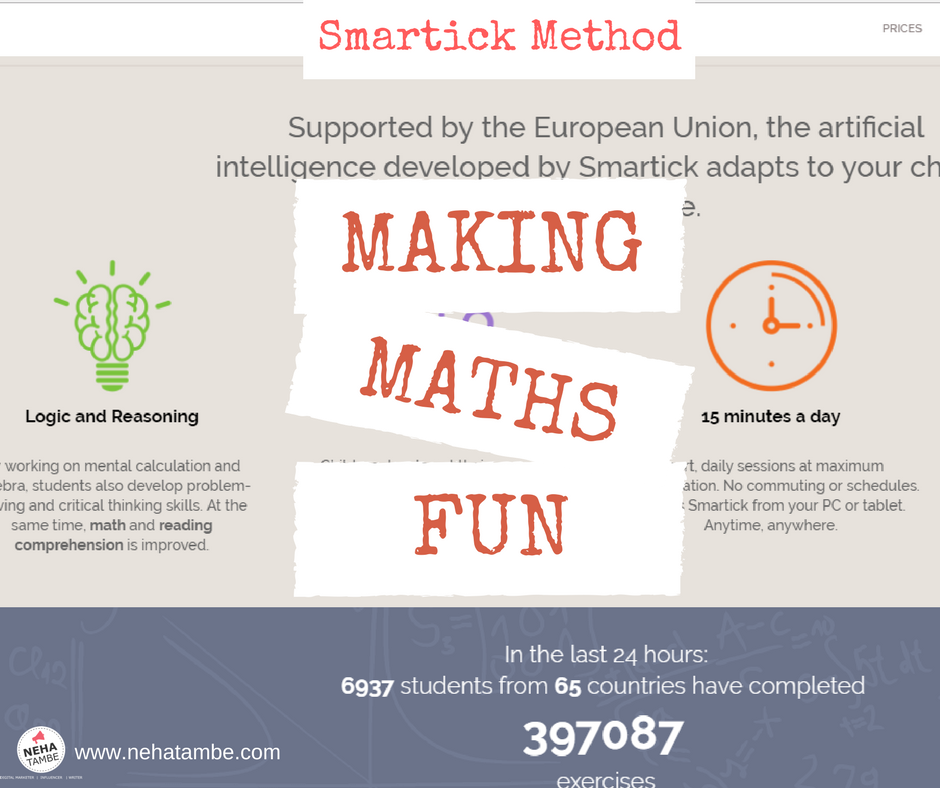 How many of you dreaded Maths in school? I know I did! I found it extremely boring and unimaginative. The whole tables, and equations and BODMAS etc. etc. made my head hurt and I always looked at ways to not do Mathematics.
I don't think it was to do with the understanding level of the subject, but the whole boring and insipid approach made all the difference in my outlook towards the subject. I can say this confidently today, because I have experienced the transformation.
Today, I am going to talk about a new concept that is revolutionizing the way Mathematics is learned! I came across Smartick Method, when I got a mail from them to try and review it. The moment I went to their website, I knew this was going to be different and I instantly agreed.
What is Smartick Method?
Smartick is a unique online learning platform that lets a child learn at his own pace. It focuses on self-learning; thereby helping the child to understand concepts, improve calculation skills, concentration and mental agility.
What methodology do they follow?
Smartick goal is to make maths fun. They have created a healthy mix of traditional and new approaches towards learning maths. They use best traditional learning methods inspired from Japan and Singapore combined with studies from top research centers and universities like Harvard and the University of Chicago.
How does it work?
Smartick Method is designed in such a way that the child needs to spare only 15min a day! Isn't that cool? Before smartick, making my daughter to sit for studies was a task, but now she is the one who reminds me about her daily smartick session!
Once the login is created, the child can start accessing the modules. Initially smartick offers random questions to understand your child's level. Based on the results of the first 3-4 days, smartick daily sessions are updated. So you don't have to worry, if x,y,z has been taught to your child or not.
My Review
My daughter is in love with Smartick! She is eager to do her daily sessions and understand her mistakes and improve. I have seen an increase in her concentration levels. As I get daily updates about her performance, I am attuned to her progress.
There is something called as smartick Brain games which is motivating and interesting. My daughter not just finishes her 15 min session, but also enjoys doing the Brain Games and virtual world access after the session.
As all the details are captured in a separate parent login, I can access it and view it anytime I want and help my child understand where she needs to improve.
This is completely self-learning based and hence I never have to sit and explain her questions or concepts. She watches the tutorials and works on her pace.
The report not just focuses on the number of correct answers but also takes into consideration her speed at solving them and her logic and reasoning.
Best Things that I liked
It's just 15 min in a day, something that a child can easily do
It is designed for children from 4-14 year old.
This is an online platform, and they do not follow a school or state syllabus. The focus is on improving the child's concepts, speed and accuracy.
It is accessible only on screens bigger than 7 inches.
Smartick complements the school curriculum and is aligned with the Common Core Standards and NCTM (National Council of Teachers of Mathematics) standards.
Smartick is powered by the latest Artificial Intelligence technology: ability based, your child progresses at his or her own pace, building self-confidence, avoiding frustration, and developing a positive attitude to math.
The child works on mental calculationand algebra while also developing problem-solving and critical thinking skills. Smartick includes logic exercises that help children improve both in logical reasoning and reading comprehension.
Gamification elements help children be engaged and improve their concentration levels. All games in Smartick are scientifically designed to reinforce cognitive skills: perception, attention, memory and logical reasoning.
Referral program: Tutors/parents can benefit from a 27 dollars discount if they recommend a friend. And the new friend that subscribes will receive a 25% off the first subscription they buy.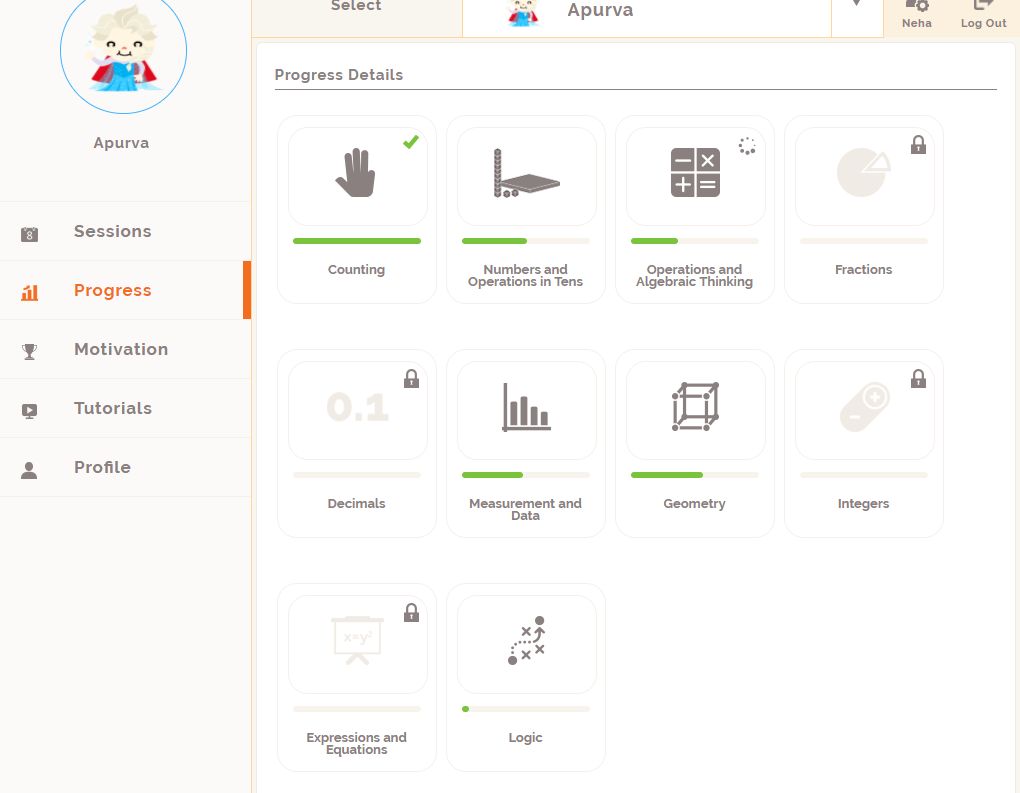 My suggestion
This is a paid subscription, however if I go on a vacation or do not have access to a computer for some time, there is no way I can pause the subscription. They should introduce that feature. Apart from this I can't think of anything!
Verdict
If you are thinking about giving a gift to your child this Christmas or New Year, gift them knowledge and world-class education with Smartick Method. As a mom who has seen her child enjoy Smartick Method, I would highly recommend it. Right now, Smartick has a gift for children registering in New Year week, do check it out!