Roma believes she is destiny's child and loves to embrace life as it comes. She stated off as an engineer and soon found communication and creative writing to be her calling. Today after writing two books, she has started her own communication academy with the intention of giving back and helping students open up and communicate well to reach their full potential.
She comes from a small backward town in Uttar Pradesh . Roma traveled extensively during her growing up years as her father had a transferable job and in later years for her work, spanning eight Indian states and across umpteen number of countries for job related assignments.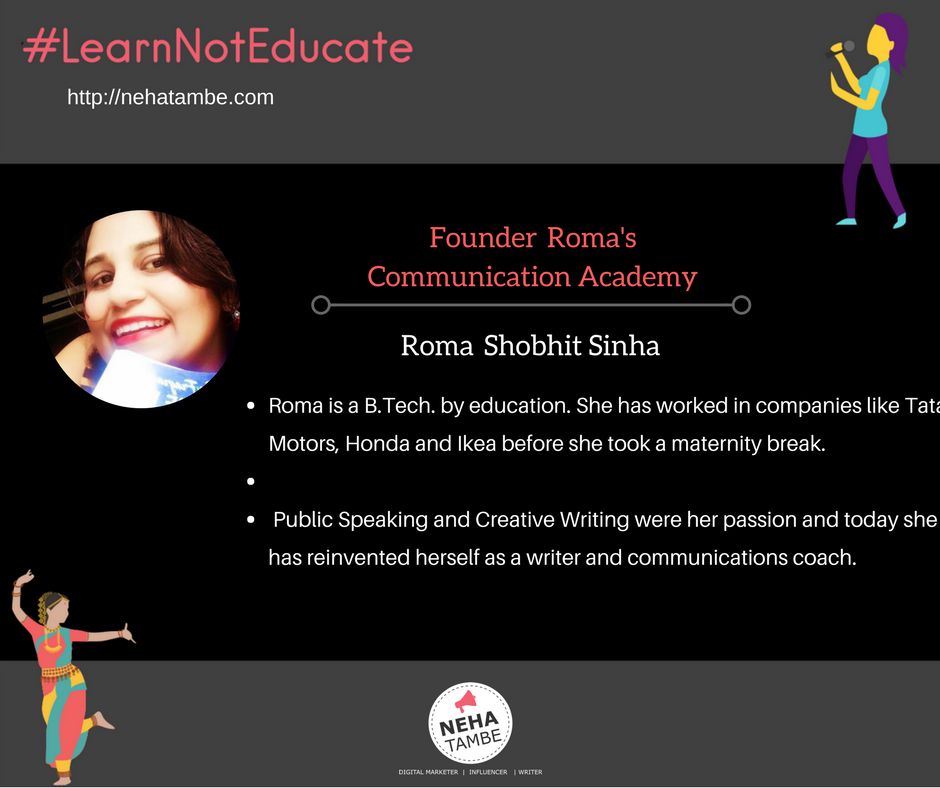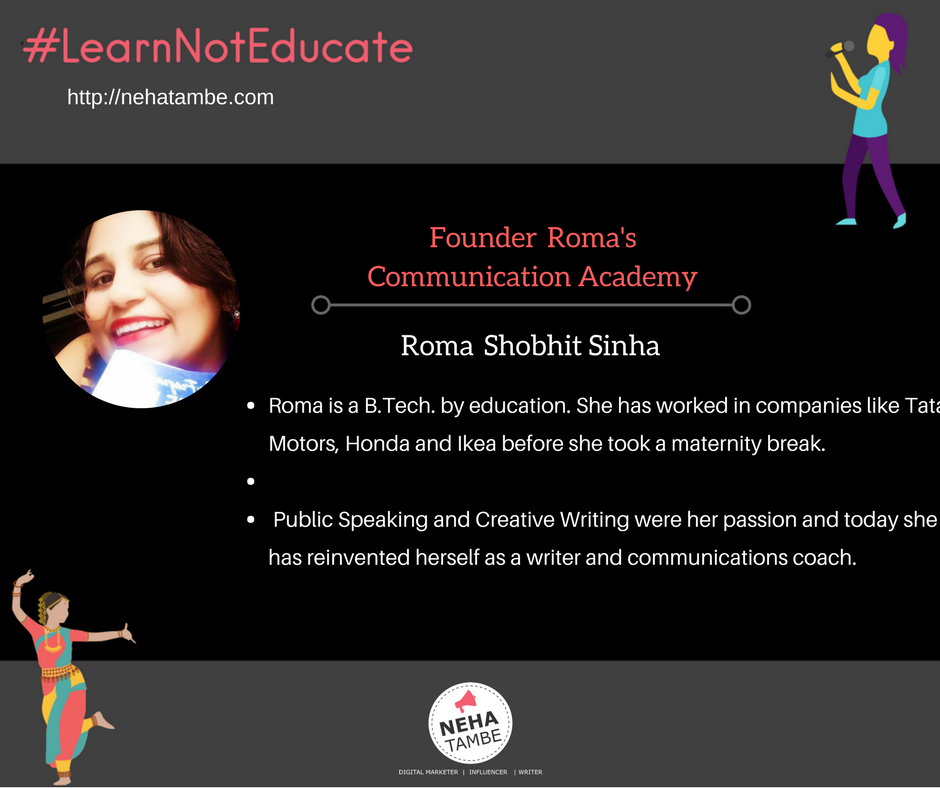 How did you decide to start your academy?
It's a million dollar saying that our experiences in the childhood shape up a significant part of our future. I was five, a grade 1 student, when dad was transferred to Tamil Nadu in the eighties. While I didn't understand an iota of the particularly tough Tamil language which my class mates and everyone spoke and they didn't get a word of my Hindi, we managed it with some words of English for a considerable time.
About the same time, as I commenced my journey in elocution on stage as a first grader, I bagged the first prize. What a boost it was to my morale and I basked in the glory. No one taught me the nuances or the voice modulation but I loved leaving no stone unturned to improve upon my previous best and scanned voraciously the limited sources available at that time.
Creative writing and public speaking became my passion. I tried ever genre of it and immersed myself in literature. Listening to world's best orators gave me a high and I stepped into Shakespeare's characters in my dreams. Poetry was my all-time favourite and I would scribble on every tiny piece of paper I could grab. I always wanted to write and speak and always yearned to master impeccable communication skills.
Whether it was anchoring for a week long inter college cultural fests or a national debate, I felt honored when I was always considered the first choice. By default the notice boards were adorned in my articles and poems. My communication skills helped me bag my dream jobs which took me round the globe and I was happy writing on and off.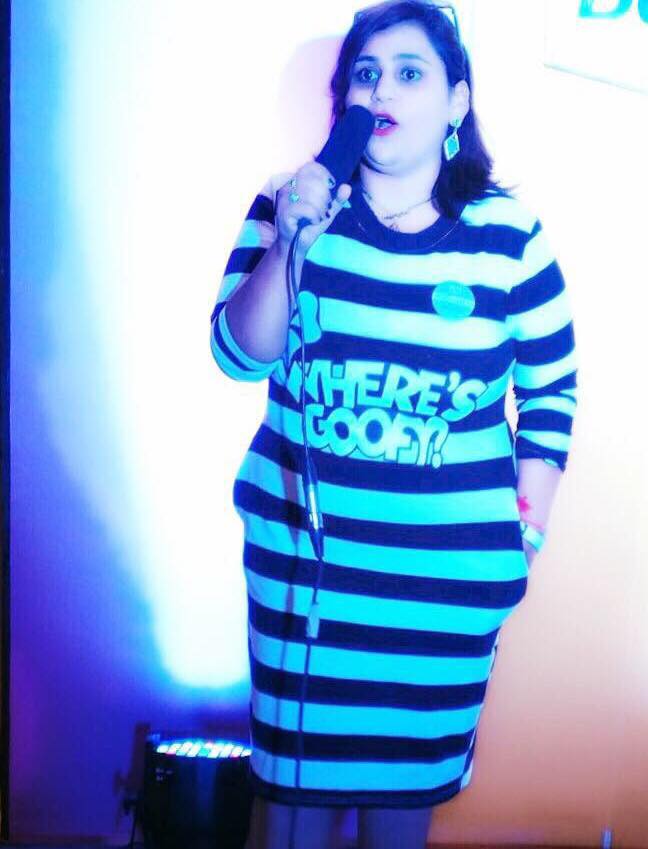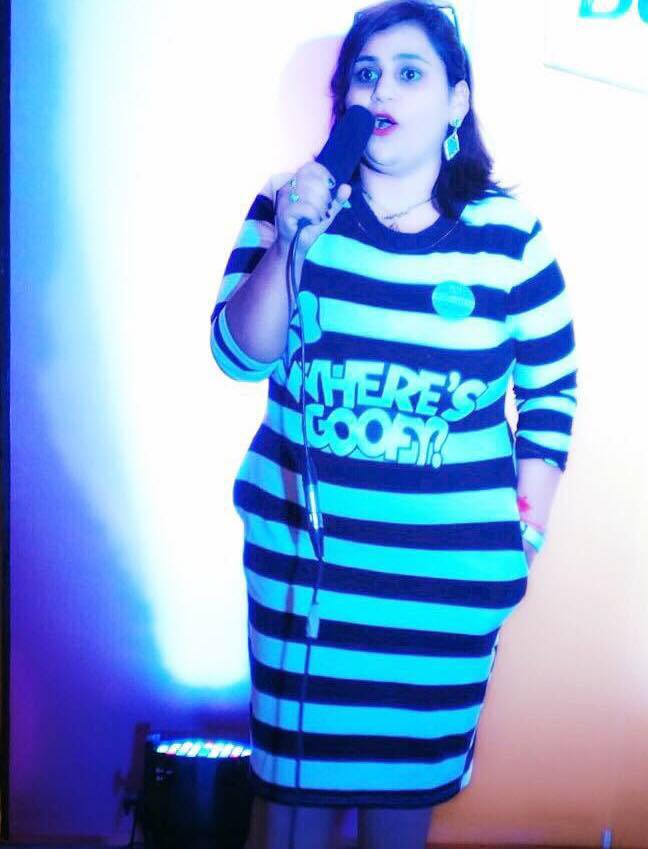 But it was only during my maternity career break that I realized this set of skills was my true calling. I always dreamt of opening a communications academy for one and all where I would aid them overcome their fright of speaking their minds without the slightest fear.
Since my childhood, I have met children and adults who are an ocean of knowledge but find it extremely difficult to put it into words and literally shiver if put on stage. While I cracked the interview the one who groomed me for the answers probably didn't communicate it that well and so was rejected.
Public speaking undoubtedly is an art which not only enables you to put yourself strongly across the table but also creates a lasting impression on the minds of the listener and same goes for creative writing too. With God's grace, I materialized this dream of mine and started this academy after working sleeplessly on the modules for several months and still continue to do so. The idea is to teach the basics and nuances as well as the X factor to help them come out of their shells and have a strong foothold wherever and whenever they choose to express themselves.
What is unique about Roma's academy?
There are quite a few mass com academies currently running in India who groom the students for specific vocations while mine differs from all of them completely for it is not vocation centric but it is individual needs centric. Plus I don't have an age bar and anyone from six to sixty years and beyond are welcome. The modules I create are meant to bridge the gap in the skill set of an individual which prevents him from expressing his intellect in front of a set of strangers or a crowd. Students are trained in batches as well as individually, as need be, on professional microphones, pseudo stages and in real time simulation case studies in a fun way so that it becomes a way of life for them over a period of time and the fear just melts away and vanished forever.
We made very humble beginnings with just the basic infrastructure in this academy and kept the fees nominal to give it maximum reach and accessibility to one and all. We envision expanding our services and offer certified courses in due course of time.


What benefits will students derive from doing a communications course?
A communications course helps a student express himself at the right place in the right way without the slightest fear. Additionally it liberates him of the inertia that holds him back as we render to him a new inertia which forces him to not only express but express smarter and smarter with regular practice sessions.
What is your advice to parents?
I would urge parents of young kids to motivate the precious pieces of their hearts to express themselves as much as possible. Let them participate in everything so that the inhibitions to face a crowd or strangers take a backseat early on. Early exposure and strong communication skills makes a child smart and wise. It is also vital to his safety these days. Do ponder!
Connect with Roma
You can read her everyday musings on her blog www.trulyyoursroma.com .If you have any queries please feel free to email her at [email protected]