Makar Sankranti is a harvest festival. It is called Sankranti in Maharashtra and Gujarat but it is known by various names in various states. Bihu, Ugadi, Pongal, Makar Sankranti, Lohri are some of the many names this festival has. The idea of celebrating the festival is the same – thanking mother nature for the fresh harvest and cooking a meal with it.
Sankranti and Children
As we get more urbanized, our children are missing out on such rituals and their importance. I believe these festivals help inculcate a feeling of gratitude in our children. They appreciate the food on their table and are thankful to those who work hard in the fields to grow this food. I wanted my children to know the importance of this festival and include them in the celebrations.
Here are 5 fun activities that children can do in the house and enjoy being part of this festival
1. Rangoli or drawing activity to know the significance
As Sankranti is a harvest festival there is a ritual of drawing a pot filled to the brim with food and is accompanied by sugarcane. Draw this and ask children to colour it. This image holds significance as everyone is praying for such a bumper crop and are praying for a year full of abundance. As my daughter is a bit older now, I ask her to draw with chalk. With google search, she comes up with interesting ideas to draw and then have fun colouring it. If drawing rangoli is a bit difficult for you, get them to paint or colour the same on a chart paper and stick it near the celebrations for the day!
2. Make Til-Gul sweets with your children
This is a simple sweet that can be made and has great health benefits too! As it is cold during the Sankranti festival, sweets made of til (sesame) + Gud (jaggery) and groundnuts are offered and eaten. Make a simple mixture of powdered jaggery, roasted and powdered sesame and groundnuts. Ask the children to make small balls of this mixture and let them eat some while making. This healthy sweet is fun to make and extra fun to eat!
4. Bhogi Meal- fresh produce, healthy life
This is a meal made one day before the Makar Sankranti festival. In Maharashtra it is made from the fresh harvest and the typical menu includes Jowar Bhakri with Til, Mix vegetables curry and smoked Brinjal. Making bhakri is a fun activity for kids. Give them a small ball and let them press the ball of dough in their hands and make small bhakris. They can also help in de-seeding the beans and peas that go into the mix vegetable.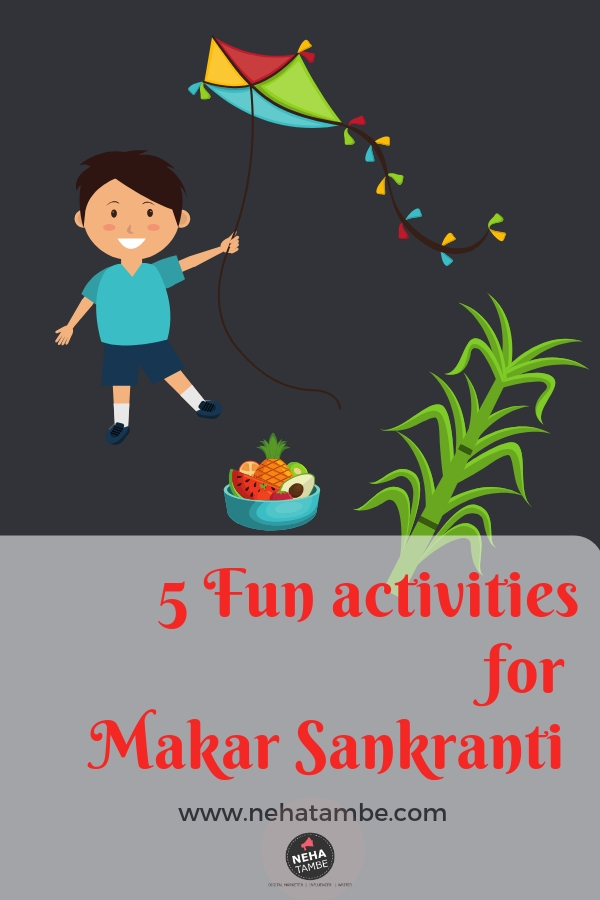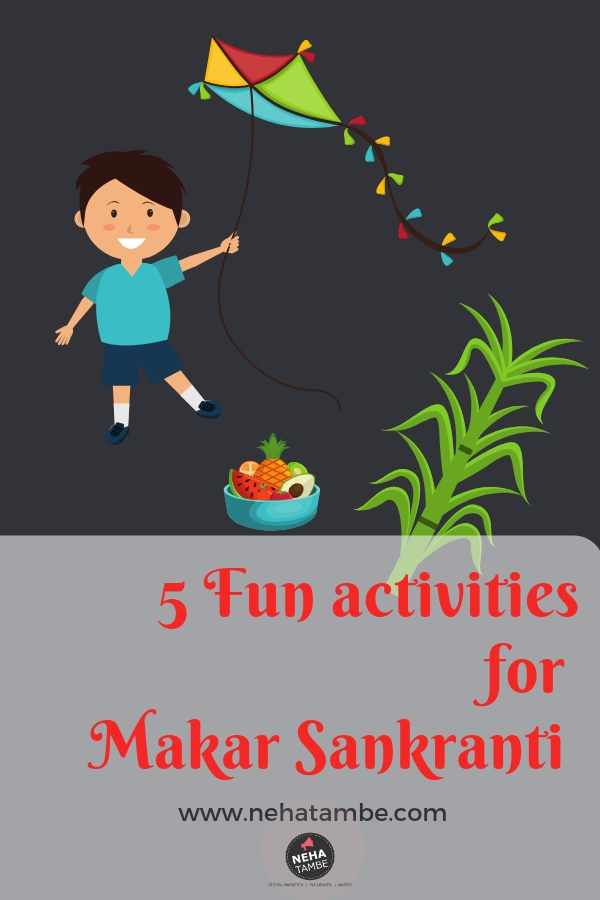 5. Making and flying a kite
Another important ritual for Makar Sankranti is flying kites. Help your kids make a kite! It could be a decorative kite, not the one that can be flown. It could be something that they could stick in their room or they could paint a picture of kite flying. Finally if you do know how to fly a kite, teach this fun activity to your kids as well. Do remember to get thread manjha and not the nylon one.
6. Black Dress and sweet distribution
Another significance of the day is wearing black dress. It is done to conserve heat in the body as it is cold outside. In the evening's children in Maharashtra and adults alike distribute til-gud and say "Til gud gya ani goad bola' ( May your words be as sweet as these sweets) Women visit each others house for Haldi – Kumkum. These small rituals bring about a feeling of unity and inculcate the habit of sharing. Ask your kids to do this and see them have fun sharing some sweets.
We also have a ritual where children under the age of 5 wear black dress and jewelry made of sugar sweets. A mixture of murmura, bora ( Indian plum) sweets, til-gud etc. is poured from their head. Other kids present rush to collect as much yummy treats as they can!
My activities are around Makar Sankranti as celebrated in Maharashtra. How is it celebrated in your state, city or country? Do share your thoughts in comments below.