As the New Year started with a bang and a great trip for me! I was a bit complacent in writing new blog posts and making New Year resolutions. But now that I am back to my routine, I made my list and then just for kicks, I searched popular resolutions around the world and the results were
| | |
| --- | --- |
|   Common Resolutions around the world |   My Resolutions |
| Exercise more |  Maintain fitness |
| Travel More |  Travel more |
| Read More | Get back to reading |
| Learn new skill | Learn something new |
| Live life to fullest | Focus on me time |
| Save money | Invest wisely |
| Spend time with family | Spend time with family |
| Eat Right | |
| Get organized | |
| Give up a vice | |
So more or less, all over the world people are making similar resolutions. Overall I am not a big fan of resolutions and after reading this I realized I need to think differently. So this year, it's a year of promises for me. I am making promises to me and I wish to fulfill them by end of 2019.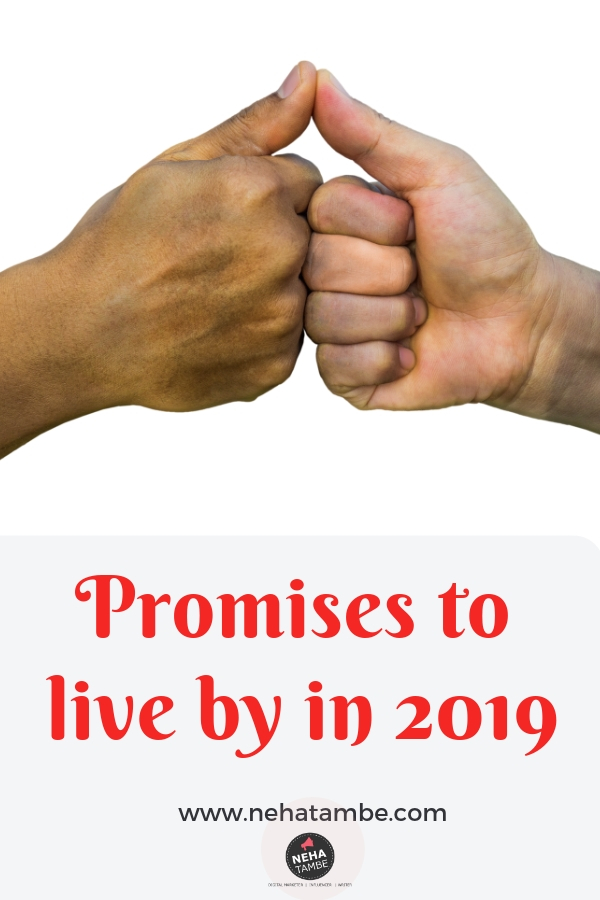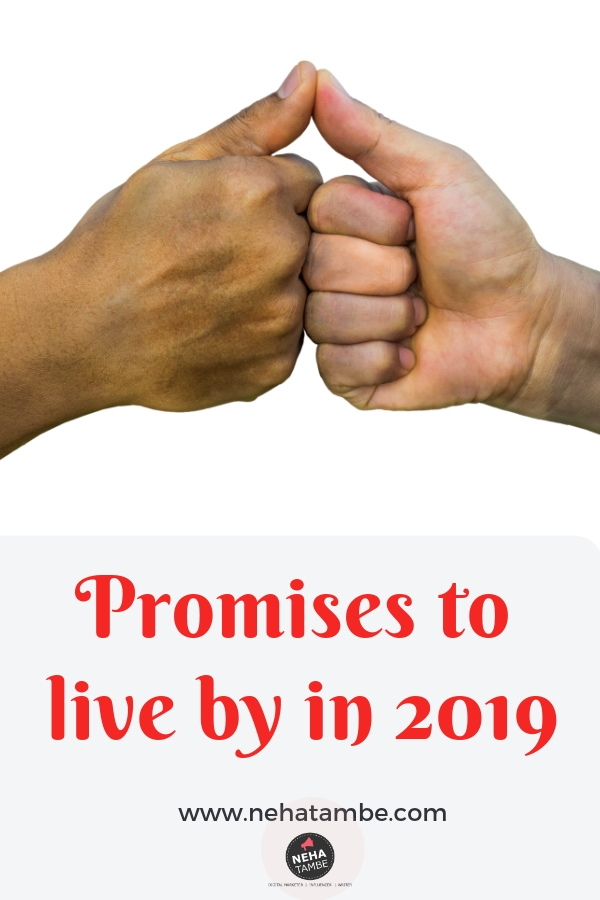 I promise to be in the moment
The gadgets and other priorities are enough to distract us. Our precious kids really wish to share something with us and remind us of our childhood, if only we stop and listen. This year I promise to keep a few hours distraction free. I plan to relive my childhood through their talks and dreams. I see a mini-me in them and that's what I plan to experience and cherish this year.
I promise to read something every month that interests me
I love reading thrillers. There was a time when a good thriller was done in one sitting but now my shelf is strewn with half read books. I have also realized that it was because I did something I loved, I stayed active and sharp. I promise to get back to reading and with my new find of audio books. I plan to enjoy regional books as well.
I promise to focus on myself
There were many things I loved doing, but now for want of time or other priorities all those things have been on a back-burner for a long time. This year I promise to do atleast one thing just because I love to do it. No logic, no worry if I am wasting my time, no thoughts about what I or others will gain from it. I will do it; simply for the pure joy it gives my heart.
I promise to change my mindset
My mindset is usually of someone who is following her checklist. I need to do something that makes me overcome my inhibitions, push boundaries and just follow my passion. That's the kind of mindset I want to bring in me. I want to challenge myself.
I promise to look at the world and appreciate its beauty
Health scares, sudden loss and things like that made me realize nothing is permanent. You might have the world at your feet but everything will be immaterial the next minute, if you aren't there to enjoy it. Live and appreciate every moment. The world is filled with wonders and we need to seize the moment and appreciate it. A brilliantly lit-up sky, a flowering bud, tiny birds and unbridled laughter – there's beauty in everything.
I promise to keep away from all things fake
In the times of fake news, fake body, fake emotions, fake videos and fake praises it is tough to keep your sanity and continue to look at something objectively. I wish to stay away from everything fake and help my kids develop the skill as well. There is a need for a questioning mind and a scientific temperament for looking at things. It's only with this that we can avoid being entrapped into a vicious circle of self-doubt, depression and self-loathing.
These are my New Year promises to myself for me and my kids. What are your New Year resolutions for 2019?
"This post is a part of a blog train hosted by Vartika Prerna and Alpana, sponsored by Pandora's Box and Recipe Dabba