With the rise in Digital India, online banking is at the forefront than ever before. While being online and using technology to grow is important, in a country like India where, societal, educational, economical, social disparity is huge, embracing technology comes with its own challenges.
Being always online and easy accessibility has also opened worries about cyber security. Instead of being fearful, we need to be vigilant about a few things.
Today I am going to list a few ways to be secure while banking or shopping online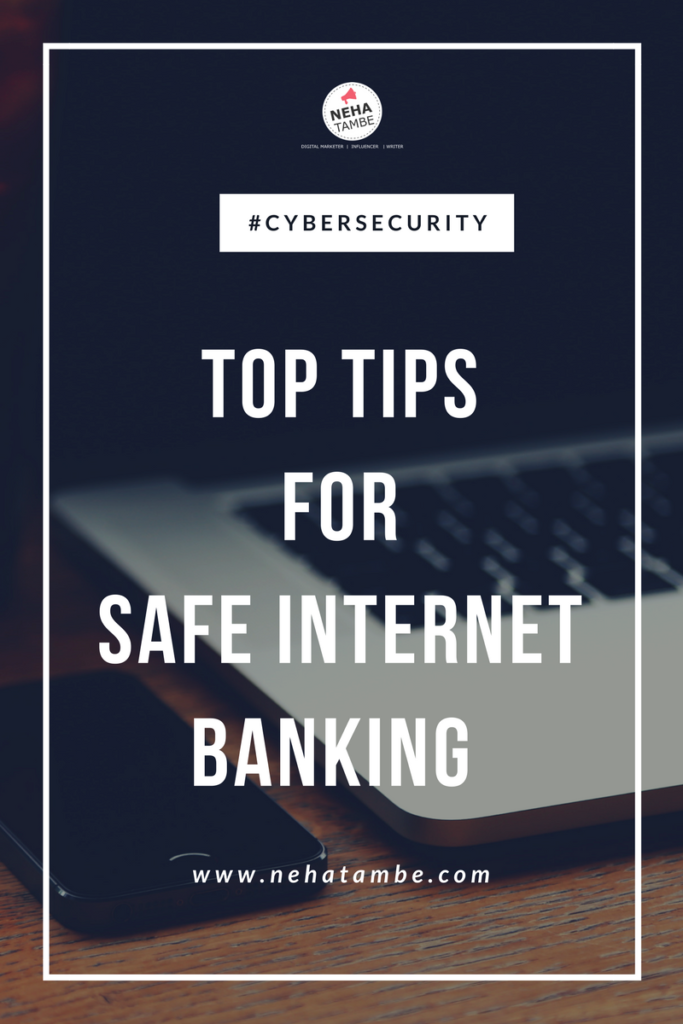 1. Safety first
Always use licensed antivirus software for your home PC and mobiles. Pirated versions of anti-virus may be easily available however they fail to protect you as important updates are not available. In an age where new threats and viruses are detected everyday, it is important that we act wisely and  buy a licensed version.
2. Use secure networks
Always use secure networks while making any kind of transactions online. Your home system is the best place to use your online account. Avoid logging into your bank account from common computers like in a cyber café, library or even office systems. Be wary of accessing your bank accounts when logged in via free wi-fi networks as they are not secure connections.
If you have to login, then be sure to clear cache, erase browsing history and delete all temporary files from the system. Never allow the system to remember your username and password. It is better if you change your password afterwards from a secure network, in the event of such unsecured network login.
3. Create Strong Passwords
It is essential that you create a strong password. In this age of cyber-attacks, it is essential that you have a strong password and you change it regularly for extra safety. It is advisable to have a good password manager to store and create strong passwords.
5. Stay updated
Keep your system software upto date. Look for regular updates and download them. These updates usually have patches and safety solutions for any latest viruses and other security threats. Turn on automatic updates for your computer and mobile.
6. Look where you swipe
While using cards has today become an essential part of our daily transactions, it is important that we are vigilant when we hand over our card. Don't let the handler take the card away from your view. When using the card in an ATM center, look out for any padded keys, chipped or uneven keypad. Always use an ATM that has a security guard posted. Also look for camera's when in the ATM.
7. Subscribe for mobile notifications
Connect with your bank and activate your mobile notifications for your bank accounts. These notifications help you by sending an SMS alert whenever there is a transaction from your account. In the event of a hack or suspicious dealings, you will be alerted immediately and this will help in taking quick, corrective measures. Almost all banks offer this service and some charge a fee for it, however in view of the security that it offers the charge is nominal.
8. Be vigilant while clicking
Try and avoid clicking links in the emails, especially if they look funny. With higher sophistication levels among hackers, it has been observed that emails that look very similar to bank mailers, have been created with phishing links and when someone clicks on it, sensitive data is siphoned. There are various ways that the data can be stolen without your knowledge.
Trojan – Trojan is an internet virus that gets downloaded on your system via a backdoor while you are surfing the internet or downloading files. Android based mobile phones are open source accounts that are most susceptible to such attacks. A Trojan monitors your online activities and steals sensitive information. An effective anti-virus with regular scans help keep Trojans at bay. If you have banking apps, then make sure to scan your mobile before you use them.
Phishing emails – These are innocent looking email that asks you to part with sensitive information in lieu of some prizes, or other benefits. It might also look like it's from your bank or friends asking you to check a very authentic looking page. These pages ask for information related to back account or card details and the page has a malware attached that steals your details. Always check if the page to be clicked is secure. Check for 'https://' and a padlock sign which is green in color. It is a good idea to type in your bank website in the browser, instead of clicking a link.
What to do if your account is hacked?
In the event of a breach it is important to stay alert and secure the account rather than panic. The initial 24 hours are extremely crucial and if you are vigilant then you can save your account and might even recover the funds lost.
Block the card
If you are using mobile and email notification, and you come to know about some fraudulent transaction, then contact the bank helpline and block the card immediately. Many banks even have an auto-call system to cross check with the client, the authenticity of a transaction if the amount is high or transaction looks dubious.
However, if you see a suspicious payment or withdrawal, however small, cross check the same and block the card.
Next, look at the transaction string and connect with the merchant's fraud department informing them of fraudulent activities. In most situations, the merchant can cancel the transaction thereby protecting your account. However, this is possible only if it is done within 24 hours.
Account hacked
If your back account is hacked, then clean the system with the latest anti-virus software and report the crime to the bank. You will also be required to file a police complaint.
Once the system is clean, change your password.
Regularly check your bank statements for any irregularities.
The window to act is small of 24 hours, so it is important that we stay vigilant and alert. We need to embrace changes and technology, but also stay alert to enjoy full benefits of the digital era.
Have an opinion about blockchain, cryptocurrency, and #Budget2018, #Budget2018crypto and cybersecurity?