We have been discussing Pinterest and till now we have covered the right way to open an account, creating a pin and boards for your account. Today, we will explore another important aspect i.e Pinterest Group Board. You can find the links for earlier posts here
Sign Up for Pinterest – http://nehatambe.com/how-to-sign-up-and-use-pinterest-account/
Creating your first Pin–  http://nehatambe.com/create-pin-image-and-tips-to-optimize-pins/
Creating a board and Optimizing it – http://nehatambe.com/creating-a-board-on-pinterest-and-optimizing-it/
Now that we have created a good personal profile, it is time to get social on Pinterest.
I believe Pinterest is part search engine and part social. It works on keywords however at its heart it has strong social base and collaboration is the essence of this platform. You might have a fantastic profile, but you will not reach beyond a certain tipping point till you collaborate with others for pin virality.
Collaborate via Pinterest Group Boards
Just like you can create a board, you can also have a collaborative board where you can add members who can contribute to your board. Such collaboration helps in multiple ways.
The most obvious, it helps keep your board busy. You are not solely responsible for adding new pins.
Your board has a lot of interesting content and you can always refer there for ideas and interesting reads.
You are the owner of the group, hence the ultimate control lies in your hands. All the other members are followers.
Why join Pinterest Group Boards?
Apart from the fact that you can create a group board of your own. It is possible and necessary that you join others group boards. You can either be invited by the owner of the board to join their group board or you can mail the group board owner to be added in the group. You get a notification confirming if you wish to be added in the said group and once you accept it you can start pinning to that group.
When you join a group board, your pin has the potential to be exposed to a lot many people than just your followers.
Pinterest home feed is a combination of pins from the people you follow, popular pins in your niche, suggested pins and promoted pins ( not yet applicable in India)
When you add a post to a group board and if the rules of the group suggest others to pin from the group, then your post is also visible to their followers.
As Group Boards are usually around a common topic, joining the group boards will help you gain more followers.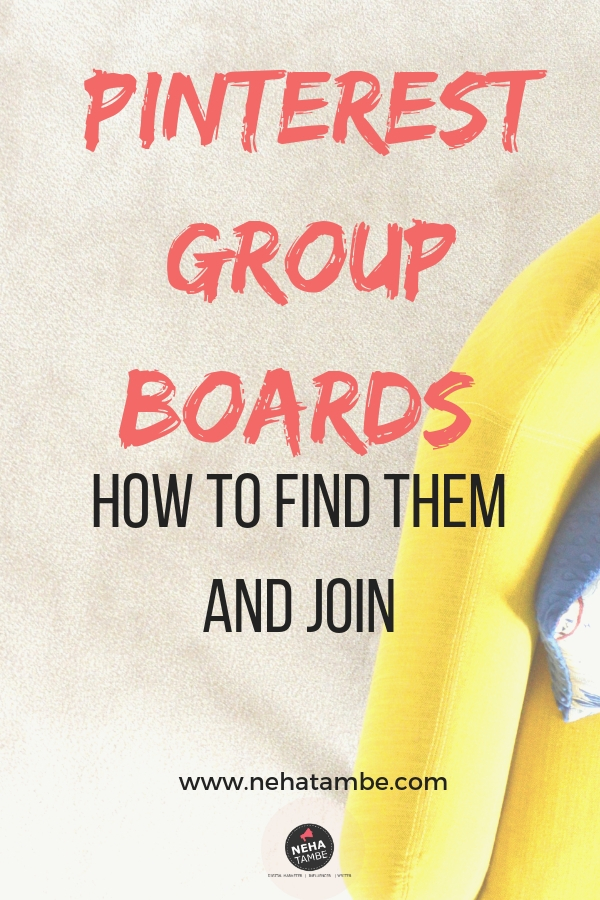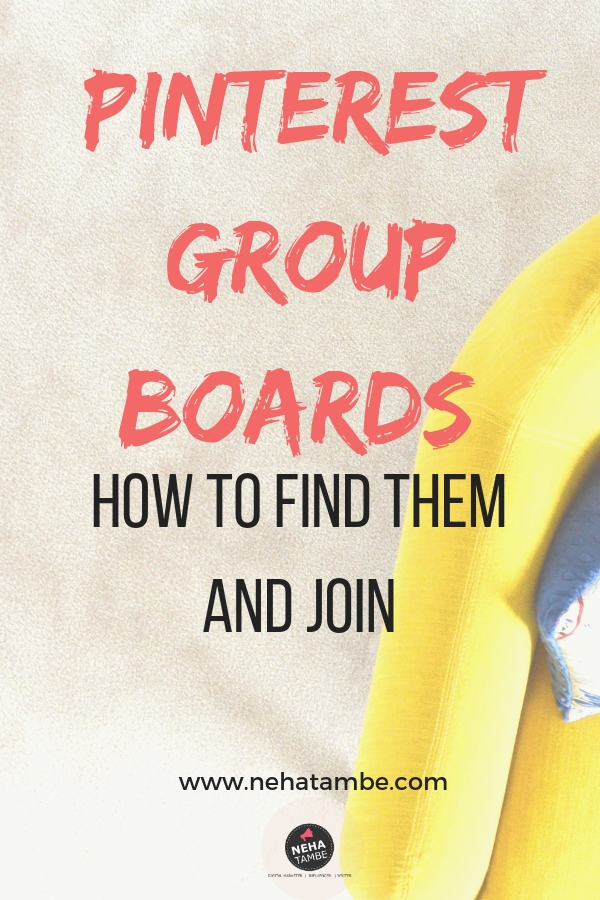 How to find a Group Board
There isn't a separate section on Pinterest for Group Boards, however it is easy to spot a group board in search. While normal board profile image has a single picture, group boards profile image is a collage of various contributor images.
The simplest way to find a group board is
Enter the keyword in search and select Boards instead of All Pins
Check for the split profile circular image and click on it
Here you will see the group profile, their rules, tips on how to connect with the owner and the number of contributors + pins.
You can also check out the website Pingroupie.com for a complete listing of groups on Pinterest. ( caution – this site hasn't been updated in some time now, however it is a good start to find some boards)
How to join Pinterest Group Board
Joining a group board is pretty simple. You can approach the owner on a Pinterest message or send them an email if they have mentioned the same in the group description. Usually if a group is not accepting contributors currently, they will mention the same in the description.
Send an email or a message with your Pinterest profile link, your name and your email id which is used for creating the pinterest account.
It is considered good etiquette that you follow the group owner and the board you wish to be part of before you send a message for addition.
Tip – Remember that when you follow a pinner, you will automatically follow all the boards that he or she has created. However you won't be following the boards that the person is a group member of.
I too have recently started two group boards which are open for collaboration. All serious pinners or those interested in pinning regularly are welcome to join the board.
Blogging – https://in.pinterest.com/nehatambe/all-things-blogging/
Parenting – https://in.pinterest.com/nehatambe/all-things-parenting/
Do check out the boards and if you think it is good for you, send an email to me and I will add you in the group!