go to site Pune is the cultural capital of Maharashtra. The music and theatre scene is buzzing with great ideas, concepts and talent. The audience in Pune is known to appreciate great classical music and hence there is never a dearth of music festivals happening in Pune.
http://ortdestreffens.de/?yabloko=bin%C3%A4re-optionen-forum-kay&f0e=d8 These are some of the latest music festivals happening in Pune and if you are a Puneite and like classical music, you should not miss these
GaanSaraswati Mohotsav – 2-4th Feb
viagra shop Gaan Saraswati mohotsav is a three-day classical music festival organized to honour classical vocalist Gaanasaraswati Kishori Amonkar.
http://killjoytattoo.com/?kremeni=mit-m%C3%A4nnern-richtig-flirten&bbd=90 Kishori Amonkar was a leading classical vocalist from Jaipur Gharana. She was considered an innovator and had a distinct style of singing. Kishoriji was known for her rendition of khyal, thumari and bhajans. She received several national and civilian awards like Padma Bhushan (1987), Padma Vibhushan (2002)
source link This year the Gaan Saraswati Mohotsav will take place from 2-4th Feb 2018, Mahalaxmi Lawns, Near Rajaram Bridge Pune.
http://ligaspanyol.net/?mikroskop=site-de-rencontres-originaux&41d=e9 For more details visit https://www.facebook.com/gaansaraswati/

watch Sangeet is complete only when it is combined with dance, music and vocals. This is the thought that motivated Swati Daithankar and her husband Dhananjay Daithankar to start Nupur Naad Festival. This is the second edition of the festival and this year it boasts of luminaries like Padmabhushan Alarmel Valli, Rahul Sharma, Jayteerth Mevundi, Praveen Godkhindi and Venkatesh Kumar.
The FREE PASSES for NupurNaad Festival on 3rd & 4th February 2018 are available at Ideal Colony Ground (Venue of the Festival), Navdikar Musicals (near Yashwantrao Auditorium) and Cottonking Outlets. For more details visit – https://www.facebook.com/NupurNaad/

follow url Swarsagar Music Festival – 1-4th Feb
telmisartan 40 mg/ hydrochlorothiazide 25mg This is a music festival organized by PCMC (Pimpri Chinchwad Municipal Corporation). This is another free event that will be graced by eminent personalities. This year the festival will see performances from Pandit Ulhas Kashalkar, Pandit Suresh Talwalkar, Pandit Rakesh Chaurasia, Ustad Ghulam Mustafa Khan, Purbayan Chatterjee, Mahesh Kale and the likes.
atrovent corticosteroid cream For more details do visit their website – http://swarsagar.org/
thuoc zestril 5mg 80mg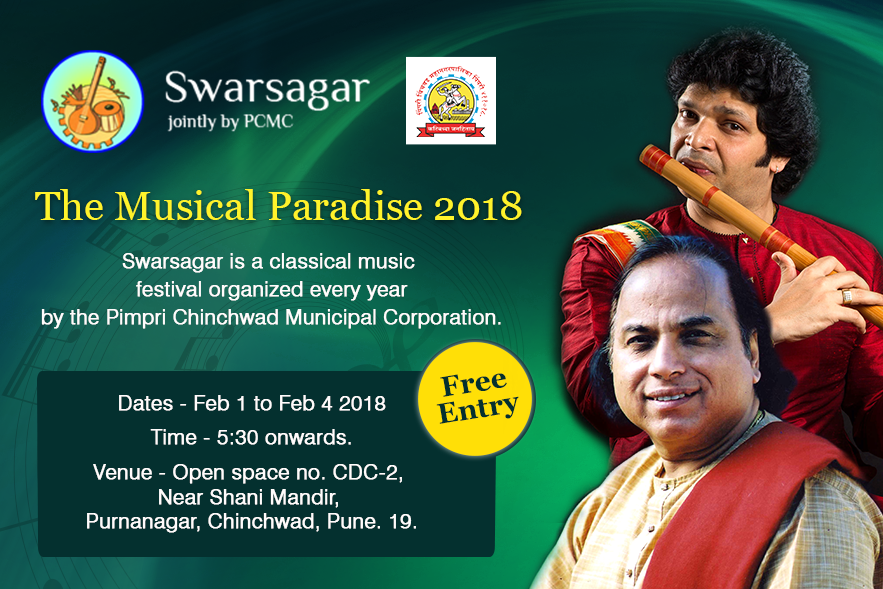 So while the world gears up for second month of the New Year, Puneties who love classical music will be spoilt for choices! Musical stalwarts and dance exponents from all over India will descend in Pune and offer a rich musical treat to the city music lovers.