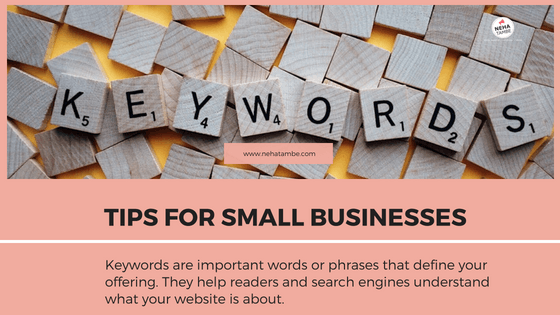 If you are thinking of taking your business online, the first thing you hear about is keywords. You know they are important and you know that you need to add them in whatever you do online, however how, where and what about keywords is a mystery to you. So, let's dive in to understand keywords in depth and how to ace at finding keywords for business.
What are keywords and why use them?
Keywords are key or important words or phrases that define your offering. These words will help your reader and search engines understand what your website is about and how close is it to the searched phrase.
As you can see, keywords helps people and search engine understand the relevance of your website, hence it is important that you list for words that you want your business to be defined with. If you are a romantic book author, you want to be listed as fiction writer or romance genre. It is a waste if you are listed for thrillers. It also means that your content is not talking about what you offer, hence you are not being listed.
Why focus on keywords?
Keywords are one of the most important things that will help you list for the search terms and get organic traffic.
All search engines like Google, Yahoo or even Pinterest, primarily throw up search results based on search terms used.
There are millions of websites online, not being listed for the words that you should, will just push your site into obscurity and your relevant audience will never find you.
Using irrelevant keywords or being listed for wrong keywords will push your Page Rank down, thereby affecting your visibility.
Regularly being listed for wrong keywords can also attract penalty from Search engines like Google.
Tips to Research Keywords for business
If you hire a website designer or web developer, they will start with keyword research. However as a business owner, you will be in a better position to offer intuitive advice on relevance of keywords. It is great if you do a preliminary research and identify the relevant keywords for your business.
The first place to start looking for keywords is the Google search
Here a simple search of dresses has thrown up a long list of intuitive search terms that are mostly searched by people. This gives you the possible words and phrases that you should use in your business website as that is what people are looking for.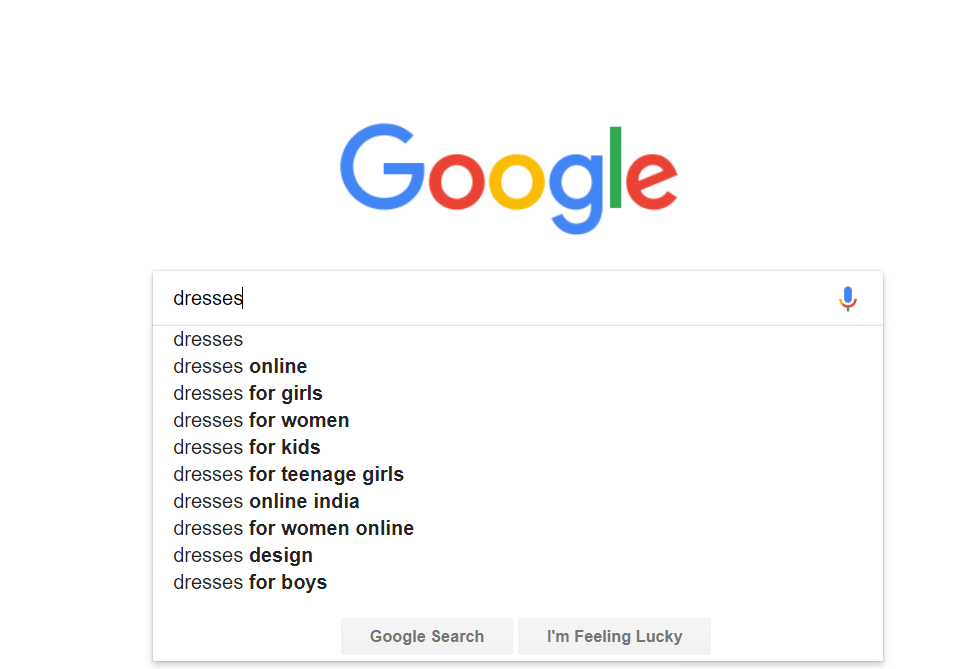 The next place to look for is the bottom of Google search
At the bottom of your search result, you have a section called searches related to ___ This is also a list of keywords that people have regularly searched for. This is beneficial to small businesses as you have access to words that are being regularly searched by people looking for those keywords.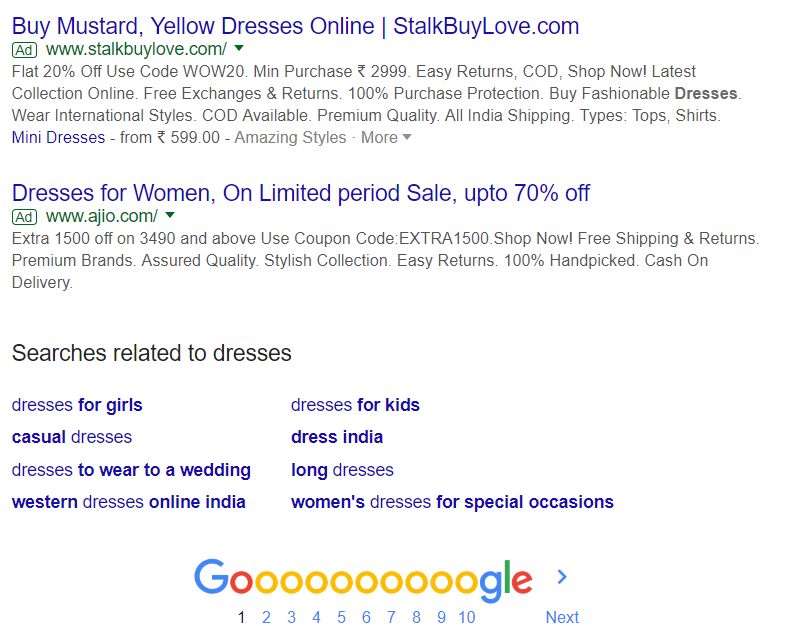 Don't forget your competition
Competitor's website is a great place to do your research. Most likely your competition has already done the hard work and identified the keywords that are important or relevant to the business. Skimming through the site, will give you good insights about the kind of keywords to be used and how they can be used.
External tools to find relevant keywords for business
There are a lot of keyword research tools available that will help you understand the important keywords in your field, the kind of competition these keywords face in terms of online advertising, competition analysis and related keywords. While a few are free, many of them are paid. As a small business you can try a few tools before deciding what works best for you and making an investment.
Best Tools to search for keywords for business
While there are great enterprising solutions for keyword research, small businesses need not invest so heavily into keyword research. There are a few free and paid tools that can help in researching keywords for business. Here is a list of tools that you should checkout while doing your research
Google Keyword Planner
This is a free tools that is primarily designed for identifying keywords for advertising however it is also a great place to start looking for keyword ideas. Enter your search term or website link if you have one. Based on the term of links Google keyword planner will throw up keywords that are related to your niche. There are a lot of features here like adding the location for which you are looking, negative keywords. The keyword tool is also helpful as it offers traffic forecast, ad group ideas and multiple keywords lists to get new keyword ideas.
UberSuggest
Ubersuggest is a free tool that helps you analyze your bunch of keywords further. It combines the keywords of Keyword planner and Google suggest and offers a single interface. The keywords are further listed alphabetically making it easier for you to analyze every kind of related keywords. It also offers the search volume, cost per click and competition results for better review. Finally these keywords can be exported via CSV. Another useful feature is you can search via country, so if your business is located in India, you can focus on Indian searches, rather than world search volumes.
SEM Rush offers an integrated solution to small business. Apart from keyword research, they also offer domain analytics. The detailed possibility of analyzing keywords, phrase match, difficulty levels and common misspellings, help you to drill down and refine your results further.
More Tips for using keywords for business
Once you have identified the keywords, next come's placement.
Use keywords in your domain name
Use keywords in your meta description
Your landing page should have all your relevant keywords
The keywords are to be placed all over the website with variations that are perfect for that page.
Use keyword rich description for your image Alt text.
Do not forget to use H1, H2, H3 in your website or blog content and make sure that these headlines are keyword rich.
Long content forms are liked by search engines. Make use of this and focus on showcasing your authority on the subject that you wish to promote.
Do not stuff keywords in your header and Footer area
Build responsive sites that are quick to load
Focus on internal and external linking to relevant content.
---