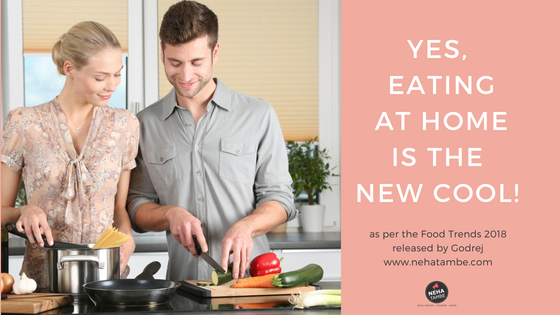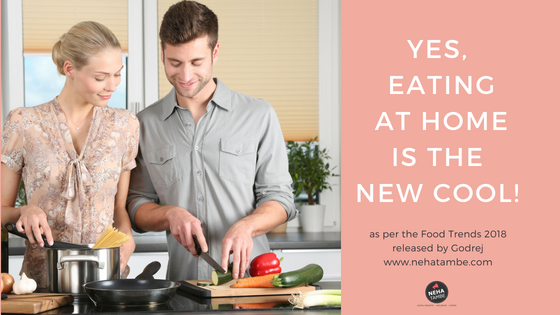 Till a few years back eating outside was considered the cool thing to do. However, according to the Godrej Food Trends Report 2018, this is changing and changing fast. According to the report maximum people, today prefer eating at home rather than outside. Another interesting thing to note here is even cooking is considered cool today. I always found it very weird when people said they found cooking boring or cooking was directly associated with anti-feminism. For me, cooking is a life skill which you need not master but you need to know enough to survive. I tried to normalize cooking for both my kids by inculcating a habit of helping out in the kitchen as a regular chore.
Eating Out
There was a time when going out to a restaurant was associated with romance or special occasions, however, in later years it was more of a matter of convenience. I remember as a kid going to a restaurant was a big deal. We dressed up for the occasion and restaurant visits usually meant they were something important to celebrate. In the later years going to restaurants meant catching up with friends or office colleagues. But such regular visits usually brought about some kind of health concern. As a newlywed we still did frequent the restaurants, however, there was a drastic dip in eating out after the children. It was not only about health concerns but also a matter of convenience as not every restaurant would be equipped with baby food; plus managing the sleep schedules of the children in a nuclear family was tough with frequent outings.
Eating at home
An interesting fact that I read was that cooking at home was preferred as it helped to eat more mindfully. Other interesting reasons for cooking and eating at home according to the report were
1 food hygiene and safety concerns and
2 learning to cook new cuisines and dishes at home.
At our house, we usually shop together for vegetables or other cooking needs. I realized how frequently I look for the ingredients on the labels or where the vegetables are coming from before buying; this is especially true after the children were born, however, that also means that we are being more mindful about where the food is coming from.
Eating out was more of a matter of convenience as the whole preparation that went in before the actual cooking was avoided and if both the husband and wife were working it was really unfair to expect someone to come home in the evening and then cook. Today there are a lot of options available like ready to make salads, home-delivered cut vegetables, meal boxes that came in with the recipe as well as the ingredients required. All this has added a fun aspect to cooking.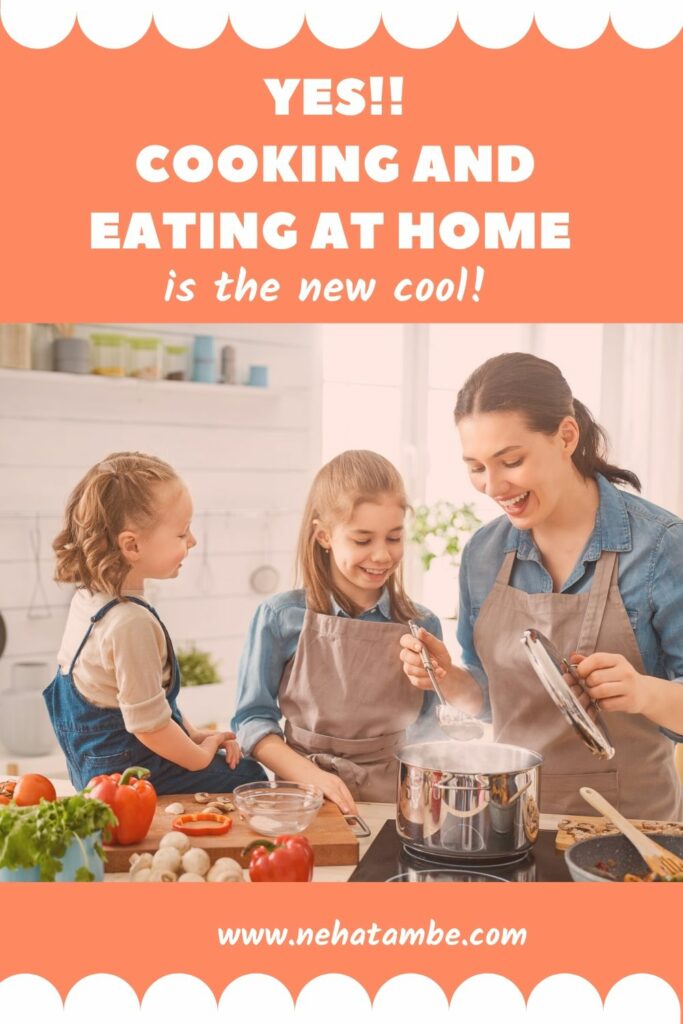 This summer vacation I enrolled my daughter for a crash course in baking and we also got hold of meal boxes with Italian cooking. My daughter thoroughly enjoyed making cupcakes and icing.  Both my kids had a cooking day and they were super proud when they presented us with a meal of pasta and sandwiches.
Doing such activities not only inculcated a love for cooking or understanding the science of cooking but it also made her more aware of the ingredients, the various ways of cooking, and sourcing products. I also realized that she has become more mindful about eating and not wasting her food.
Gadgets in the kitchen
Not long ago the kitchens were only decked up with gas cylinders and stoves. This meant cooking was a hazardous activity for children and there was a need for constant vigilance. Today our kitchens are equipped with comparatively safe and interesting gadgets that help make cooking more fun. Gadgets like a rice cooker or air fryer, oven etc. have gone a long way in helping my kids understand some new ideas and ways of cooking while me not worrying about the hazards involved in it. My younger kiddo proudly makes eggs for us in a microwave with minimal help.
These gadgets have also helped make children more involved in the whole cooking process thereby making cooking a family activity rather than something where the woman of the house slogs the whole day.
Lockdown and Cooking
With lockdown and summer vacations here, it was the perfect time to get my kids involved in the whole cooking activity.  I divided the chores between my kids, with older one helping in making rice using rice cooker, to younger one making eggs in a microwave.
They even helped in tasks like cleaning the vegetables, preparing the tables, filling up water bottles, and making quick assemble snacks. They make Rotis too! All this has added a fun aspect to cooking and cleaning. They are my super helpers in the kitchen.
As moms how do you plan to bring about awareness and mindfulness in your children regarding food? What are your ideas to encourage them to understand how the science of food works? I would love to know your ideas around importance of food, non wastage of food and mindful eating?