With our whole family being beach bums, we are ready to travel to the seashore any time of the year. With the upcoming summer vacation, we have been considering places to travel. It has been long since we have travelled far and the upcoming vacation seems like the perfect opportunity. With borders opening up for most countries around the world, it was time to plan a vacation. We have kind of finalised on Australia for the upcoming vacation with the beautiful beaches and Great Barrier Reef being very high on our list. The last time when we were in Australia; we missed on these as the days we hit the beach at Cairns, there was a storm there and the beaches were off-limits. So once the place was finalised, the next thing was the swimwear, and the kids insisted on having an Australian Kids Swimwear as a keepsake.
And so began the hunt for the best Australian Kids Swimwear Brands and over the past few days I have researched so much that I am confident of being an expert about kids' swimwear, if you are looking for an Australian brand.
Here I have listed down a few things like what to look for in kid's swimwear, various patterns and designs and, subsequently, a few Australian swimwear brands that I liked.
What to look for in kids' swimwear
Kids' swimwear needs are a little different as compared to adults. They need to be comfortable to wear, with right fit and excellent shape retention properties. In relation to kids, it is always good to go for a fabric that can have fun prints and colourful presentation that attract children the most.
It is also important to understand the material used in kids' swimwear. While most of the swimwear are made of polyester, nylon or elastane (spandex), I prefer elastane or spandex for a couple of reasons.
1. They provide high amount of UV protective quality. Elastane has a UPF (Ultraviolet Protection Factor) rating of 25-39, which helps keep kids safe from the harmful ultra-violet rays.
2. It is cheaper than polyester, which is considered the leader in the swimwear industry.
3. It is durable and easy to clean, ensuring long-lasting fun.
4. It lets kids be kids. Elastane sticks well to the skin and that results in great comfort to children.
Why animal print designs are so popular
Animal prints have been in vogue since the late 60s as they look chic and beautiful. Today leopard print, tiger prints or zebra prints are available and popular but for kids, I like something which is unique and has a fun element to it. Being fashionable is good, but being a kid is important.
Cute animal prints look pretty on kids of all age groups. Similarly, looking for unique animal prints like maybe a koala or a cute elephant will make kids look fashionable while giving a playful and fun vibe.
Animal print swimwear pieces like Australian native animal prints arouse natural curiosity about the world and help children feel close to nature. It makes them inquisitive about animals. Similarly, good cuts and great animal prints never go out of style in swimwear, be it kids or adults.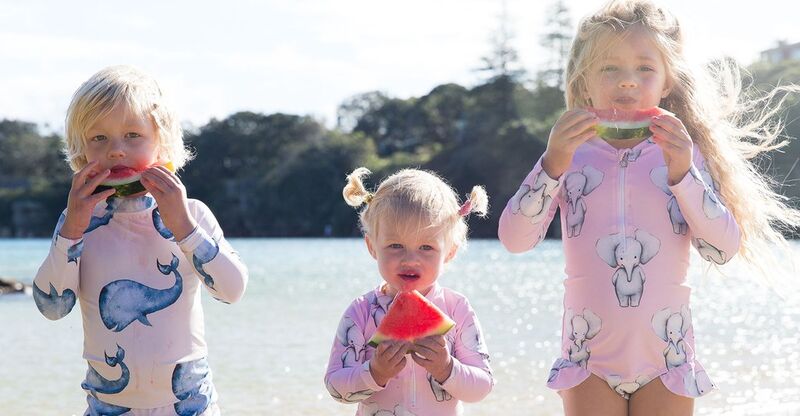 Top 3 favourite Australian brands
It is an Australian children's wear brand, based on hand drawn animal prints, which are one of a kind and cater to the swimwear needs of infants to 12-year-olds. Apart from the fresh colours and cute prints, I liked the way the brand thinks from a parent's and a child's perspective. The one thing that stole my heart was "We create pieces that kids can be kids in, get dirty and still be washed back to the way they first looked without losing any colour or shape along the way." This is something that every parent will resonate with. The swimwear's and clothing are affordable and durable which is a big plus.
They are a family business with a studio in Sydney and the fun part is they have matching styles for parents as well! Their range of animal print bikini set and animal print bathing suit for toddler were the top picks by my kids.
Bondi Joe came into existence because the founder couldn't find the perfect pair of swimming trunks. Marcus created Bondi Joe in Sydney, Australia, following his quest to find the most comfortable, stylish pair of swim shorts. This is a great brand that is laser focused in its target audience and the offering. The brand has its heart in the right place with sustainability being its core, however, as this is a men's brand; they do not have options for girls and moms, so if you are planning to shop for the whole family at one place or are looking at have matching prints, then this might not be the brand for you. They have some amazing father and son swimwear bundles which were loved by my family.
This is yet another fashionable swimwear that is designed keeping the kids' needs in mind. The manufacturers have collaborated with swim wear experts to come up with a range that is manufactured to the highest technical standards and is designed for kids' movement and rapid growth in mind. Another great thing about the brand is that it uses recycled fabrics. The swimwear's fabric composition is 80% recycled material like old carpets, plastics and ghost fishing nets.
As a mom and a conscious traveller, I loved these brands that keep the kids' needs in mind while being fun and colourful. If you are beach lovers like us and are planning to travel to Australia or buying from Australia, consider these Australian Kids Swimwear brands for your kids and yourself. Who doesn't love colourful and cute hand-drawn animal prints, right?