The one thing this book can guarantee is a pleasant laugh and a healthy dose of vocabulary improvement. Excess Baggage is a fun read with nuggets of wisdom strewn around. It is a welcome change in terms of the topic as it explores a mother-daughter relationship with a slightly unique perspective.
A little about Author Richa S Mukherjee
Richa is a poet, ex-journalist and an old hand in the advertising industry. She has been a TOI Write India winner, a blogger and travel writer. This is her third book.
Book Blurb – Excess Baggage
Lately, Anviksha Punjabi can't seem to get anything right. She is in the middle of ending her second marriage, is barely keeping any friends, and repeatedly getting into trouble at work. And as if all that weren't enough, she must put up with her gregarious and over-bearing 67-year-old mother as a housemate.
Afraid that if this goes on, she'll finally unravel completely, Anviksha decides she needs a break – a Bollywood style, solo-trip across Europe kind of break. What she doesn't expect is that her mother, Smita Punjabi, will insist on coming along. How will this journey pan out? Will it be a total washout or a life-altering one?
Characterization in Excess Baggage
The two principal characters in the novel–Anviksha and Smita Punjabi are well etched and to the point. I liked the way the author attempted to ensure the characterization is poles apart, right from the way they talk and style to the way they think. It helps the reader actually get into their mind and connect on a different level.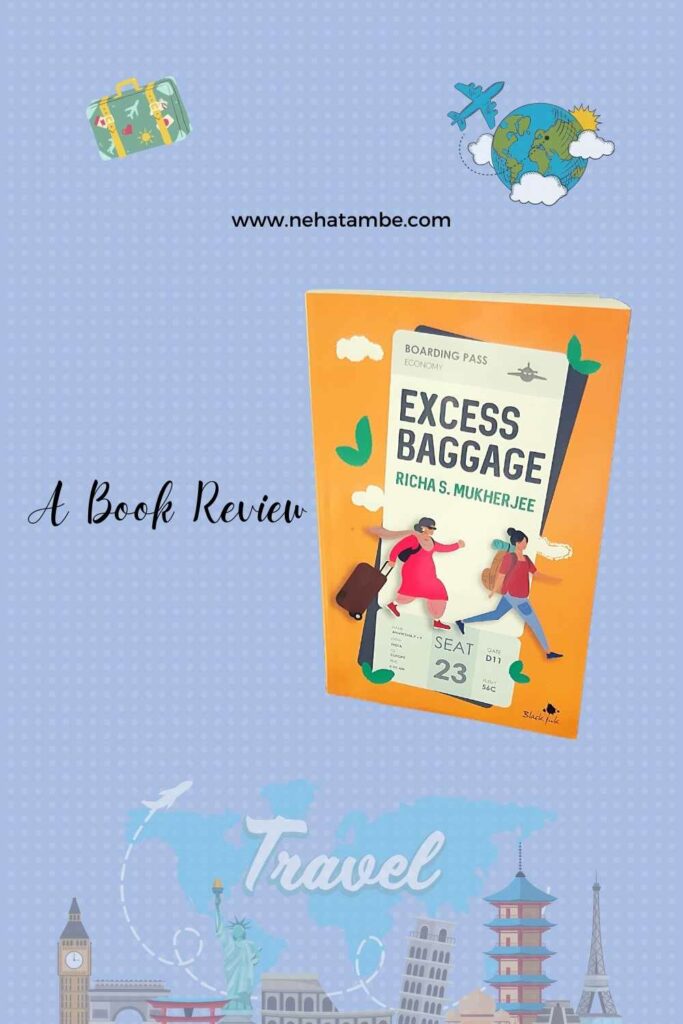 Things that worked for me in the book
The name of the story is apt for the way it represents not just the excess baggage that Smita Punjabi is on Anviksha's solo journey, but it's also about the baggage that each carries of their past.
Characterization was to the point where I could actually imagine the characters and their antics.
Wonderful description of Europe and places of interest in London and Amsterdam.
An entertaining take on various situations while ending with some wisdom that makes you ponder.
A simple story arch that is light, breezy and feels complete without the typical rom-com or goody-two-shoes central character formula.
I actually know a Sindhi aunty and could imagine Smita Punjabi as that lady. Generous, welcoming and always ready with food to serve an army.
The hilariously weird names of two dogs in the book–Bhindi and Mutton!
Things that didn't work for me
At times the situations seemed forced and more like a Bollywood masala movie with stereotypical references to Bollywood songs, the Indian way of life or foreign for that matter.
While I understand that to establish a character, an author needs to make an extra effort on the way they speak, but the assorted adjectives that Anvisha uses every time she opens her mouth seem a bit forced. Not that it hampers the reading or makes one go in search of a dictionary, but it's just something that I personally feel.
The highlight for me was surprisingly Smita Punjabi. A character, caught in the past with a lot of internal battles of her own, she rally's strongly around her daughter and continues to exude confidence in every step. She is a hardworking, independent woman who runs her house, a business, and is extremely resourceful. The friendly character is ready to adapt, accept her mistakes and mend ways while knowing her limits on how far she could go.
Book Author–Richa S Mukherjee
Publisher–Harper Collins
Genre – Humor
Pick this book if you are looking for a fun weekend read. I would give it a 4/5 rating. You can buy the book here-
I received this book as part o BlogChatter's book review program.
The post contains affiliate links, which means if you purchase from the link here, I could get a small commission with no extra charge to you.