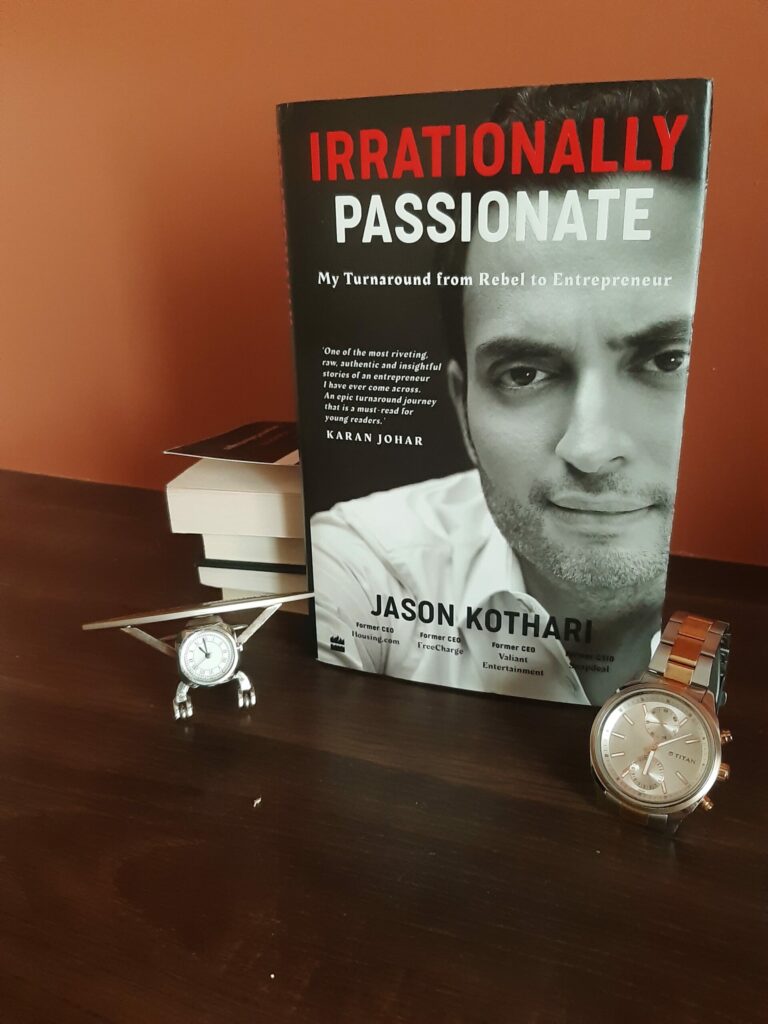 I am going to review a non-fiction today – Irrationally Passionate, My turnaround from a Rebel to Entrepreneur.
To start off this book isn't a traditional business and management book. It does not talk about theories that can be translated to others. It is more autobiographical in nature and that lends a unique voice to this book. It is about a journey of a boy who was a rebel or can even be termed irresponsible in some instances to being a top paying executive. It is about how he has a personal turnaround and how insights that he had during his personal change kind of helps him turnaround the fortunes of distressed companies.
Book Blurb
While a college student at Wharton, Jason Kothari scraped together money from family and friends to save his childhood favourite comic book company, Valiant Entertainment, from bankruptcy and bring it back to life. A few years later, he transformed Valiant into the third-largest superhero entertainment company in the world after Marvel and DC Comics and sold it for $100 million.
Jason then became a professional turnaround leader and went on to transform distressed Indian Internet icons Housing.com, FreeCharge and Snapdeal, helping save billions of dollars in value, and advise giants like technology investor Softbank and real estate developer Emaar, who have invested billions of dollars in India.
Writing Style
The writing style is personal and rightly so as it is based on the personal journey of the author. The first few chapters are almost cinematographical. Things are larger than life as a Bollywood movie! Hence you can expect a diversion from the typical business book narration style and find this a bit more personal and exciting even!
My Opinion
I usually don't prefer reading non-fiction as I find the narration style rather bland, but this was definitely unique in those terms. It certainly draws us into the journey. However as it tries to balance between being a business book and an autobiography, it does not do justice to both the styles. Like though it is personal and has a lot of styles that go well with fiction, it sticks to the chronological narration of incidents.
Similarly, while it talks about the author's growing up years which are pretty rebellious with a unique perspective, it could also be attributed to the fact that he was a global citizen. The author grew up in different parts of the world and that did give him a different outlook and experience of life. However, his learnings in this period cannot be replicated or taught as theory as they are unique to him.
What we can really translate are the important factors that contributed to him learning from his life. These factors can broadly be described as his readiness to see things objectively, his passion, grit, and determination.
While it talks about his journey from being a rebel to an entrepreneur. I would rather call it his journey to being a fine businessman. The traditional meaning of entrepreneurs is usually being someone who is starting with an idea and making a business out of it. What Jason Kothari brings to fore is the fact that not all entrepreneurs can be great businessmen. And it is in these situations that someone like Jason is required by the business; someone who is passionate about turning around the business and has great negotiating skills. The key here for me is negotiation skills that Jason seems to have mastered.
Ratings
If you are someone who loves reading about successful people, their lives and how they kept going even when things weren't in their favor then this book is for you. It is fascinating to read and realize that business is not just about starting something, but sustaining it and making it profitable for a long time is equally thrilling. If you are thinking about looking for some business Gyan or theories like the Lean Start-up then this book is not for you.