Everybody need not be an Engineer or a Doctor! The mindset that only mainstream careers mean something, is wrong. The whole month of December, I am looking at alternative careers that can be satisfying as well as rewarding.
I caught up with a 21 year old student pursuing culinary arts. You might wonder what that is! I had the same thoughts, so I did a bit of research online.
Short on time? Here is an excerpt of that interview that you can listen to –
What is culinary arts?
In really simple terms, culinary art refers to the process of cooking and arranging food. How many of you thought about 'MasterChef'? I know, I did! It piqued my interest, so I decided to do an interview with her. Following are the excerpts from it.
Today we interview Shubha Shree Surendra who is pursuing culinary arts at the North Shore International Academy, Auckland, NZ.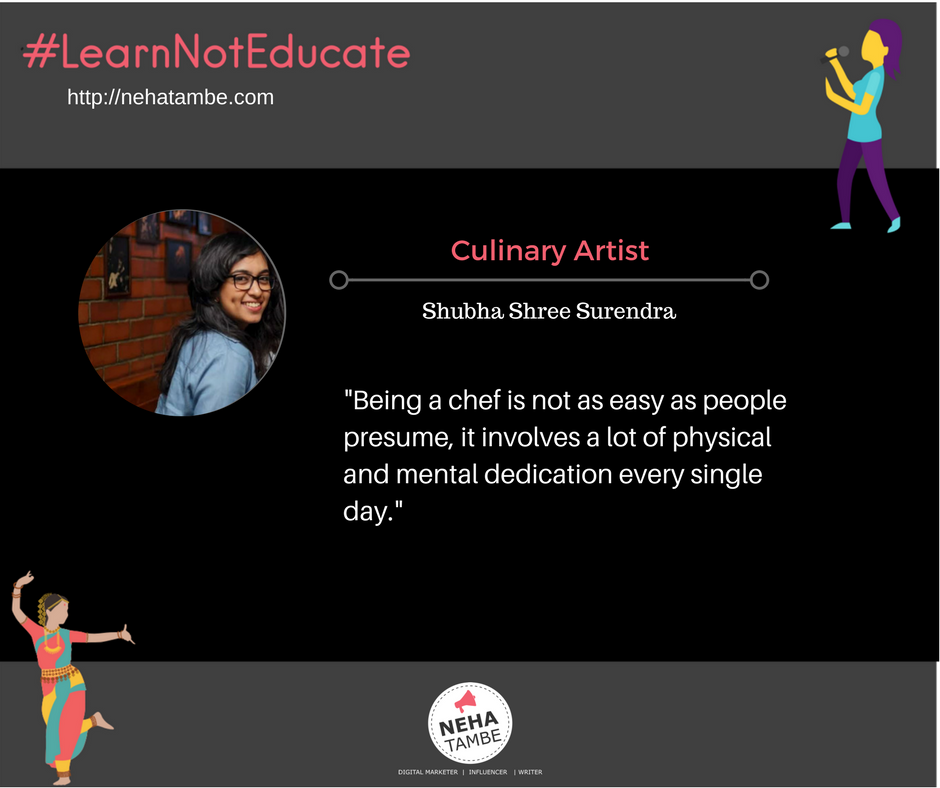 What kind of background is required to apply for this course?
Education wise- you could be anything above a 12th pass student. There are age groups from 17 to 50+ at this institute.
but most importantly- one must have LOTS of patience, determination, physical and mental strength for this course.
Are there entrance tests? when should one start preparing?
Not really, most institutes do not require any prior knowledge or technical skills for this course. However, interviews and cover letters play an important role in fixing yourself a spot at any skill-based institute. Questions are usually based on how passionate you are towards the course as well as WHY you chose this field.
What is the course structure like?
The course that I am doing is a LEVEL 4 And 5 in culinary arts (Doing both levels is optional, but recommended if you want a decent position in the industry).
this is a 2-year course, consisting of 4 terms. You will be taught A-Z of culinary foundation through the 2 years – right from holding your knife to presenting a completed dish.
difference between hotel management and culinary arts?
The culinary arts refer to professions that involve preparing and cooking food. Culinary artists often are compared with restaurant managers in both education and career scope. Generally, the major differentiating factor for culinary artists and hotel management students are the specific college programs, the type of training and experience involved and the actual duties associated with each job. A culinary arts program will have subjects like nutrition and sensory evaluation, American cuisine, international cuisine and meat science. Management programs, in contrast, focus on educating individuals on how to operate the restaurant from a business management perspective.
What are the career prospects?
At the end of 2 years, you will be a certified chef, capable of working at any restaurant/hotel- positions may vary with experience, skill, etc. Other job options could be a personal chef, food stylist, cookbook author, food scientist, and so on.
some tips for students looking for a similar course?
Being a chef is not as easy as people presume, it involves a lot of physical and mental dedication every single day. For a chef, the holiday season is the busiest so forget partying during New year's or vacationing during long weekends- this is when you'd be expected to show up in the kitchen. Do not join this profession if you are not passionate/interested in cooking; a lot of people I know have ended up choosing this course because they think they have no other option or they want to give this a "try". Take my word, you will not be happy if you cannot give this your 100%.
what some people also don't know is that cleaning and maintenance of hygiene plays a major role in the kitchen so expect to wash dishes when you enter the industry- that is how you grow and learn.
The kitchen is a hot, loud, noisy, busy but extremely satisfying place with a high swear-word frequency: be mentally prepared.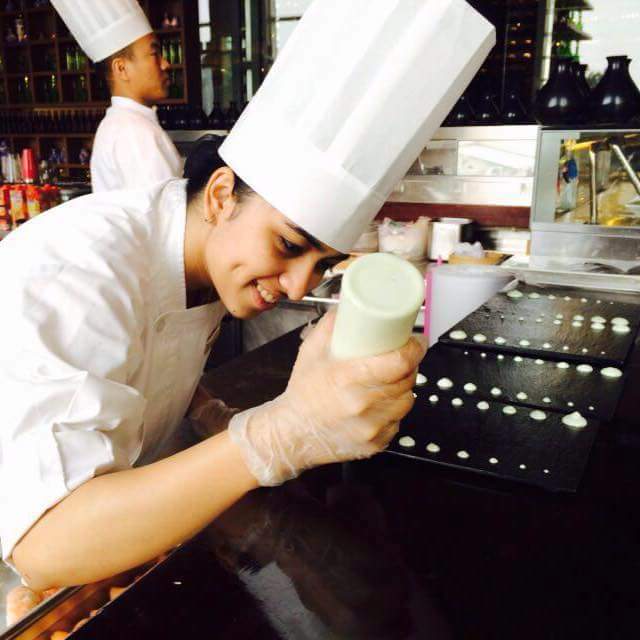 Can these courses be done in India? what should a student look for while choosing an institute?
India has several schools/colleges that offer a course in hotel management but only a handful that offer a mainstream culinary course.
Personally, I did not enjoy my experience in the culinary college I studied at, in India. Most Indian schools have a different approach with the education system, but then again- it's just a personal opinion. There are 100's of wonderfully talented chef's that Indian schools have produced as well.
My advice before choosing your school would be: RESEARCH. Do thorough research of the school you choose. Ask questions, do not hold back. One tip would be to ask previous alumni- the ones who are not mentioned on the college website, if you want honest answers.
What is the process of applying for foreign universities and what should the student keep in mind?
Pretty much the same goes for any institute across the world. Do thorough research before choosing what fits your criteria and vision. Few things to keep in mind:
– know your rights, rules and regulations of the country before choosing.
If you wish to work during your study period, find out visa restrictions and availability of jobs.
Research everything about the country- from cost of living to future opportunities (if you wish to stay back).
Most students apply for universities/ colleges through an agent- I did too. It is a much faster and easier way of application as they help make sure all criteria are met and processes complete.
Most countries require test of language. Exams like IELTS/TOEFL, etc can be attempted, based on what the country accepts.
Last Thoughts
I hope this was an informative interview, the way it was for me. And I sincerely hope this will help more students and parents choose from the various career avenues that are now available.
Are you following your passion and have chosen an alternate career? Or maybe you know someone who has. Connect with me on [email protected] or fill in the form below!Have any queries or wish to add more information or share this post? Share it with #LearnNotEducate
[ninja_form id=2]