I take on the Baton of Blogchatter Ebook Carnival from Reema whose e-book 'Peiskos' is also part of the mix.
About Reema's e-book: Peiskos is the feeling one gets when sitting in front of a fireplace enjoying its warmth. We remember pieces of life that seem ordinary but often bring along a sense of warmth. Here are 26 such pieces woven into stories around rare and beautiful words.
It might sound clichéd but I always wanted to write a book! It was a dream to be known as a published author. However, the whole idea of taking a step in that direction overwhelmed me. What will I write, who will read, how will I publish and publicize. All this and more gnawed at my brains and the more I thought about it the more impossible the dream felt. However, then I saw blogchatter's ebook carnival. It was last year when I took part in A-Z and saw the whole process of book publishing. I realized that it was doable and hence this year I was prepared for it.
How Blogchatter helped me make it happen
Small and consistent writing
As e-book is tied up with A-Z challenge, the consistent writing which many slack on was taken care of. As I was in the challenge, I planned accordingly and completed the writing part in time. This ensured that my content was read and available by the end of month one.
Timelines and Targets
With all blogchatter campaigns the best thing is that there are timelines and targets. I work well with fixed timelines and targets. The whole idea of finishing the writing on X day, editing and publishing it on Y day made me work towards achieving those targets and made this dream a reality in a systematic way.
Guidance
As a first time publisher, there are millions of doubts and questions about various points. Blogchatter ensured that a first time publisher is not flustered by offering timely help and guidance. There were posts, interviews, chats and a lot more to help clear the doubts.
Twitter chats and FB live
Apart from these dedicated guidance options the regular features of Twitter chats and FB live ensured that we stay focus, get updates and ask our questions to mentors.
Tasks
We also had some secret tasks that made this whole month-long exercise fun! We did small things like encourage a fellow blogger, motivate others, share our updates and much more.
How the carnival changed my life
This carnival not only helped me realize my dream, I also helped me publicize it and promote it to a larger audience. Thanks to the promotions and chatter around the event my e-book has received more than 70 downloads in the last 2 months. You can check out my e-book here – https://www.theblogchatter.com/download/digital-marketing-for-small-businesses-by-neha-tambe/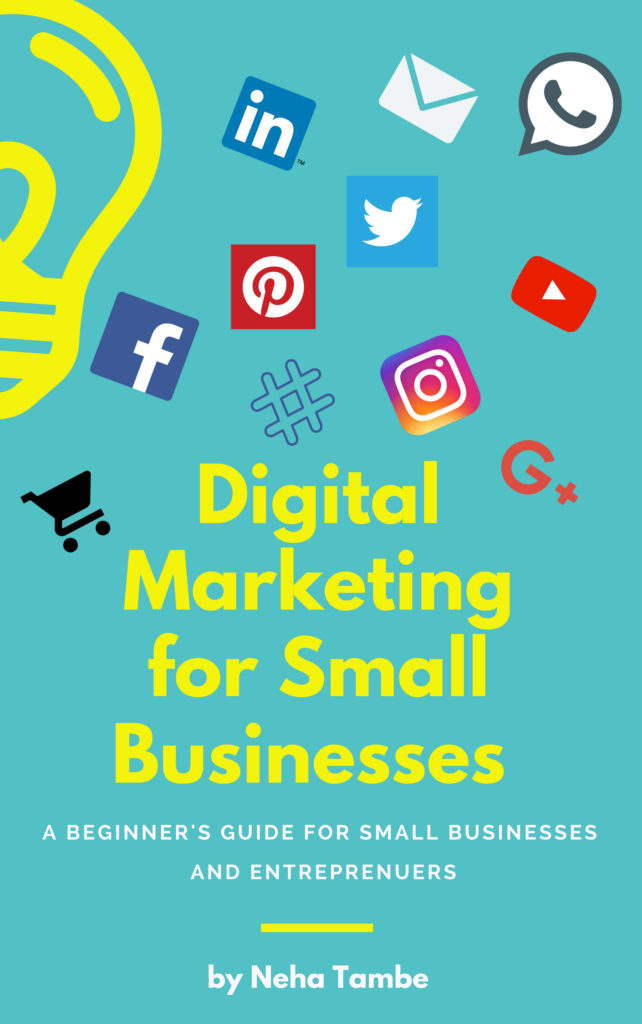 Encouraging messages
As the book was available for free, I received 2 messages informing me that they found my book helpful and they are learning a lot as they read. This was a wonderful encouragement for the efforts that I put. It also made me realize that there is an audience interested in reading and using my knowledge.
Reviews
With blogchatter we were also asked to review a few books of fellow e-book carnival participant. This has helped me understand my mistake and improve them wherever necessary. The reviews have also showed me what people are liking and what they want me to improve.
The Push that I required
With this e-book carnival, I am happy that I got the push that was necessary to nudge me in the direction of e-book publishing. I think I am more aware and the experience has made me wiser. The encouragement and response have also helped me evaluate my offerings.
If you have read my book, do share your review about it! It will help me improve and come up with better offerings.
I pass on the Baton of Blogchatter Ebook Carnival to Roma whose e-book 'Destiny's Favourite Child' is also part of the mix.
About Roma's e-book: A girl child who listens to all the malicious ways of the world in her mother's womb feels petrified but decides to survive and take the challenge. She proves herself and the society how a commoner with zero support system manages to live life queen size.