Tell us a bit about yourself
I am a Food Scientist based out of Buffalo-Niagara metro area in Western New York. If you have
an image of New York City, imagine the exact opposite for Western New York! It's the quaint,
picturesque and serene Upstate part of the New York State. I have had an eventful 8.5 years in
the USA, from getting my master's degree (Master of Science; M.S.) in Food Science to getting
my first ever job; from working in a start-up company, where I was the second oldest employee
at 25, to currently working for a dairy co-op that provides for over 400 local farms!
My job  primarily is as a R&D Product Development Scientist who develops a product from scratch, monitors it till the shelf and beyond. But my work has given me opportunities to learn and work  with Quality Assurance, Sales & Marketing, Operations, Lean Manufacturing etc. also.
What does a Food Scientist do?
Food Scientist is an umbrella term used for science graduates in the food industry who work in
Research and Development. The details may vary based on one's area of expertise (Packaging,
Product Development, Microbiology, Chemistry etc.) and the work that the company does. For
example, I have worked in 3 companies so far in my career, with the same educational
qualification but doing completely different work. My area of expertise is Product Development,
which requires me to have a cross functional knowledge of R&D, Sales, QA and Operations.
Now, the details can vary, like right now, I work on shelf-stable RTD (ready-to- drink) beverages,
as opposed, working with bakery and instant foods, respectively, in my previous 2 jobs.
What kind of qualifications are required to be a food scientist?
The fluidity of qualifications is, in my opinion, the best and the coolest thing about this field.
You will find people from a wide range of Majors working in the industry, be it, Microbiology,
Biotechnology, Chemistry, Engineering etc. I have worked with Statisticians and Paralegals as
well! I was a Biotechnology, B.Tech student in India (VIT, Vellore), with research in Plant
Biotechnology and Microbiology, when I decided to pursue a master's degree in Food Science
(Rutgers University, New Jersey).
I do not think people realize how much science goes into making food.
A lot of legal and management knowledge is required to successfully run a
company as well. Hence, this field absorbs a diverse range of people and lets them reach their
personal best by letting them redefine their roles and responsibilities.
What kind of background would be preferred if you wish to be a food scientist?
Specifically, for a Food Scientist role, a solid foundation of science and/or engineering would be
a must. Because the science of food varies from product to product, a lot of the work is "on-the-
job" learning. For example, you can spend a career being a very successful scientist working for a
soda company, never having learned how to bake bread! Hence, willingness to unlearn and re-
learn, and being open to new technologies, throughout your career, would give you an upper
hand in your career.
Your suggestion to students looking at this industry?
I would advise students to start looking at a career whose path has not been chartered for them
yet. As I said, a lot of people do not realize how much science is needed to do the most basic food product. So, a student might not even realize that their chosen field has another amazing
outlet. It is also a very industry-oriented research field. Hence, a great amalgamation of the
academia and industry.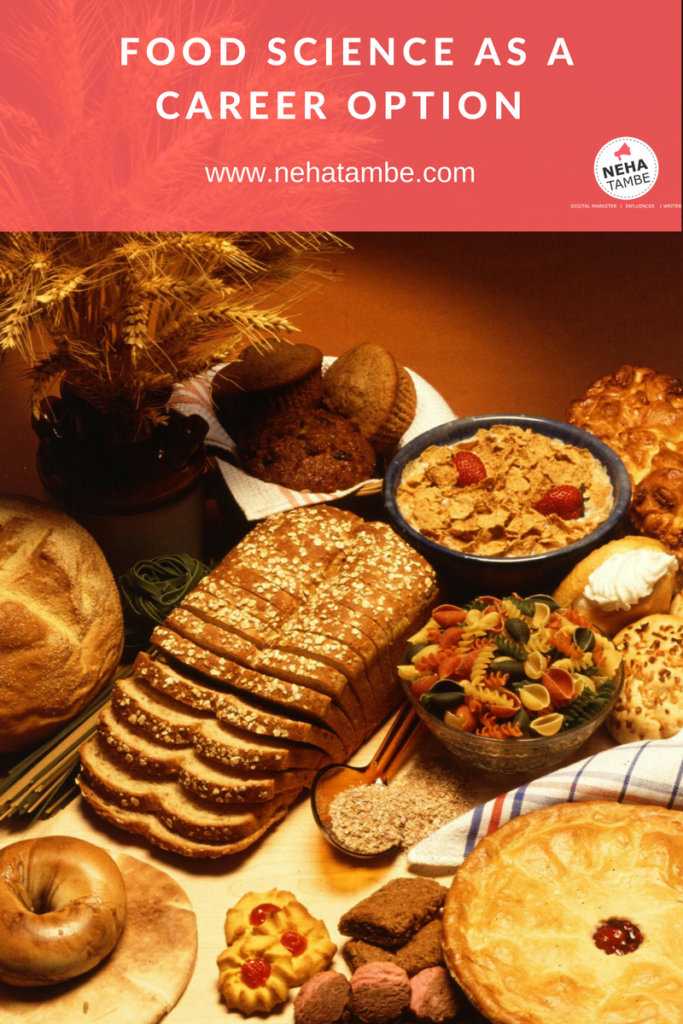 What are the career opportunities after completion of the course?
You can enter the food industry in primarily 4 capacities:-
a. In R&D – if you have a panache for cross functionality and are good at translating market
trends into lab projects and vice versa. A multi-faceted personality, willing to work cross
functionally, outside of their comfort zone, and constantly pushing boundaries by learning,
un-learning and re-learning, is a plus.
b. In Quality Assurance – if you have a strong Microbiology, Chemistry and/or Analytical
Instrumentation background. From a personality perspective, a process-oriented person
who is strong in developing SOPs, understanding regulations and has the capability of
updating knowledge with time would be a good fit.
c. In Engineering – knowledge of Mechanical Engineering, Thermodynamics and other
engineering disciplines, including Computer Science (particularly networking) would let you
to some very specific and highly skilled positions in the food industry.
(Interesting fact: when I was at Rutgers University for my Master's, the Department Chair
was an Indian professor who had a B.Tech from IIT- Mumbai in Mechanical Engineering. He
followed that by a M.S. and PhD in Mechanical and Aerospace Engineering from Rutgers,
and yet became a professor and subsequently the department head in Food Science!)
d. In Sales & Marketing – a big part of the food industry is sales and marketing and this, along
with, supply chain management, provides some of the best job opportunities.
 Any courses that are available in India?
Bachelor's degrees in Food Science are offered by many universities. Institute of Chemical
Technology, Mumbai (formerly, UDCT) is probably the best-known name. Many Agricultural
universities in India have similar courses like Acharya N.G.Ranga Agricultural University in
Hyderabad. A master's degree is common for the industry and would open a lot of
opportunities, especially for those who want to be in R&D.
Signing Off
Food Industry is a fabulous place to work. It is one of the rare science fields where one can
follow research to market, over and over. The satisfaction to see a product that you helped
develop, on a market shelf, is immensely satisfactory and accomplishing. This, truly, is a
translational field. It is a highly cross functional field where you work with people of diverse
backgrounds and expertise daily. This leads to the honing of interpersonal, project management
and leadership skills as well. The industry is a welcoming place for women. You would find a
higher percentage of women in this industry than many others, especially in senior leadership
positions. It is an exciting world to be part of because the landscape is ever evolving.
Prateek Mathur is also a blogger by passion and has been writing for around 9 years. You can find his work on  Writefully Yours, at www.prateek-mathur.com .