Singing or music has come into limelight with all the numerous singing competitions that have the capability of making someone a star overnight, however what goes behind the success is what we are here to see today.
I met up with Mrs. Priti Talwalkar, a professional classical and light music vocalist to understand what it takes to be a singer! Having a great voice is just half of the picture. Read this interview to understand the passion and the effort required to be a trained singer. An alternative career, that if followed with passion and dedication can give you money and fame.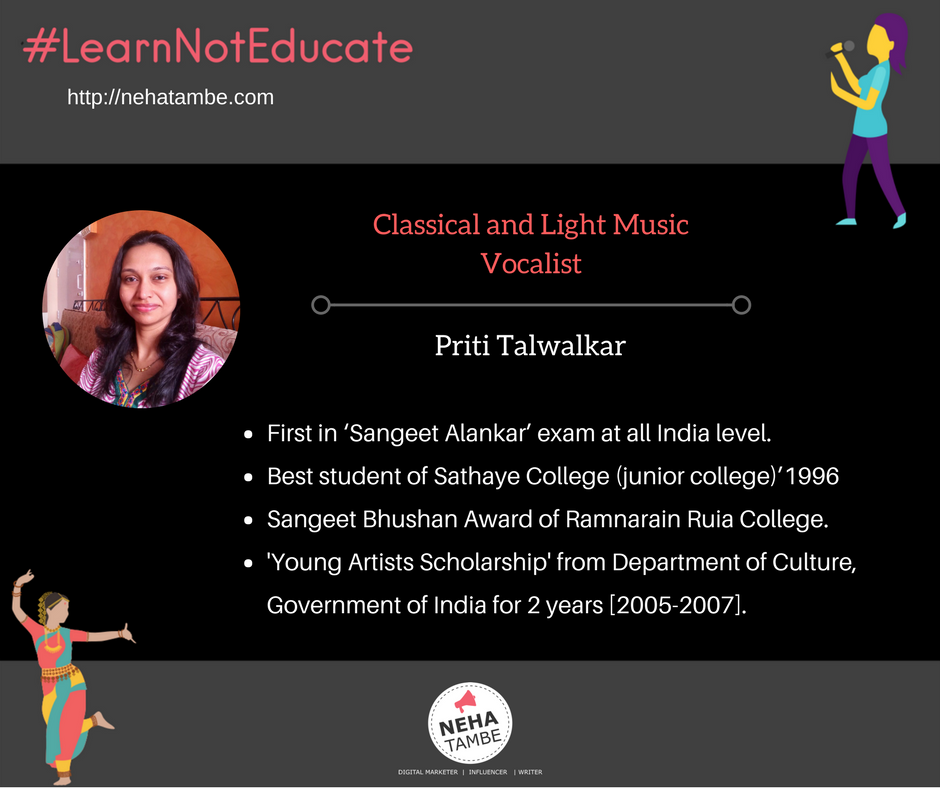 When did you start learning singing?
I started learning music in 6th std from Mrs. Swarada Sathe. After Visharad I started learning Jaipur-atrauli gharana gayaki from Smt. Manik Bhide (senior disciple of Smt. Kishori Amonkar and a great singer of jaipur Atrauli gharana). I completed sangeet alankar under guidance of manik tai and smt. Mukta Bhide. Presently I am learning from pt. Bhalchandra Tilak, another stalwart of jaipur gayaki.
When did you decide to make it your career?
I always liked classical music the most and after 10th I decided to pursue music besides my college studies. I opted for arts so that I could focus on music properly.
Are there any professional degrees or exams for being a well-trained singer?
There are graduation, post graduation degree exams at the university level. One can do PhD after M.A in music. There are institutions like Gandharv Mahavidyalay where these exams can be given externally.
What are the future prospects in this field?
Future prospects in this field :
Job as a Music teacher in schools, university.
Private tutions or teaching in private institutes.
Performing artist in classical, light music.
There are other opportunities like playback singing, singing for albums, jingles, etc.

What are your tips for the parents of such students?
Parents should realize the ability of the kids and encourage them to acquire proper training. Help them get over the stage fright by making them sing whenever there are opportunities. Parents should treat this career equally important as any other career like doctor, engineer, etc.
What should a student keep in mind when choosing singing as a career?
According to me one should like singing very much and be passionate about it. With the help of the guru (teacher) try to find out whether you are ready to become a singer. Competitions, exams, singing in front of the audience will help to improve.  This can be a full time career. Proper training and riyaz are the most important things to become successful in this field.
If you follow an alternative career or know someone who does, fill up this google form
I will be glad to feature you in my upcoming series