As the one year of online learning comes to an end, I am taking a step back to reflect on the situation. First of all, moms how are you feeling about the online learning experience?
I for one have experienced a gamut of emotions as the year rolled by.
Technology in education and why I am grateful for it
In the first wave of Covid-19 I was grateful for the technology available. I am scared to think, had this pandemic come a decade earlier, how would we have coped with it? Most of us have some device or the other and we could quickly transcend online. Most children did not have to put a break on their learning, even though they couldn't attend physical school. This for most part helped keep the sanity intact – for parents and students.
Benefits of online learning
As we settled down in the online learning routine we realized the multitude of benefits that it offers.
Attend the class from anywhere
Many students moved to their native place or parents had to travel for some emergency. As the lockdown was announced, many children were stuck in various parts of India and abroad however none of them missed their classes. As the course material and the related videos were available 24*7, children could revise the concepts and study when they were initiated.
2. Online learning became the source of connect to normalcy
Children looked forward to seeing their teachers and other students online. It gave them the reassurance needed and created a comfort zone for them. This definitely helped bring a sense of normalcy in the lives of children, while all they heard and saw otherwise was despair.
3. Children learned new concepts and learning tools
As the learning moved online, teachers were forced to look for different ways to enrich the students learning journey. Children were encouraged to create projects, presentations and research about topics. This acted as fodder for their brains and inculcated real-life skills as well.
4. Self-starters were the real winners
Children with a self- discipline gained the most of this experience. They researched more, thought laterally and even helped collaborate and build team spirit. The self-starters managed to carve a niche for themselves in the class.
5. Equal platform for interaction
As the whole concept of mute/unmute became the new normal, it became an effective tool for teachers to get every child involved in the class session. Asking questions and getting answers from all the students became easier.
But this boon quickly opened the floodgates for some other problems.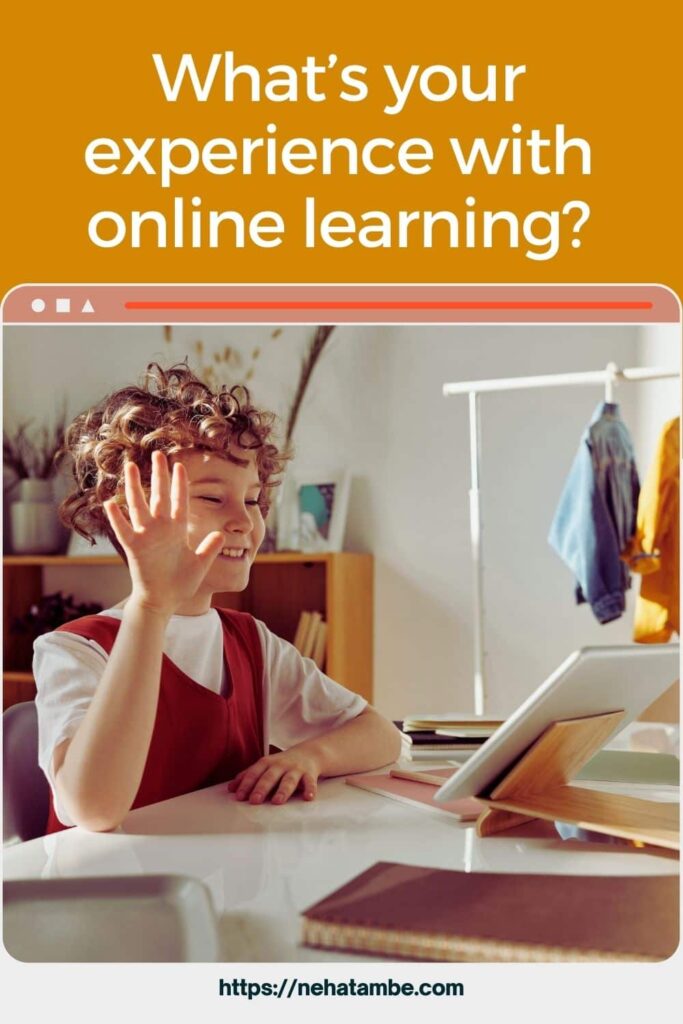 Disadvantages of online learning
Student-Teacher ratio matters
In schools where the student –teacher ratio was skewed to begin with faced a larger problem of inclusivity. A teacher could not handle bigger classes online and hence they resorted to sharing recorded videos. This caused a problem in terms of child's interest and discipline towards learning.
2. Device allocation for household with more than 1 child
Homes with 2 or more children faced the device availability issue. If both the parents were working, then the issue was felt even more acutely. It hampered the productivity of the parent as well as the child. In lower income household it meant younger child being left out for want of device.
3. Working parents were multi-tasking
While the school and teachers were conducting the school online, keeping them in front of the screens and engaged in the class became parents responsibility. The added duty of managing the house, office work and kids classes became a matter of great stress to the parents.
4. Unstable internet connection could lead to isolation
Unstable internet connection meant most students were advised to turn the camera off. This meant the child felt isolated. Unable to hear or see what the teacher is teaching or explaining added to this feeling. It made younger children disinterested.
5. Kids exploring the online world with minimal checks and security
As many older kids started spending more time online, they started exploring the internet. While it added to their knowledge in many cases, unsafe internet access and poor knowledge or online etiquettes and safety measures led to irreparable damage – financially or emotionally.
This year with another lockdown in force, there is a high probability that we might spend another year in online learning. In such situation it is important that we introspect and find better ways to keep the learning going. The teaching and learning methodology needs an overhaul and that can start with looking westward and incorporate their concepts of research, analyze and presentation.
What are your thoughts? Would love to hear you experience.
This post is written as part of BlogchatterA2Z challenge