The other day my daughter teased, "Hey Mom, now all of us will go out of the house in the morning, me and brother to school and dad to the office. You will be alone in the house." While I muttered under my breath "You have no clue how desperately I have been waiting for this" Yup! With two kids your house is never quiet, especially as long as both are not in formal school. My younger one will start preschool this year and I have been so waiting for it. He in school will mean two hours of peace at home, well not exactly because I will be motoring through to finish chores and blog posts before he is back, but still it is better than not getting done anything in the whole day.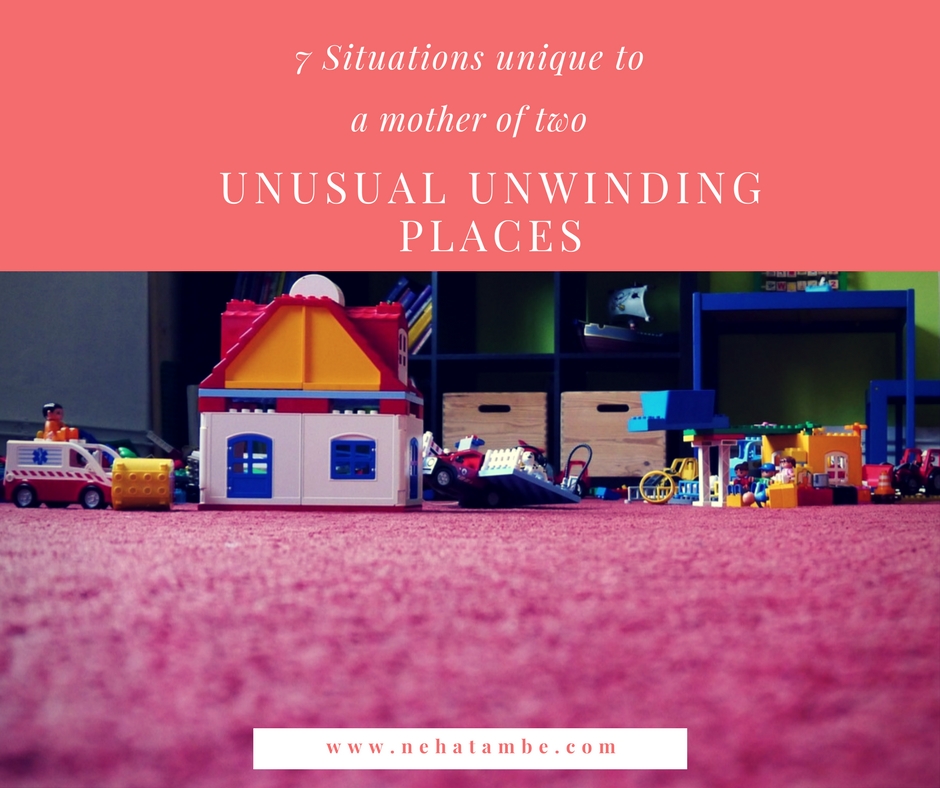 The Bathroom
If you are a mother of two, you know there is no peace or 'me time' anywhere in the house, except the bathroom. The bathroom is my hiding place when things are getting out of hand and I need a breather. When the going is good, I can actually think, maybe even read a book (at least a few pages) and check on my social media while in the bathroom. And then there are times when the moment I enter the bathroom one of them want something from the bathroom or have some questions that just can't wait till I come out of the bathroom.
The Car
Another place is my car! I leave to pick the kids and take the longest possible route to have some 'me time' with music on. This helps me think, focus and even relax before the next rush hour starts. As it is with two kids, you are always running errands for one or the other, the best way to utilize that time is unwinding.
The Balcony
The balcony is another place where I like to unwind. When the kids are busy watching Television, I sneak in the balcony and do nothing. Just enjoy the fresh air, see the on-goings around and do absolutely nothing. So when I am really worked up, I turn on the kid's channel (my kids won't move an inch when that damn thing is turned on) and sneak out in the balcony. I know docs might not agree with TV time, but for my sanity, I need that break 😛
Do you have such unwinding places? What are those? I would love to be inspired.
😀
---
I am writing this post for #Barathon from Blogarhythm with the theme seven situations unique to a mother of two.