A usually vivacious Geet was extremely silent. She was a photographer and the team had come together to discuss the way forward for a new coffee table book for an NGO. Geet had gone to Vrindavan to shoot the images as per the brief and had just returned from her 15 day stay. Neeraj the creative director had seen the images and the same were being circulated with other members. "These are great images Geet, very moving and tear jerking," however Geet seemed distracted.
She just looked at him calmly and said 'No'. Before Neeraj could say anything, Geet said "No, I don't like the ideas that are being discussed here and NO, I am not really happy with the images. Our Coffee table book is about the Widows of Vrindavan. A much neglected and probably a forgotten part of our society. Showing some more despondent pictures is just adding to the noise. These women have been victimized and there is enough said about that."
She pressed "I met them and have shot them so I know they don't like being portrayed like this. The NGO is doing some good work with them. I think showing the transformations that they have undergone while trying to be self-sufficient is something that I find more appealing. I shot these pictures while I was with them and these will definitely tell you a different story," said Geet while pulling out another manila envelope. It was full of determined, at work, happy and powerful images that showed the grit of these widows. Geet had succesfully managed to change the profile of the widows from helpless victims to confident humans.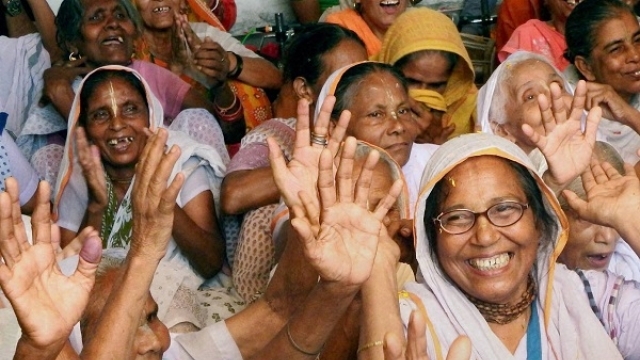 Photo Credit – DNA Newspaper.